Nursing Schools Almanac Ranks LMU No. 23 in Florida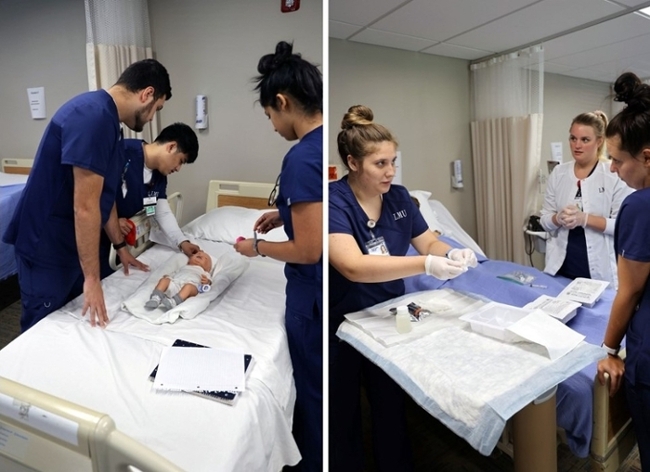 The Lincoln Memorial University-Caylor School of Nursing (LMU-CSON) Tampa off-campus site is featured in the Nursing Schools Almanac 2022 ranking of best nursing schools in the U.S., ranked No. 23 in Florida and No. 4 in the Tampa area.
One of the newer nursing programs in Florida, LMU-CSON Tampa opened in 2017 and the first Bachelor of Science in Nursing (BSN) class graduated in December 2018. The program is ranked just after nursing programs from the University of West Florida and Florida State University-Panama City and ahead of such programs as Chamberlain University, Western Governors University, Broward College and North Florida College. Nursing Schools Almanac collected data on 3,000 institutions and less than 40% made the final list of the best nursing schools in the nation. The Florida list includes the top 100 nursing programs in the state. The complete list can be found here: https://www.nursingschoolsalmanac.com/rankings/florida.
Because of the overwhelming demand for nurses, LMU and AdventHealth partnered to create the off-campus site in Tampa. The partnership aims to establish a synergy for continuous quality improvement in both education and the practice of nursing by preparing caring, compassionate and competent nurses. Located at AdventHealth Tampa's Health Park facility, LMU-Tampa offers accelerated undergraduate nursing degree programs including the Associate of Science in Nursing (ASN) and BSN. The ASN program begins each January and spans four semesters, including summer. The BSN program begins each August and also spans four semesters, including summer. LMU-Tampa also offers a bridge program for licensed practical nurses (LPNs) to obtain an ASN degree in three semesters. Applicants are not required to take the Test of Essential Academic Skills (TEAS) exam to be accepted.
Both programs boast an NCLEX pass rate that is higher than average. LMU's programs in Tampa are accredited by the Accreditation Commission for Education in Nursing, Inc. (ACEN) and the site is licensed by the Florida Commission for Independent Education, License No. 5738.
In addition to the accelerated programs at LMU-Tampa, students may enroll in LMU-CSON's online nursing programs. At the undergraduate level, students who hold the RN license may complete their BSN completely online. LMU offers the Master of Science in Nursing (MSN) with a concentration in Nursing Administration, Family Nurse Practitioner and Family Psychiatric Mental Health Nurse Practitioner online as well. The online Doctor of Nursing Practice program begins each January.
For nearly 50 years, the LMU-CSON has been preparing competent, caring and highly trained nurses for exciting, in-demand careers that make a difference every single day. LMU-trained nurses work in a variety of settings such as hospitals, doctors' offices, home health care and clinics at every level from Registered Nurse to Doctor of Nursing Practice. The University's main campus was founded in 1897 in Harrogate, Tennessee, and the CSON was established in 1974. LMU ranks No. 4 in the top 40 nursing programs ranked in Nursing Schools Almanac's Tennessee list.
LMU offers its accredited nursing programs at the main campus in Harrogate and at off-campus locations in Tampa, Florida, Knoxville, Tennessee, and Corbin, Kentucky. Some programs are offered online as well.
The University recruits students year-round to begin their nursing journey at LMU-Tampa. For more information or to apply, please contact Coordinator of Nursing Recruitment and Support Services Ines Starkey at 813.331.4614 or by email at [email protected].
Nursing Schools Almanac is a website devoted to providing an accurate, complete and powerful online resource for aspiring nurses. As nursing responsibilities have grown, so have the licensing and training requirements for the various roles. Nursing Schools Almanac has organized a wealth of state- and city-specific information about nursing education, empowering aspiring nurses to find the best-suited programs to kickstart their careers.
Lincoln Memorial University is a values-based learning community dedicated to providing educational experiences in the liberal arts and professional studies. The main campus is in Harrogate, Tennessee. For more information about the undergraduate and graduate programs available at LMU, contact the Office of Admissions at 423.869.6280 or email at [email protected].