LMU Law Announces Dean's List for Spring 2022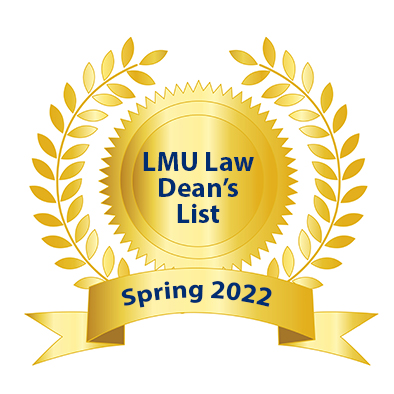 Seventy-five law students honored for academic achievement.
Lincoln Memorial University Duncan School of Law (LMU Law) Vice President and Dean Matt Lyon is pleased to announce the Dean's List for the spring 2022 semester. A total of 75 students were honored for achieving a grade point average of 3.400 or above while carrying at least a nine-credit-hour course load.
FLORIDA
BRADENTON: Caleb Loppe
GEORGIA
COMMERCE: Adrienne Dunagan
ROME: Richard Haygood
KENTUCKY
WINCHESTER: Carson Kovalic
FLORENCE: Rachel Schworer
SCIENCE HILL: Tyra Brown 
MARYLAND
ANNAPOLIS: Holly Sigman
MISSOURI
NEW MADRID: Jordan Allen 
NORTH CAROLINA
FRANKLIN: Shawn Marcie
TENNESSEE
COOKEVILLE: Jolie Uzelac
COSBY: Meganne Lee
CROSSVILLE: Joseph Wyatt
DANDRIDGE: Hannah Clyde
DUCK RIVER: Dalton Parks
GREENEVILLE: Michael Lussier
HARRIMAN: Sara Lawson
JACKSBORO: Joshua Armetta
KNOXVILLE: Emily Benoit, Stefanie Bowen, Baylee Brown, Davis Capps, Daniel Chung, Gabriel Cole, Bree Conner, Ryan Cox, Julia de Camargo, Travis Dorman, Sophie Fielder, John Foster, Neva Foust, Sean Freeland, Dylan Gahagan, Crystal Harris, Colton Hobbs, Jennifer Hughett, Holly Human, Bethany Jervis, Scott Keese, Grant Klingler, Nicholas Lima, Thomas Martin, Jordan Meddings, Michael Miles, Natalie Miramontes-Tankersley, Kaitlin Moran, Katharine Nutting, Lee Poff, Jordan Ritz, Dylan Shelton, Heidi Timmerman, Victoria Ungos, Andrew Varney, Brianna Williams, Christopher Willis, Tenaya Winkelman, Laura Witt, Gunner Woolsey
MADISONVILLE: Leah Spradlin
MANCHESTER: Grant Sadler
MARYVILLE: Evan Miller, Willow Van Skyhawk
MOORESBURG: Philip Gibson
NEWPORT: Sandra Kelley
LEBANON: Micalah Soileau
OAK RIDGE: Caleb Stuber
OOLTEWAH: Mark Warren
POWELL: Aaron Deaver, Patrick Fagan
SEYMOUR: Nathan Dowdy
SIGNAL MOUNTAIN: Zachary Atchley
TULLAHOMA: Jocelyn Mercado
WALLAND: Jenna Henderson
WHITWELL: Kayla Long
VIRGINIA
BIG ROCK: Megan Low
VIRGIN ISLANDS
FREDERIKSTED: Sonsirez Robles
The Lincoln Memorial University Duncan School of Law is located in Knoxville's Historic Old City Hall Building. LMU Law is an integral part of LMU's values-based learning community and is dedicated to preparing the next generation of lawyers to provide sound legal service in the underserved region of Appalachia and beyond.