2021-22 Awards Presented During LMU Law Commencement Ceremony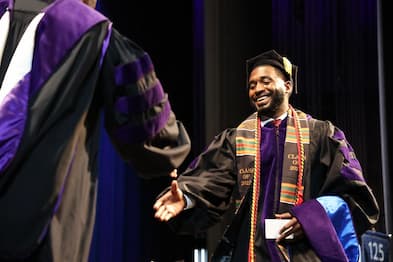 Lincoln Memorial University Duncan School of Law (LMU Law) Vice President and Dean Matthew R. Lyon presented the 2021-22 Lincoln Lawyer Awards to Victoria Ungos, Dustin Young and Nicole Human during the LMU Law Commencement ceremony on May 12.
The Lincoln Lawyer Awards recognize distinguished students in their final year of study for leadership, character, and service. The award winners were selected from a pool of nominees by the LMU Law faculty. The awards honor students who best demonstrate Lincoln's ability to withstand adversity and move forward in the face of frustration; to be a strong leader yet listen to different points of view; to acknowledge errors and learn from them; and to share the credit for success and the blame for failure.
Ungos, of Murfreesboro, Tennessee, a first-generation college student, was awarded the Lincoln Lawyer Award for Leadership, which recognizes the student who demonstrates outstanding leadership, scholastic performance, and integrity. Ungos served a Peer Leader, a group of upper-level students selected by the faculty to serve the law school by mentoring new students during orientation and throughout their first year, for two years. Classmates of Ungos elected her as a Senator to the Student Bar Association, and she served in a leadership position in the Criminal Law Society.
"In many ways, Victoria epitomizes our mission at LMU Law," said Dean Lyon. "I have witnessed her development in law school from an uncertain first-year student in my Civil Procedure class to a confident student leader who is ready begin her legal career. I am proud to know her, and she is going to make a phenomenal lawyer and public servant."
Emily Benoit, Stefanie Bowen, Baylee Brown, Gavin Cox, Ryan Cox, Briana D'Souza, Adrienne Dunagan, Nicole Human, Nathan Wallace, Bri Weiner, Jenna Wiggins, Brianna Williams, and Laura Witt were also nominated for the Lincoln Lawyer Award for Leadership.
The Lincoln Lawyer Award for Character was awarded to Young. The award recognizes a student who exhibits outstanding generosity of spirit and selflessness, and who has the habit of doing what is right, regardless of personal interests or outside pressures. Young grew up in West Tennessee and left a career in law enforcement in Middle Tennessee to follow his dream of becoming a lawyer. He has written about public service, saying: "I believe that public service is more than a job, it is a calling. When I first heard that phrase, I did not fully appreciate its meaning. But nothing compares to the feeling of helping someone, especially a person in need." Young externed with both the Federal Defender's Office of East Tennessee and the Justice Initiative. Young also received the President Abraham Lincoln Pro Bono Award for earning more than 250 pro bono hours during his time at LMU Law. Young spends time speaking to elementary school children, sharing his story, and explaining the importance of building good character while they are young.
"Dustin truly understands that a great lawyer is involved with, and gives back to, his or her community," said Dean Lyon. "I am confident that he will do all these things. The sky is the limit for his career in the law."
Emily Benoit, Bear Braswell, Baylee Brown, Danny Chung, Ryan Cox, Allison Cyrus-Walker, Shelby Davis, Julie Deakins, Adrienne Dunagan, Nicole Human, Joey Maus, JD Ritz, Victoria Ungos, John Valliant, Nathan Wallace, Bri Weiner, and Jenna Wiggins were also nominated for the Lincoln Lawyer Award for Character.
Human was awarded the Lincoln Lawyer Award for Service. The award recognizes a student who has a keen dedication to legal activism, diversity, and confronting social issues. Human spent her law school career focusing on helping others. She served as Vice Justice of LMU Law's Watson, Jr. chapter of Phi Alpha Delta, the legal service fraternity. The national fraternity recognized her outstanding work in that role with the Paul Meier Outstanding Vice Justice Award. Human also served as a LMU Law Dean's Fellow, serving in 2021-22 as the Senior Dean's Fellow. Dean's Fellows are a group of upper-level students, selected by LMU Law's academic success faculty, who help mentor new law students through workshops, office hours, and one-on-one tutoring sessions focused on core first-year subjects. Dean's Fellows assist first-year students with time management, organization, study strategies, and exam preparation. In addition to working as a Dean's Fellow, Human also served as a teaching assistant in the first-year Contracts and Sales classes.
"I know first-hand the many hours Nicole has spent grading, providing feedback, and working directly with students," said Dean Lyon. "Nicole has helped a generation of LMU Law students achieve their full potential, and I know that her servant's heart will make her a success as she enters the practice of law."
Emily Benoit, Stefanie Bowen, Danny Chung, Julie Deakins, Mari Jasa, Joey Maus, Corey Miles, Ana Quintero, Micalah Soileau, Victoria Ungos, Nathan Wallace, Bri Weiner, Jenna Wiggins, Laura Witt, and Dustin Young were also nominated for the Lincoln Lawyer Award for Service.
Each of the award winners were presented with a commemorative gift featuring Abraham Lincoln and a certificate.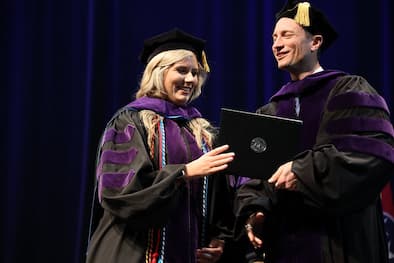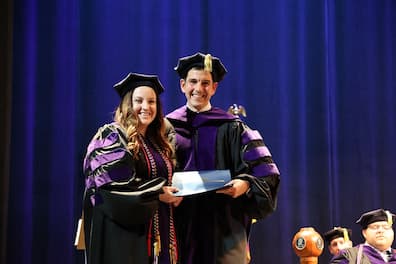 In an addition to the Lincoln Lawyer Awards, Associate Professor of Law Stevie Swanson was awarded the 2021-22 Professor of the Year award, as voted on by the entire LMU Law student body. The Professor of the Year award is a way for students to recognize exceptional teaching and those professors who have had a direct impact on their lives and their training as lawyers-to-be.
Swanson, a first-generation college student from rural Central Virginia, graduated from Yale University and the University of Michigan Law School. She began her career in legal education as a clinical professor supervising students in representing non-profit corporations in distressed urban communities. Swanson went on to teach at other law schools for 15 years, earning several teaching awards. She came to LMU Law in July 2021 and made an immediate impact on the law school and her students.
Swanson's first-year law students rave about her passion, both for teaching the subject matter and for helping them succeed. They call her organized, supportive, enthusiastic, and the best professor they have ever had at any level of their education. Other students of Swanson expressed that they are impressed with her commitment to their learning.
"Professor Swanson has become involved in the life of the law school in a very short period," said Dean Lyon. "She helped found the Real Estate Law Society, which instantly became the largest student organization on campus. Her perspective as someone who has taught at other law schools is incredibly valuable to those of us who have spent all or most of our career here at LMU. I am grateful for her commitment to diversity, equity, and inclusion, particularly for our faculty. Honestly, I have to keep reminding myself that she has been here less than a year, because I already cannot imagine LMU Law School without her."
The Lincoln Memorial University Duncan School of Law is located in Knoxville's Historic Old City Hall Building. LMU Law is an integral part of LMU's values-based learning community and is dedicated to preparing the next generation of lawyers to provide sound legal service in the often underserved region of Appalachia and beyond.