LMU Law Promotes Professor Katie Tolliver Jones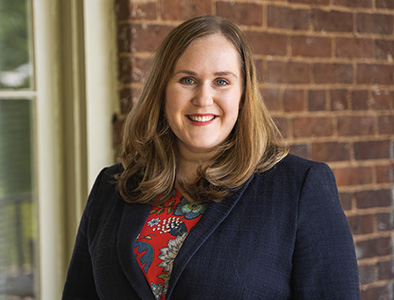 Lincoln Memorial University Duncan School of Law (LMU Law) Vice President and Dean Matthew R. Lyon has announced the promotion of Director of Academic Success and Assessment Katie Tolliver Jones to Associate Professor of Law.
Jones joined the faculty of LMU Law in August 2017. Since that time, she has taught first-year academic success courses as well as upper-level electives such as Estate Planning and Drafting and Contract Drafting. In July 2020, Professor Jones was promoted to Director of Academic Success and Assessment. In this role, she not only oversees the law school's academic success program, but also has chief responsibility for administering exams and programmatic assessments.
"Katie Jones has become an integral member of our faculty in a very short period of time," Dean Lyon said. "She is passionate about helping each of our law students maximize their potential for academic success. Her practice experience as a transactional attorney allows her to teach a variety of upper-level elective courses. And in addition to all of her teaching and administrative duties at the law school, she has co-authored a law review article challenging the conventional wisdom regarding law schools' bar passage rates and provides service to the bar as a leader of the East Tennessee Lawyers' Association for Women (ETLAW). Her promotion to Associate Professor is richly deserved."
Prior to joining the faculty of LMU Law, Jones worked in private practice in Knoxville. She handled matters involving appellate litigation, estate planning and administration, tax, contract law, and real estate, among other practice areas.  Upon graduating from law school, she was awarded an American Bar Association Section on Taxation Public Service Fellowship. As a Public Service Fellow at the Legal Aid Society of Middle Tennessee and the Cumberlands, she primarily represented low-income taxpayers from Appalachia in IRS administrative hearings and U.S. Tax Court litigation.
Jones earned her J.D. at the University of Tennessee College of Law. During law school, where she represented clients in the Domestic Violence Clinic and the Education Law Practicum. She also served on the Tennessee Law Review. Jones grew up in Oak Ridge, Tennessee and completed her undergraduate studies at the University of North Carolina at Chapel Hill, where she graduated with honors in political science and sociology with a minor in social and economic justice.
Jones says, "I am proud to be part of LMU Law and enjoy working as part of a team of faculty and staff who are invested in the success of every student and the mission of the school. I started my legal career working with clients in Appalachia and I feel grateful to be able to help train the next generation of attorneys, many of whom will help similar clients in underserved areas of Appalachia."
The Lincoln Memorial University Duncan School of Law is located in Knoxville's Historic Old City Hall Building. LMU Law is an integral part of LMU's values-based learning community and is dedicated to preparing the next generation of lawyers to provide sound legal service in the often underserved region of Appalachia and beyond.