LMU-CVM Presents Sullivan Awards to John and Susan Graves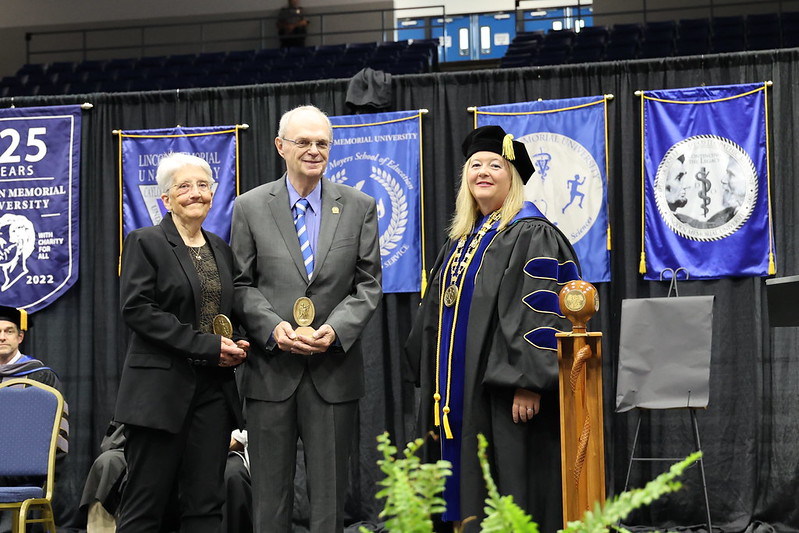 Lincoln Memorial University-College of Veterinary Medicine's (LMU-CVM) Dean Stacy Anderson presented the Algernon Sydney Sullivan Award and Mary Mildred Sullivan Award to John and Susan Graves during spring commencement exercises at Tex Turner Arena May 21.
The Graves have made the physical, mental, and financial health of LMU-CVM students a top priority. They were instrumental in starting Lincoln's Cupboard II, a food pantry at LMU-CVM, to which they contribute their own healthy snacks for students to enjoy. They are known for hosting holiday meals for students who cannot return home to their families. One of the most stressful times for CVM students is their transition to clinics that take them all over the country. The Graves regularly assist CVM students to find housing around the country.
"We are immensely grateful for the Graves and the generous time and support they give to our students," Anderson said. "They epitomize the noble character this award symbolizes."
Since 1890, the Algernon Sydney Sullivan Foundation has presented Sullivan Awards to college students who have distinguished themselves through service to others and their communities. LMU is one of approximately 60 colleges and universities in the United States to have the privilege of awarding the Sullivan Awards. LMU selects individuals whose "nobility of character" and dedication to service set them apart as examples of great citizenship.
The Algernon Sydney Sullivan Foundation was established in honor of a celebrated 19th-century humanitarian and attorney who often represented poor clients for free if their cause was just. The Sullivan Foundation has been recognizing college students for service and outstanding character since 1890. Learn more at https://sullivanfdn.org/.  
See the recorded event here: https://portal.stretchinternet.com/lincolnmemorialevents/portal.htm?eventId=698263&streamType=video&fbclid=IwAR0lanYG6XKK41xG7UqBgLaAmM88HBWcWc2ZEvoWXrT7gvnLdtJmQfW25Ps
Lincoln Memorial University (LMU) is a values-based learning community dedicated to providing educational experiences in the liberal arts and professional studies. The LMU-College of Veterinary Medicine is located on LMU's main campus in Harrogate, Tennessee, with additional academic facilities in nearby Lee County, Virginia. LMU-CVM is an integral part of the University's medical programs and provides real-world, community-based education in a collaborative learning environment. For more information about LMU-CVM, call 1.800.325.0900, ext. 7150 or visit us online at vetmed.LMUnet.edu.