Vroegindewey Receives Distinguished Service Award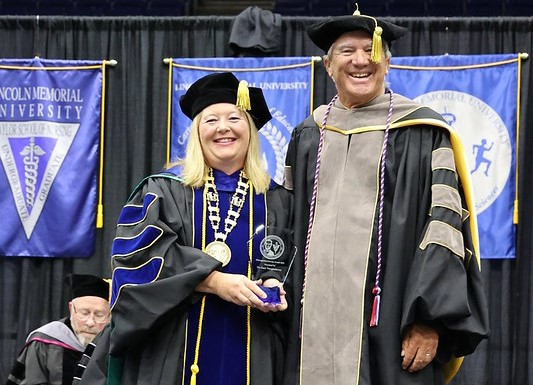 Lincoln Memorial University-College of Veterinary Medicine (LMU-CVM) Dean Stacy Anderson presented the Distinguished Service Award to Dr. Gary Vroegindewey during the 2022 Commencement Ceremony.
"LMU-CVM has been extremely fortunate to have this world-renowned individual develop an integrated One Health curriculum that has really set our students apart upon graduation," Anderson said. "More recently, he has included our faculty and students in international animal health research projects related to the COVID-19 pandemic. I cannot overstate the impact this individual has had to the LMU-CVM program."
The LMU-CVM Distinguished Service Award is presented to an individual who has, through his or her personal and professional achievements, demonstrated a strong commitment to the premise that the cornerstone of meaningful existence is service to humanity. The recipient will have excelled in serving the health and wellness needs of people within both the Appalachian region and beyond; enhancing access to comprehensive health care for underserved communities; supporting quality health care professions programs; and embracing quality, patient-centered care. The recipient is an individual that values diversity, public service, and leadership and demonstrates an enduring commitment to professionalism and the highest ethical standards.
Vroegindewey has spent his entire career improving animal and human health around the world through his service in the United States Army Veterinary Corps and the World Animal Health Organization. During his 30-year career, he has amassed an incredible body of experience in animal medicine and surgery, preventive health leadership, research acumen, and international engagement. He has worked at the highest levels of the U.S. government to defend our nation against agroterrorism and to create animal and human health policy.
See the recorded event here: https://portal.stretchinternet.com/lincolnmemorialevents/portal.htm?eventId=698263&streamType=video&fbclid=IwAR0lanYG6XKK41xG7UqBgLaAmM88HBWcWc2ZEvoWXrT7gvnLdtJmQfW25Ps
Lincoln Memorial University (LMU) is a values-based learning community dedicated to providing educational experiences in the liberal arts and professional studies. The LMU-College of Veterinary Medicine is located on LMU's main campus in Harrogate, Tennessee, with additional academic facilities in nearby Lee County, Virginia. LMU-CVM is an integral part of the University's medical programs and provides real-world, community-based education in a collaborative learning environment. For more information about LMU-CVM, call 1.800.325.0900, ext. 7150 or visit us online at vetmed.LMUnet.edu.