Gipson Named President-Elect of AAPA Student Academy Board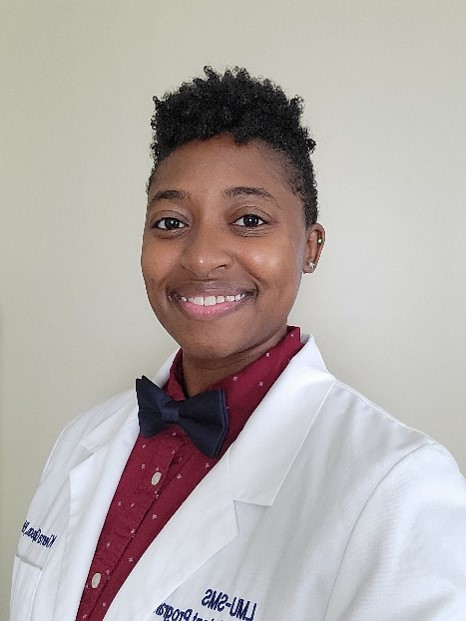 Lincoln Memorial University-School of Medical Science (LMU-SMS) Physician Assistant student Kierra Gipson, class of 2023, has been named 2022 American Academy of Physician Assistants (AAPA) president-elect for the Student Academy Board of Directors.
In her first year as a PA student, Gipson was elected as an AAPA Student Academy Representative (SAR) and AAPA House of Delegates Student Delegate.
"Through that work, I was hit even more with the advocacy bug with my main focus being diversity," Gipson said. "I wanted to do more and make impactful change for students especially surrounding diversity in the PA profession."
She will transition into the role of president-elect July 2022 and continue as President in July 2023.
"I knew running for president-elect would force me to step outside of my comfort zone even more because if I wanted to help students, I had to get to know them and understand the struggles they are going through," Gipson said. "To do that on a national level is definitely a huge challenge but one that I welcome with excitement."
Gipson, of Frisco, Texas, earned a bachelor's degree in Molecular and Cellular Biology from East Carolina University and a master's in Biomedical Science from Lincoln Memorial University.
"Becoming a PA will be one of my greatest achievements, but it is also just a steppingstone," she said. "It is how I have chosen to help people which is the ultimate goal. So, while it is an amazing accomplishment and certainly one of the biggest challenges in my life, it is a pathway to being able to give back. I am very passionate about equal access to health care for anyone and everyone. Becoming a PA will allow me to do that."
Her advice to anyone thinking of becoming a PA is that it is not easy but 100% doable.
"PA school is hard, but I have never learned so much in such a short amount of time," Gipson said. "It is exciting and incredibly rewarding."
Gipson credits her mother, Sharon Gipson and dad, Kenneth Gipson, for being strong individuals and teaching her that she can do anything she puts her mind to.
"I wouldn't keep reaching for the stars without their constant love and support," she said.
Founded in 1968, the American Academy of Physician Associates is the national professional society for PAs (physician associates/physician assistants). It represents a profession of more than 150,000 PAs across all medical and surgical specialties in all 50 states, the District of Columbia, U.S. territories, and the uniformed services. AAPA advocates and educates on behalf of the profession and the patients PAs serve. We work to ensure the professional growth, personal excellence, and recognition of PAs. We also enhance their ability to improve the quality, accessibility, and cost-effectiveness of patient-centered health care. The Student Academy's Assembly of Representatives (AOR) annually elects and appoints PA student leaders who represent PA students around the country. 
Established in 2019, LMU-SMS is home to LMU's Physician Assistant Program at the main campus in Harrogate, a Surgical Physician Assistant Program at LMU-Knoxville, the Doctor of Medical Science completion program in Harrogate, and the Bachelor of Medical Laboratory Science degree program, which is delivered at the main campus and at the Kingsport Center for Higher education. The school supports the University's mission of service to Appalachia and other underserved areas by maintaining high quality medical education and supporting student success.
Lincoln Memorial University is a values-based learning community dedicated to providing educational experiences in the liberal arts and professional studies.  The main campus is in Harrogate, Tennessee. For more information about the undergraduate and graduate programs available at LMU, contact the Office of Admissions at 423-869-6280 or email at [email protected].