Thrive Pet Healthcare Named Distinguished Clinical Affiliate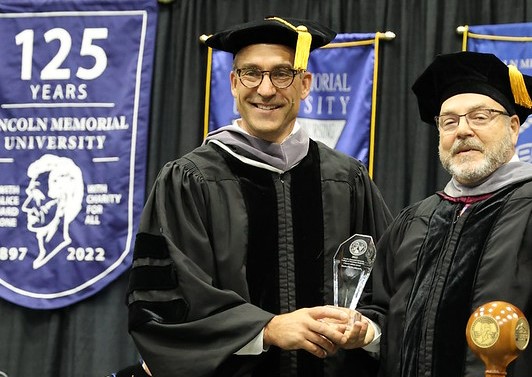 Lincoln Memorial University-College of Veterinary Medicine (LMU-CVM) recognized Thrive Pet Healthcare with the Distinguished Clinical Affiliate Award for the vital role they have had in preparing LMU-CVM graduates. Dr. Jimmy Murphy, vice president of strategic growth and professional development at Thrive, accepted the award on their behalf at the class of 2022 Commencement Ceremony on May 21 in Harrogate, Tennessee.
LMU-CVM bestows a Distinguished Clinical Affiliate Award to recognize its vital role in preparing LMU-CVM graduates to be confident, competent, and career-ready veterinarians. Dr. Mitchell Moses, associate dean of Clinical Rotations, presented the award.
"Thrive Pet Healthcare has exhibited a spirit of service and care for our students and our program," Moses said. "It consistently demonstrates a high focus on ensuring that students have an exceptional clinical experience in its practices. We are extraordinarily grateful for its partnership with us."
Fifty-seven Thrive Pet Healthcare practices in nine states serve as clinical affiliate sites for LMU-CVM. In the Clinical Year 2021-2022, those practices provided 387 clinical rotation slots, of which 87 were utilized. For the 2022-2023 Clinical Year, they offered 693 spaces, and students will be taking advantage of 112 of those opportunities.
In addition to the programs in place for its employed veterinarians to manage student debt, the organization is also committed to providing pet-friendly housing for students while they are on rotations at its practices. Thrive Pet Healthcare maintains ten corporate apartments for student use in specific geographies, and in other areas, they will provide housing in pet-friendly hotels. During the Clinical Year 2020-2021, when the country was at the height of the COVID Pandemic, students experienced myriad displacements from previously scheduled rotation sites. Thrive Pet Healthcare proactively stepped up with an offer to take students with those sorts of emergency needs.
See the recorded event here: https://portal.stretchinternet.com/lincolnmemorialevents/portal.htm?eventId=698263&streamType=video&fbclid=IwAR0lanYG6XKK41xG7UqBgLaAmM88HBWcWc2ZEvoWXrT7gvnLdtJmQfW25Ps
Lincoln Memorial University (LMU) is a values-based learning community dedicated to providing educational experiences in the liberal arts and professional studies. The LMU-College of Veterinary Medicine is located on LMU's main campus in Harrogate, Tennessee, with additional academic facilities in nearby Lee County, Virginia. LMU-CVM is an integral part of the University's medical programs and provides real-world, community-based education in a collaborative learning environment. For more information about LMU-CVM, call 1.800.325.0900, ext. 7150 or visit us online at vetmed.LMUnet.edu.