Burchett Honored With 'Region Strong' Award From Cumberland Gap Region Tourism Association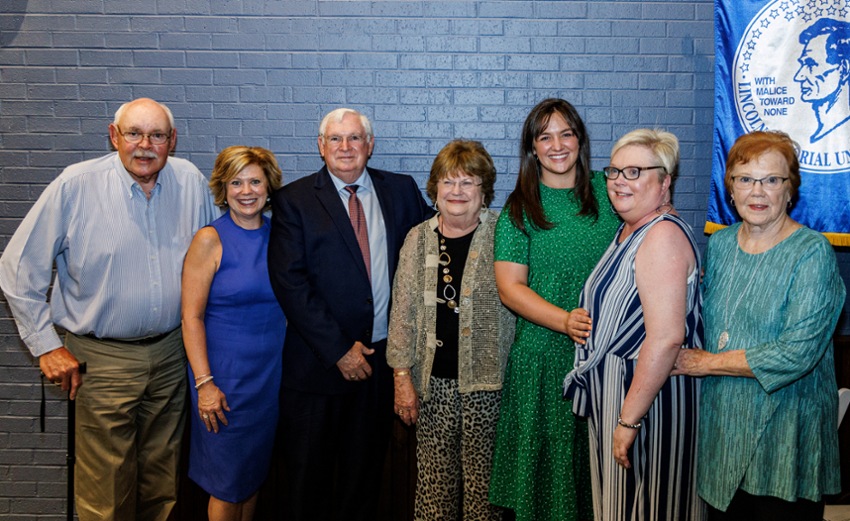 (Photo: Dr. Gary Burchett, former LMU president and longtime member of the LMU Board of Trustees, was honored with the 2022 Bill McGaffee Memorial Region Strong Award during a recent celebration at the Abraham Lincoln Library and Museum. The Annual Region Strong Award ceremony is sponsored by the Cumberland Gap Region Tourism Association. Several family members were on hand for the recognition. From left: Randy Burchette, Shannon Schieder, Gary Burchett, Frances Burchett, Ellen Partin, Nicole Burchett and Brenda Burchette.)  
Dr. Gary Burchett was honored recently by the Cumberland Gap Region Tourism Association (CGRTA) for his devoted efforts to highlighting the region and making it a vacation destination. Burchett is a former Lincoln Memorial University (LMU) president and longtime member of the LMU Board of Trustees. He is a founding member of the CGRTA and serves on its board of directors.
The CGRTA encompasses 10 counties in three states that are located within a 25-mile radius of Cumberland Gap, Tennessee: Claiborne, Campbell, Union, Hancock and Grainger counties in Tennessee; Bell, Harlan, Knox and Whitley counties in Kentucky; and Lee County, Virginia. It is led by director Carl Nichols and a board comprised of representatives from each county it serves. Each year, the organization recognizes outstanding achievers in community and tourism development by presenting the Bill McGaffee Memorial Region Strong Award. The award is bestowed on an individual or organization whose work in community and tourism development has had a positive economic impact on the entire Cumberland Gap region. The late McGaffee was very active in promoting the Tri-State region, working in the hospitality industry for many years, volunteering with numerous organizations and serving as mayor of Cumberland Gap.
Burchett is well-known in the region for his tireless efforts in promoting the area and encouraging development. He is a Claiborne County native and graduated from LMU and the University of Tennessee. He served LMU in several roles, culminating in his tenure as president. He left LMU and went into corporate management at DeRoyal Industries. He remained active in the community, where he was co-host of the popular Gary and Phil's Gospel Show with Phil Greer for many years. He was instrumental in the successful effort to incorporate the city of Harrogate in the early 1990s and also served as a member of the Harrogate City Council. His public service has continued with his service on the CGRTA board and membership in local organizations.
The recipient of the Bill McGaffee Memorial Region Strong Award is kept confidential until the awards ceremony. To help honor Burchett, representatives from different eras of his life were asked to share their thoughts on his service. Presenters included Nichols, Joe Brooks, Sherrie Claiborne, Mona Dotson, Linda Fultz, Jerry Hopson, Phyllis Hopson, Harold Jerrell, Linda Keck and Okie Wolfe. Several of Burchett's family members were on hand for the festivities as well.
Awards were also presented during the ceremony to outstanding honorees from each county in the CGRTA. For more information visit www.CumberlandGapRegion.com.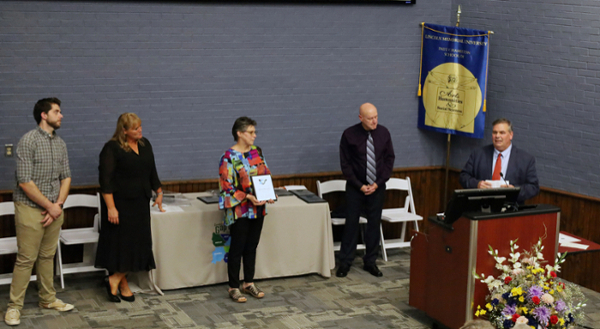 (Photo: LMU graduate Karen Maggard was recognized for her work on behalf of Lee County, Virginia. Maggard is office manager for Pennington Gap and tourism marketing agent. From left, Bradley Smiddy, CGRTA president; Maggy Monhollen, CGRTA vice-president; Maggard; Carl Nichols, CGRTA director; Keith Harless, Lee County representative to the CGRTA board of directors.)
Lincoln Memorial University is a values-based learning community dedicated to providing educational experiences in the liberal arts and professional studies. The main campus is in Harrogate, Tennessee. For more information about the undergraduate and graduate programs available at LMU, contact the Office of Admissions at 423.869.6280 or email at [email protected].