Professor Maha Ayesh Receives the Law and Liberty Award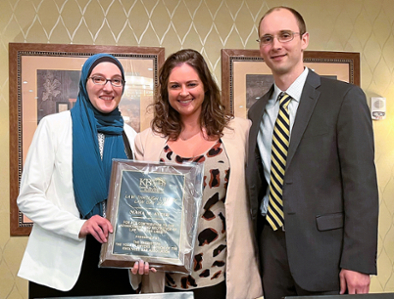 Lincoln Memorial University Duncan School of Law (LMU Law) Director of Experiential Learning and Assistant Professor of Law Maha M. Ayesh received the Knoxville Bar Association (KBA) Barristers' Law and Liberty Award at the annual Law Day Luncheon held on April 29.
The Law and Liberty Award is an accolade given to a Knoxville-based attorney or non-attorney who strives to foster and maintain good relationships between the legal profession and community, sets an example of good citizenship, and gives time for volunteer work. 
Ayesh was nominated for the award due in large part to her work in increasing access to justice in our community through the creation of three new clinical programs at LMU Law: a domestic violence clinic that allows student attorneys to represent otherwise pro se litigants seeking Orders of Protection in Sevier County; a mediation clinic that allows law students to serve as volunteer mediators with the non-profit Community Mediation of East Tennessee; and the new Immigration Humanitarian Relief clinic that will have law students working with Catholic Charities of East Tennessee in providing assistance to low-income non-citizen victims of violence and others who are seeking humanitarian relief through U.S. immigration laws. 
"I am happy for this award to highlight the great work being done at LMU Law by our students. Our new clinical courses are an excellent way for students to get hands-on experience in the practice of law while simultaneously increasing access to justice for many people in our community," Ayesh said.
A Knoxville native, Ayesh graduated from the University of Tennessee College of Law in 2006, achieving highest honors and being named Outstanding Graduate of her class. Ayesh joined LMU Law in 2020 with over a decade of private practice experience focusing on employment and civil rights litigation, representing victims of discrimination, harassment, and retaliation for Jennifer Morton Law. Ayesh took a brief sabbatical from her practice when she was awarded a Fulbright Fellowship in 2011, through which she worked and researched in the field of human trafficking and the rights of migrant domestic workers in Amman, Jordan. Before that, she served as a judicial law clerk for the Honorable Joseph M. Tipton of the Tennessee Court of Criminal Appeals. She has been an active member of the local and state bar for many years.   
The Lincoln Memorial University Duncan School of Law is located in Knoxville's Historic Old City Hall Building. LMU Law is an integral part of LMU's values-based learning community and is dedicated to preparing the next generation of lawyers to provide sound legal service in the often-underserved region of Appalachia and beyond.