LMU Law Celebrates Commencement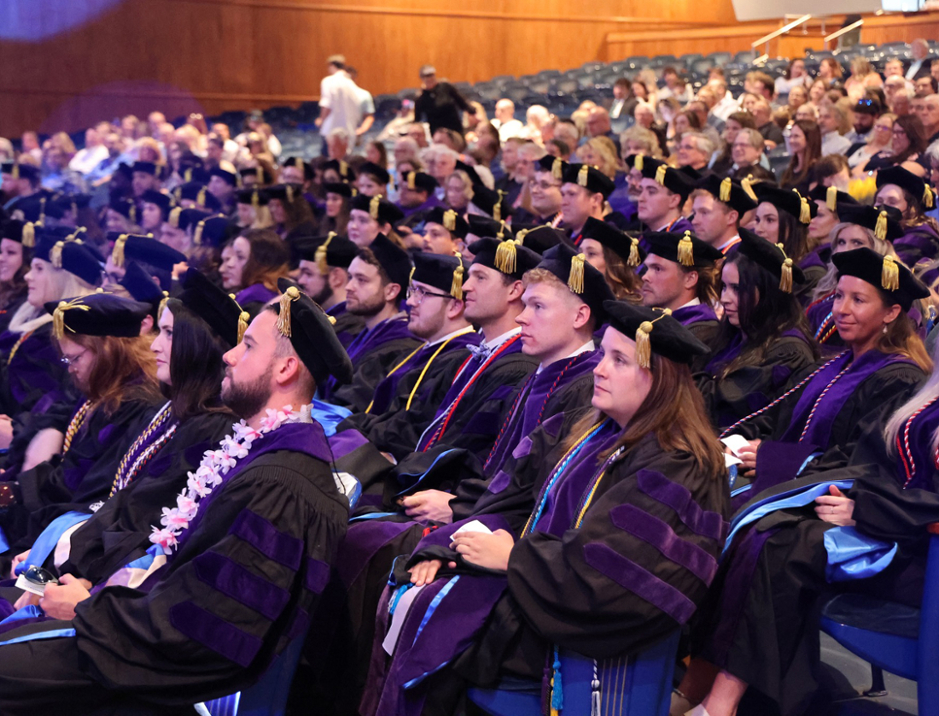 Lincoln Memorial University Duncan School of Law (LMU Law) celebrated the commencement of the Class of 2022 at the Knoxville Civic Auditorium on May 12. The 75 graduates in the Class of 2022 were honored for their many achievements in law school and joined the ranks of over 500 LMU Law alumni.
The Honorable Suzanne Bauknight delivered the commencement address at the ceremony, telling the graduates the importance of focusing on their character as they enter the legal profession. Judge Bauknight has served as the U.S. Bankruptcy Judge for the Eastern District of Tennessee in Knoxville since 2014. Before her appointment, Judge Bauknight was an Assistant U.S. Attorney and the Civil Division Chief in the Eastern District of Tennessee, in private practice at the Knoxville office of Baker, Donelson, Bearman, Caldwell, and Berkowitz. She earned her J.D. with honors from the University of South Carolina School of Law. Judge Bauknight is a past president of the Hamilton Burnett Chapter of the American Inns of Court and teaches as an adjunct professor, both at the University of Tennessee College of Law and at LMU Law, where she teaches Secured Transactions.
"I challenge you on this momentous day to pursue not a successful career path but a successful character path, said Judge Bauknight. "The challenge is for you to take on leadership roles where you see a need or in areas you have a natural passion. Not to improve your own standing, but to improve the standing of those around you."
William Bradley "Bear" Braswell, of Chattanooga, Tennessee, was selected by his classmates to deliver remarks on behalf of the graduating class. The tradition of having the members of the graduating class select one of their own to speak at Commencement started last year.
"Thank you all for this wonderful opportunity to be your class speaker," Braswell said. "I hope you learned that there is nothing you cannot do, no goal you cannot achieve, no expectation you cannot exceed, no challenge you cannot conquer…You've shown resilience and grit, and you've illustrated time and time again that your individual capacity for greatness may well be limitless."
"Bear's mantra throughout life has been to 'just put one foot in front of the other.' That has helped him succeed in law school and in life, but he has done more than that here at LMU Law," Vice President and Dean Matt Lyon said. "The reason Bear is so beloved by his law school classmates is not because of his writing or speaking ability, or his legal reasoning skills. It is because he is kind. Supportive. Funny. He spreads positivity. He builds up others rather than bringing them down."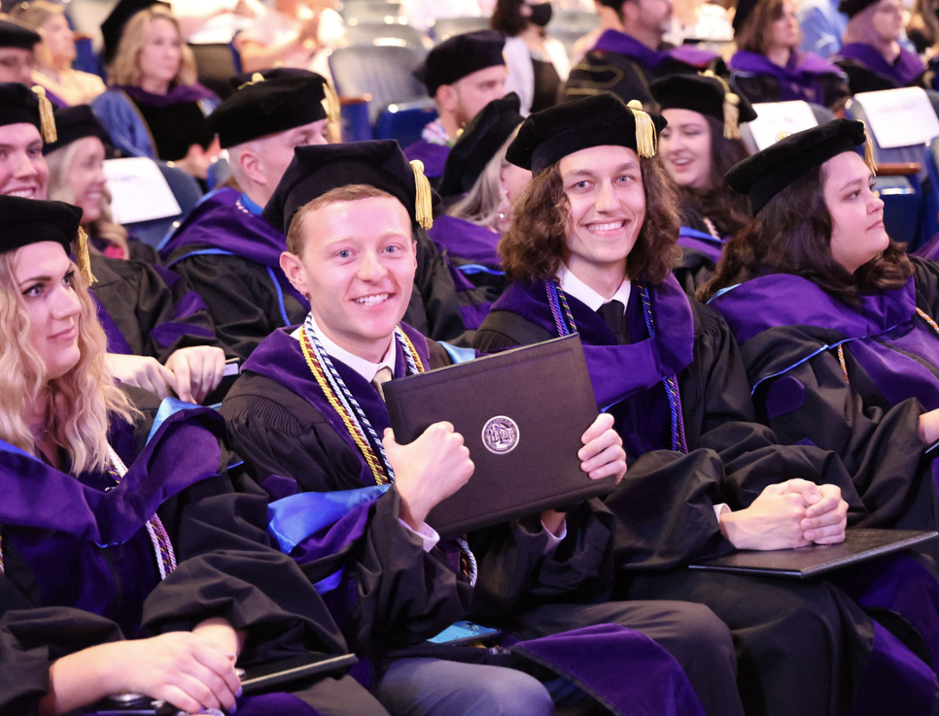 During the ceremony, graduates received a letter from the law school administrative staff on behalf of all LMU Law's faculty and staff. Graduates were also given an envelope containing the personal statement from their application to LMU Law.
"These are the words you wrote when you first decided to come to law school more than three years ago, said Dean Lyon. "Whatever is next for you – the bar exam, a career in the law, or even a career in a totally different field – we hope these words cause you to reflect on everything that brought you to this special place and on how much you have grown during your time here with us at LMU Law."
Lincoln Memorial University is a values-based learning community dedicated to providing educational experiences in the liberal arts and professional studies. The main campus is located in Harrogate, Tennessee. For more information about the undergraduate and graduate programs available at LMU, contact the Office of Admissions at 423-869-6280 or email at [email protected].
The Lincoln Memorial University Duncan School of Law is located in Knoxville's Historic Old City Hall Building. LMU Law is an integral part of LMU's values-based learning community and is dedicated to preparing the next generation of lawyers to provide sound legal service in the often underserved region of Appalachia and beyond.