Tennessee and LMU-CDM Team to Provide Dental Care in East Tennessee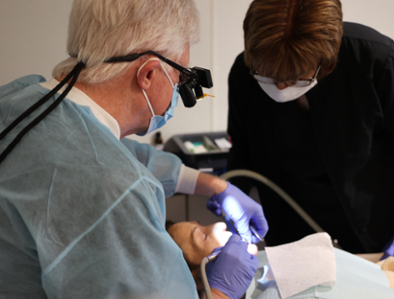 The Lincoln Memorial University-College of Dental Medicine (LMU-CDM) has partnered with the state of Tennessee to develop an Educational Safety Net Care Fund and pilot program to support outreach in 33 counties in East Tennessee. The measure was included in the state budget which was passed by both the House and Senate on Friday and now awaits Governor Bill Lee's signature.
The state will provide $3.75 million a year for three years to the Department of Health to establish the program. LMU-CDM Dean Denise Terese-Koch estimates the program will enable 75,000 patient visits in 2022-2023 throughout the region.
"This significant investment by the Tennessee General Assembly will enhance both education and training for our emerging professionals in this industry," said Representative Gary Hicks. "I was proud to partner with Lincoln Memorial University and the College of Dental Medicine to secure this historic funding to address dental and oral hygiene needs of the citizens across our community, region, and state."
Pending accreditation, LMU-CDM will welcome its inaugural class of 80 doctor of medicine in dentistry students and 30 dental hygiene students in September. The University initially announced it had hired Terese-Koch and was pursuing a college of dental medicine in March 2021. Since then, Terese-Koch and her team have been granted approval from the Southern Association of Colleges and Schools and has applied for initial accreditation from American Dental Association's Committee on Dental Accreditation (CODA) as well as hosting site visits for each program earlier this year.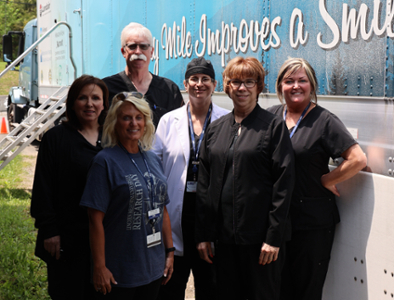 LMU has invested millions in the renovation of seven floors of the LMU Tower in Knoxville at the site of the former St. Mary's Hospital for the LMU-CDM, which will also include a clinic and innovation center to serve the public.  Terese-Koch has assembled a faculty that is already impacting communities across the state with monthly outreach in conjunction with Appalachian Miles for Smiles as well as weekly clinics at Magnolia Methodist Church in Knoxville, Tennessee.
"Our program of dental education is dedicated to providing hands-on training from almost day-one while providing excellent patient care to underserved populations throughout Appalachia and beyond," Terese-Koch said. "This partnership with Tennessee will help address the oral health needs and improve access to oral healthcare in the region. Our aim is to recruit students from this region – which is classified as a dental desert and train them here in hopes that they choose to practice here. 
LMU-CDM faculty will continue outreach activities through mobile units and stand-alone clinics. Additionally, LMU plans to build a number of community clinics in Harrogate, Knoxville, Morristown and the Tri-Cities region. In most cases, the services will be provided at no cost to the patient or on a sliding scale to accommodate indigent populations.
Lincoln Memorial University is a values-based learning community dedicated to providing educational experiences in the liberal arts and professional studies.  The main campus is located in Harrogate, Tennessee. For more information about the undergraduate and graduate programs available at LMU, contact the Office of Admissions at 423-869-6280 or email at [email protected].