Tampa Nursing Students Awarded Scholarships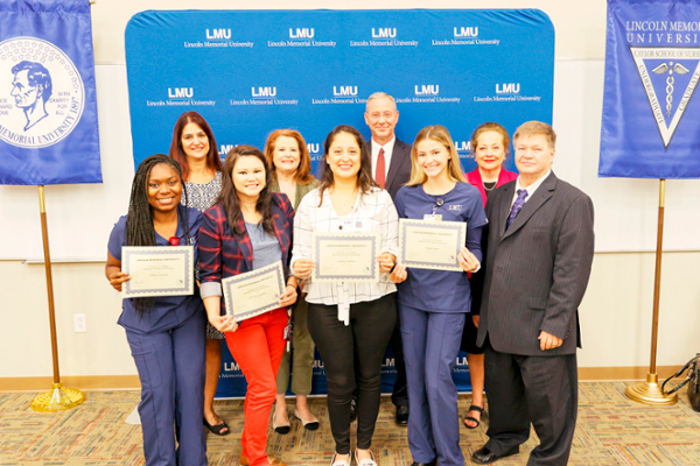 (Photo: Several students in the Lincoln Memorial University Caylor School of Nursing in Tampa, Florida, were recognized during an awards ceremony. Academic scholarships were awarded prior to the May 11, 2022, commencement. Front row, left to right: Ashley Portilus, Caroline Sanchez, Selenne Garnelo, Helyn Dunn, Dr. Clayton Hess, LMU president. Back row, left to right: Dr. Lea Dodge, assistant professor of nursing and executive director of LMU-Tampa; Dr. Tammy Dean, dean of the Caylor School of Nursing; Dr. Mark Tew, vice president for academic affairs; Cynthia Whitt, vice president of University Advancement.)
Several students at Lincoln Memorial University Caylor School of Nursing's (LMU-CSON) location in Tampa, Florida, were recently awarded academic scholarships. The scholarships were presented in a ceremony prior to the May commencement exercises. Several members of LMU administration were on hand for the celebrations.
Annual and endowed scholarships are awarded annually to eligible students. Donors to LMU make those scholarships possible.
"When they made a decision to support scholarships, they made a decision to change lives," said Cynthia Whitt, vice president of University Advancement, to the audience. "This year we are awarding $1,008,831.40 in annual and endowed scholarships to 464 students across all campus sites."
Donors who earmarked gifts for students in the Tampa nursing programs include Avis Phillips and her late husband Ted and Erika Rains, Whitt said. Dr. Clayton Hess, LMU president, and Dr. Tammy Dean, dean of the Caylor School of Nursing, made the scholarship presentations.  
The Erika Rains Annual Scholarship was awarded to Jojanny Munoz. The Ted and Avis Phillips Endowed Nursing Scholarship was awarded to Jezabelle Couture, Helyn Dunn, Selenne Garnelo, Chanette Jordan, Veronica McKay, Ashley Portilus, Caroline Sanchez, Moesha Tadeus and LaMaria Wilson.
Lincoln Memorial University is a values-based learning community dedicated to providing educational experiences in the liberal arts and professional studies.  The main campus is located in Harrogate, Tennessee. For more information about the undergraduate and graduate programs available at LMU, contact the Office of Admissions at 423.869.6280 or email at [email protected].