Nurses Make a Difference: LMU Celebrates Nurses Week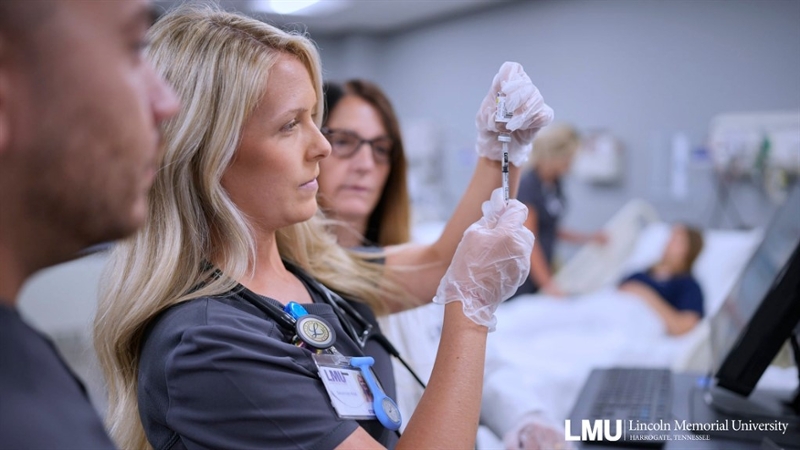 The Lincoln Memorial University (LMU) Caylor School of Nursing (CSON) joins the nation in celebrating the profession of nursing during National Nurses Week starting on National Nurses Day – Friday, May 6 – and running through May 12. The theme for 2022 is "Nurses Make a Difference."
"Nurses are vital to the success of health care across the nation and world," LMU President Clayton Hess said. "LMU has proudly trained thousands of nurses who have been on the front lines of our health care systems before and during the pandemic, and we will continue to be committed to nursing education beyond this current crisis. We look forward to educating these health care professionals for many years to come."
The COVID-19 pandemic saw nurses on the front lines around the globe. They played an enormous role in combating the initial surge, and they continue to make a difference in health care during the subsequent variants of the virus.  
Various groups have lobbied to recognize nurses dating back to 1953, when the U.S. Department of Health, Education and Welfare's Dorothy Sutherland unsuccessfully proposed a day for nurses to President Dwight Eisenhower. It wasn't until 20 years later that the ICN proclaimed May 12 – the birthday of British nurse Florence Nightingale, who is widely recognized as the founder of modern nursing – as International Nurses Day. Seven years later, in 1982, President Ronald Reagan signed a proclamation declaring May 6 National Recognition Day for Nurses.
While nursing organizations across the nation have activities planned to honor and recognize nurses and the exceptional care they provide, LMU is celebrating decades of preparing competent, caring and compassionate nurses for exciting, in-demand careers that make a difference every single day. LMU-trained nurses work in hospitals, doctors' offices, home health care and clinics at every level from Registered Nurse to Doctor of Nursing Practice.
LMU has reinforced its commitment to training nurses with a substantial investment in the LMU Tower in Knoxville, which reopened in 2021. It houses both the Associate of Science in Nursing and Bachelor of Science in Nursing programs. Once a part of the historic St. Mary's and later the Physicians Regional Medical Center, LMU has completely renovated the first two floors of the LMU Tower for nursing. The facility has become a center for teaching excellence with advanced simulation and skills laboratories, state-of-the art classrooms equipped with lecture capture technology and integrated faculty offices to provide students with easy access to all the essentials of learning. Located in the heart of Knoxville, LMU has a wealth of clinical partners to provide students with early, hands-on educational experiences.
In addition to the LMU Tower, LMU-CSON offers its outstanding nursing programs at other learning sites and the Main Campus in Harrogate, Tennessee. Nursing programs are available at LMU-Cedar Bluff in Knoxville, LMU-Corbin in Corbin, Kentucky and at LMU-Tampa in association with AdventHealth Tampa. Additionally, LMU-CSON offers a RN to BSN program, the Master of Science in Nursing (MSN) Nursing Administration concentration and the Doctor of Nursing Practice (DNP) in a totally online format. The MSN Family Nurse Practitioner (FNP) and Family Psychiatric Mental Health Nurse Practitioner (FPMHNP) concentrations are available as either seated or online programs. The Nurse Anesthesia concentration, offered on the Main Campus, transitioned to a DNP in January 2022.
Nursing is the largest undergraduate major at LMU. Enrollment in the CSON has increased exponentially over the last decade with the addition of new programs and concentrations. The CSON offers a variety of degree options to meet nurses' career goals including an Licensed Practical Nurse to Associate of Science in Nursing (LPN-ASN), the Associate of Science in Nursing (ASN), the Bachelor of Science in Nursing (BSN), the Registered Nurse to Bachelor of Science in Nursing (RN-BSN), the Master of Science in Nursing (MSN) with concentrations including the Family Nurse Practitioner, Nursing Administration and Family Psychiatric Mental Health Nurse Practitioner and the Doctor of Nursing Practice with a concentration in Nurse Anesthesia and the DNP online concentration.
Lincoln Memorial University is a values-based learning community dedicated to providing educational experiences in the liberal arts and professional studies.  The main campus is in Harrogate, Tennessee. For more information about the undergraduate and graduate programs available at LMU, contact the Office of Admissions at 423.869.6280 or email at [email protected].