LMU-DCOM Welcomes 59 Students to Gold Humanism Honor Society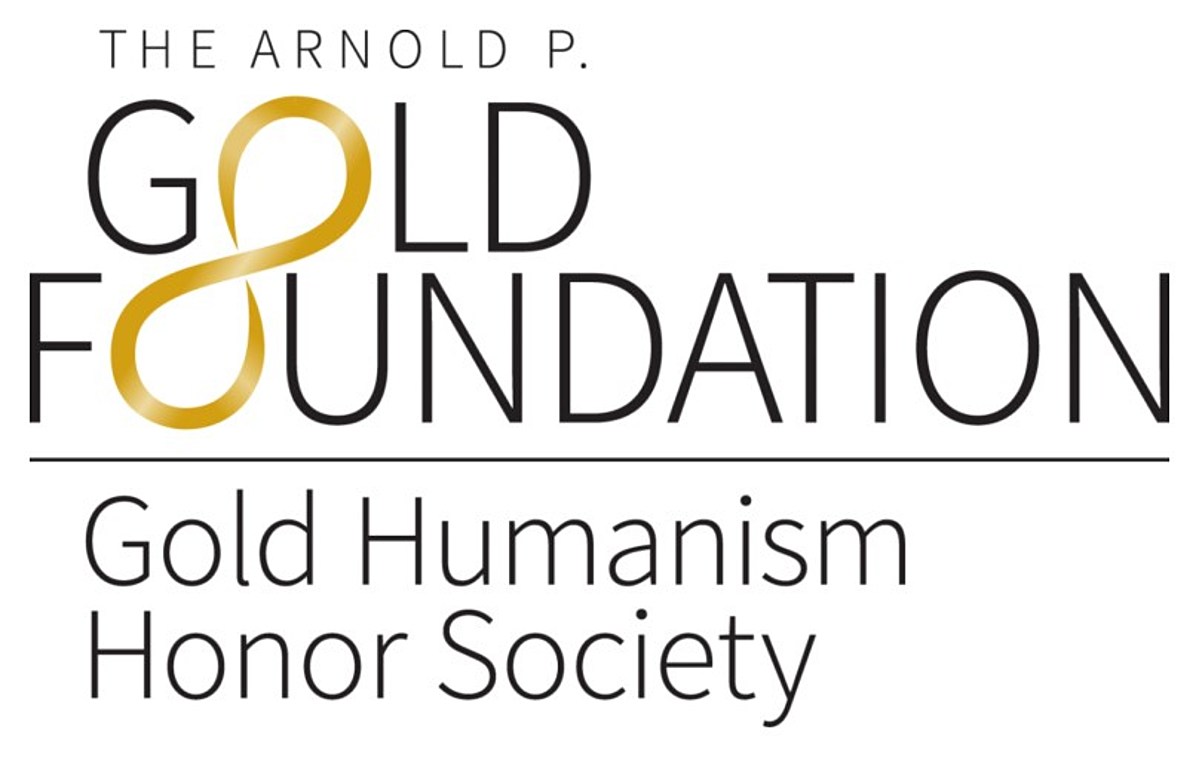 The Lincoln Memorial University-DeBusk College of Osteopathic Medicine (LMU-DCOM) chapter of the Gold Humanism Honor Society (GHHS) inducted 59 class of 2024 students in a virtual ceremony May 3, 2022. Students from both the Harrogate and Knoxville locations were nominated by their peers for exhibiting compassionate and patient-centered qualities throughout their time in medical school. 
"To me, humanism is exemplified by unconditional respect, compassion and provision of skilled services to not only a community of patients, but also to other members within the health care system," said Jonathan Bowman who was presented along with his fellow inductees in a roll call slideshow portion of the ceremony.
Laura Vater, MD, an Oncology Fellow at Indiana University, delivered the keynote address, where she challenged inductees to remain compassionate throughout their upcoming careers in health care. She encouraged each student to "use the door frame," as a reminder that in each new room, the patient is a whole being who desires compassionate care and a listening ear. 
"Continue to reconnect with why you chose medicine, why was it that you have worked so hard to get where you are, who are you going to be as a doctor. I encourage you to think about that every single day," Vater said. "The clinical years of medical school are grueling … and can be really exhausting, but they are also incredibly beautiful, taking care of patients, connecting with them. That is where the meaning lies."
The full recording of the virtual ceremony can be viewed here: https://youtu.be/0uqRJx21x_Q
GHHS was founded in 2002 as a nonprofit organization committed to promoting and maintaining a culture of compassionate providers in the health care field. Since then, over 45,000 medical students, physicians, and other leaders in health care have been inducted into the society. 
The 2022 GHHS inductees are: Nadia Abdo, Caleb Adkins, Usama Aljameey, Jonathan Bowman, Alvin Brenk, Nada Buntic, Abby Burnett, Vanessa Cardenas, Clay Coppinger, Jeilyn Coston, Rachael Crumley, Sarah Daabies, Hunter Deaton, Bethany Doles, Morgan Frahm, Chase Goldsborough, Kayla Gordon, Kevin Harkins, Riccesha Hattin, Michael Helou, Kayla Holland, Matthew Hooks, Annie Janus, Spencer Jefferies, Olivia Johnson, Troy Kendrick, Morgan Ketchersid, Hilary Knippers, Christopher Loiselle, Blaine Marie, Josh Mills, Katelyn Moat, Folarin Onifade, Chioma Onuorah, Utkarsh Pandey, Bhavik Patel, Pinak Patel, Humberto Perez, Luke Persin, Khoa Pham, Hannah Roland, Junaid Salah-Esa, Mackenzie Shepard, Alex Sher, Andrea Sparkman, Zach Spires, Holly Staroba, Sean Sullivan, Chassidy Sumler, Ashley Sundin, Zurriat Syed, Anna Devin Taylor, Zach Their, Bao Ngan "Amy" Tran, Gabrielle Truitt, Tara VanCleave, Kaleigh Wallock, Carrie Wild, and Eric Wolfe.
The DeBusk College of Osteopathic Medicine is located on the campus of Lincoln Memorial University in Harrogate, Tennessee and at LMU-Knoxville in Knoxville, Tennessee. LMU-DCOM is an integral part of LMU's values-based learning community and is dedicated to preparing the next generation of osteopathic physicians to provide health care in the often-underserved region of Appalachia and beyond. For more information about LMU-DCOM, call 1.800.325.0900, ext. 7082, email [email protected], or visit us online at http://med.LMUnet.edu.