Joe, Junebug Clark Photography Exhibition To Kick Off Arts In The Gap Summer Events

(Left photo: "Baptising [sic] in Olde Towne Creek" (1938). Rev. Hugh Vancel performs baptisms in the creek in Red Hill, Tennessee. Right photo: "The General Store" (1939). Dal Gulley's General Store at Cumberland Gap's Horse Shoe Bend. Joe Clark is behind the counter selling his sister Maude the chicken. Also behind the counter is Dal Gulley, the store owner. Second from left, holding the axe, is Clark's sister Mabel and sitting and whittling is Clark's father, Wade Hampton Clark. Photos courtesy of Junebug Clark.)
Lincoln Memorial University's (LMU) Arts in the Gap (AITG) will kick off the 2022 summer events with a special opening weekend for the Joe and Junebug Clark Photography Exhibition. The opening weekend is June 3-5 at the Paul V. Hamilton Center for the Arts in Cumberland Gap, Tennessee. The photos will remain on exhibit throughout the month of June.
The public is invited to see and celebrate the incredible photographs from renowned photographer Joe Clark, a Cumberland Gap native, and his son Junebug. Known as the "Hillbilly Snap Shooter," Joe Clark captured life in the region in his photos. Junebug and his wife Kay will be on hand during the opening weekend to share stories behind many of the photos.
"We are really proud of Joe and honored to preserve his story and legacy," said Junebug, who is a popular photographer as well. "Join us if you can."
After growing up in Cumberland Gap, within a few miles of LMU, Joe went to Detroit, Michigan, for work. Photography became a beloved hobby, and he developed such an artistic excellence in his photographic studies that his work was in great demand. Joe completed a sequence of photos of a mountain funeral in Claiborne County, Tennessee, which was published in "Life" magazine. His photos were published in many papers and publications. His talent for depicting life in rural Appalachia provides, to this day, an appreciation of what life in the Cumberland Gap region was truly like.
"He…brought a rare understanding and sympathetic approach to his pictorial portrayal of mountain life and people," according to writing in a scrapbook of Joe's early work put together by his wife Bernice in the 1940's.
Joe had special connections to LMU as well. His sister was enrolled at the University, and he was friends with Dr. R. Gerald McMurtry, who was director of Lincolniana at LMU for 17 years. McMurtry also served as editor of the "Lincoln Herald" for 19 years, taking the publication to the forefront of scholarly quarterlies devoted to Abraham Lincoln. Joe took numerous photos at LMU, some of which were published in the "Lincoln Herald." He was also assigned by "Life" to make photos for a feature on registration of college freshmen and he visited LMU at that time.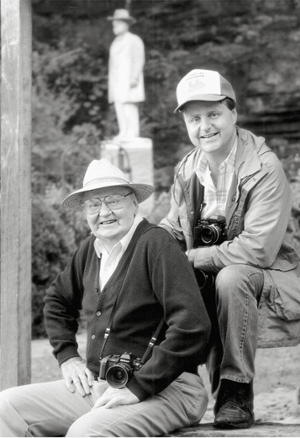 Special opening weekend hours for the exhibit will be 6-9 p.m. on June 3, 10 a.m. to 5 p.m. June 4, and 10 a.m. to 2 p.m. on June 5. The remainder of the month, through June 25, the exhibit will be open Monday through Friday 10 a.m. to 5 p.m., Saturday from noon to 5 p.m. and closed on Sundays. The cost of the event is donation based.
For more information, contact Grace Mahieu, coordinator of LMU's Arts in the Gap, at [email protected] or 423.869.7423.
Lincoln Memorial University is a values-based learning community dedicated to providing educational experiences in the liberal arts and professional studies. The main campus is in Harrogate, Tennessee. For more information about the undergraduate and graduate programs available at LMU, contact the Office of Admissions at 423.869.6280 or email at [email protected].