LMU to Present Jesse McCartney in Concert Saturday, April 9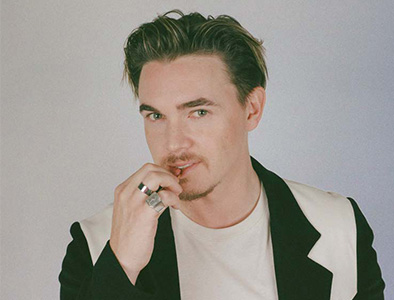 The Lincoln Memorial University (LMU) Student Services Division is proud to present national recording artist, singer, songwriter and actor Jesse McCartney as the featured performer at the Lincoln Memorial University Spring Concert at Tex Turner Arena at 7 p.m., Saturday, April 9.
"We are so thrilled to bring Jesse McCartney to Harrogate, Tennessee," said Blaze Bowers, assistant vice president for Academic and Student Support Services. "This is a project that we have been working on for over a year. A concert is something our students have expressed a desire for in student surveys and we are excited to bring concerts back to Tex Turner Arena with the ultra-talented Jesse McCartney."
Since the start of his career, New York-born and Los Angeles-based McCartney has built a catalog of instantly recognizable anthems and captivated audiences on the road and on-screen. His first three albums – the Platinum Beautiful Soul [2004], Right Where You Want Me [2006], and Departure [2008]— consecutively bowed in the Top 15 of the Billboard Top 200 with singles "Beautiful Soul" minted gold and "Leavin" certified platinum. Plus he collaborated with T-Pain on the cross-genre banger "Body Language." Meanwhile, SPIN touted In Technicolor among its "Top 20 Pop Albums of 2014."
A sought-after songwriter, he notably wrote the 4x-platinum Grammy Award-nominated "Bleeding Love" for Leona Lewis. In 2018, his single "Better With You" racked up nearly 30 million cumulative streams and paved the was for his fifth studio album.
McCartney's acting credits include everything from Chernobyl Diaries and Fear The Walking Dead to Alvin and the Chipmunks, and even voicing the character Roxas/Ventus in gamer favorite Kingdom Hearts. In 2020, he was revealed as the runner-up and popular fan favorite Turtle in the third season of Fox's The Masked Singer.
McCartney has performed in arenas alongside the likes of New Kids on the Block and Backstreet Boys in addition to packing global headline tours and hosting shows for both George W. Bush and Barack Obama. He released his fifth studio album, New Stage, on October 8, 2021, featuring the singles "Party For Two" and "Kiss The World Goodbye." McCartney will embark on a tour in May to support the album.
All Tickets will be general admission with doors opening at 6 p.m. and the show slated to begin at 7 p.m. LMU undergraduates and graduates will be admitted for free, tickets for professional students and LMU employees are $5. Tickets for the general public are $10. Tickets can be secured online.
Lincoln Memorial University is a values-based learning community dedicated to providing educational experiences in the liberal arts and professional studies.  The main campus is located in Harrogate, Tennessee. For more information about the undergraduate and graduate programs available at LMU, contact the Office of Admissions at 423-869-6280 or e-mail at [email protected].