LMU-College of Dental Medicine Continues to Serve the Community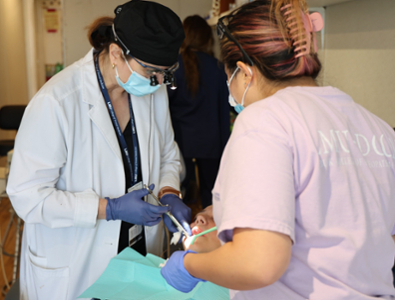 Lincoln Memorial University-College of Dental Medicine (LMU-CDM) is six months away from welcoming its inaugural class, pending accreditation. However, it is already meeting its mission in regard to the premise that the cornerstone of meaningful existence is service to humanity.
LMU-CDM Dean and Chief Academic Officer Denise Terese-Koch, who holds a license to practice in Tennessee, as well as several faculty members are already impacting our community with dental outreach throughout the Appalachian Region.
LMU-CDM has partnered with Appalachian Miles for Smiles to provide dental services at mobile dental clinics across East Tennessee and Virginia. LMU-CDM served more than 70 Lincoln Memorial University students and staff during free clinics in 2021. So far, in 2022, hundreds of people in need have been served during free clinics at the Knox Area Rescue Ministries and clinics in Rogersville, Tazewell, Mountain City, and Church Hill, Tennessee. Additional free clinics are scheduled for Rogersville and Sneedville, Tennessee.
LMU-CDM believes that central to any dental curriculum is experiential clinical learning. LMU-CDM plans to operate a public clinic where faculty and students provide dental care on a sliding scale for underserved populations in Knoxville and beyond. LMU-CDM was awarded an Innovation Center grant by CRET and will develop what will be the fourth such center in the country. LMU joins West Virginia University School of Dentistry, the University of Missouri-Kansas City, and the University of Mississippi. LMU was selected in part because of its unique humanitarian mission to provide dental oral health care to the two million people in the East Tennessee and Appalachian Region.
The Lincoln Memorial University-College of Dental Medicine (LMU-CDM) has applied for initial accreditation from the Commission on Dental Accreditation (CODA). LMU-CDM has received approval from the Southern Association of Colleges and Schools Commission on Colleges (SACSCOC) for the Doctor of Medicine in Dentistry (DMD) and Dental Hygiene (DH) programs.
Lincoln Memorial University is a values-based learning community dedicated to providing educational experiences in the liberal arts and professional studies. The main campus is located in Harrogate, Tennessee. For more information about the undergraduate and graduate programs available at LMU, contact the Office of Admissions at 423-869-6280 or email at [email protected]