Greene Honored for Excellence in Teaching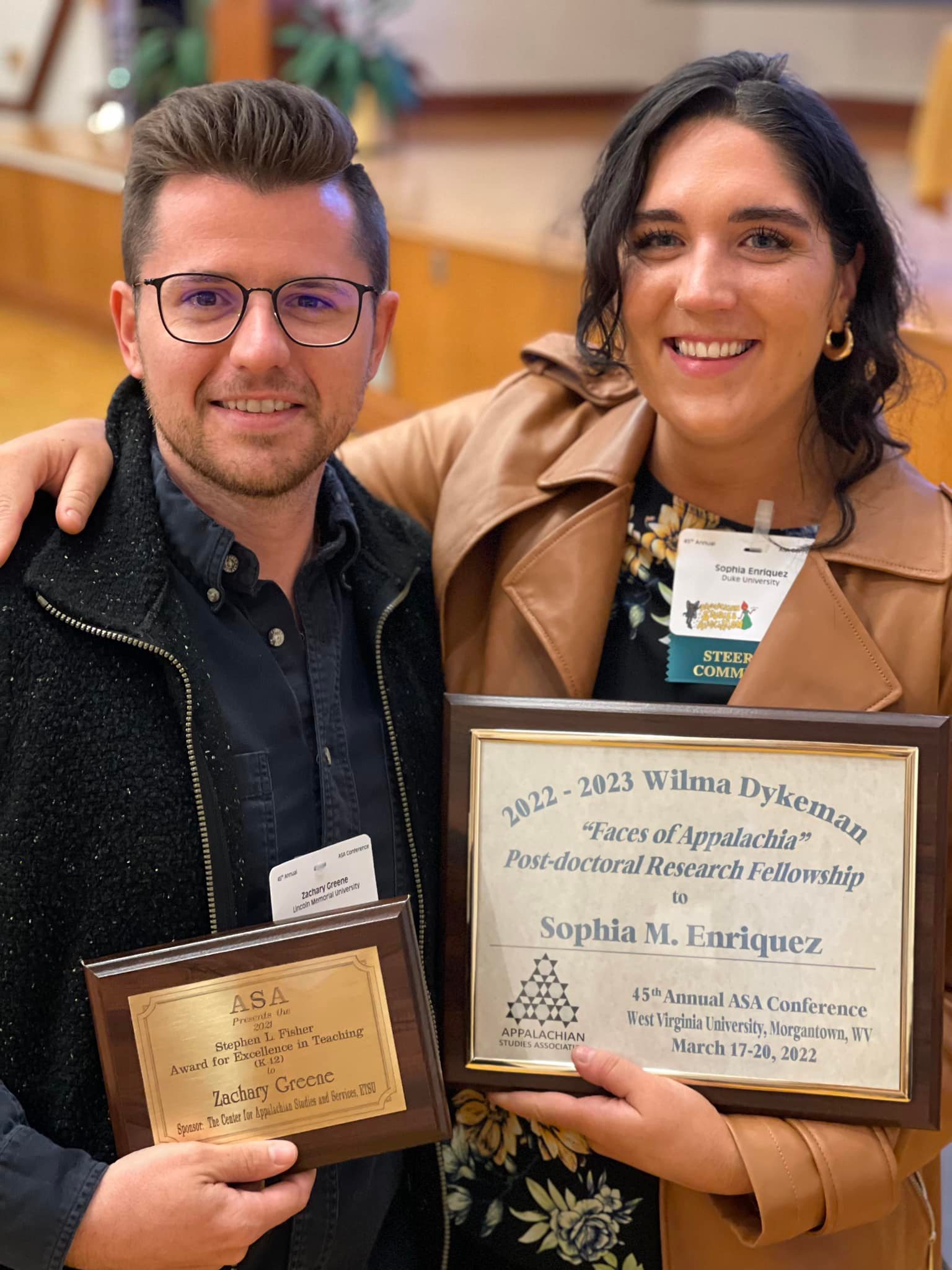 Caption: Zachary Greene poses with his award and Sophia Enriquez at the Appalachian Studies Association conference in March.
J. Frank White Academy (JFWA) Spanish instructor Zachary Greene has been named the K-12 winner of the 2021 Stephen L. Fisher Award for Excellence in Teaching awarded by the Appalachian Studies Association (ASA). This award honors individuals dedicated to intellectual rigor and pedagogical integrity in constructing and delivering inclusive knowledge about Appalachia and its people.
Each year, the ASA presents two Fisher awards, one to a K-12 teacher and one to a postsecondary teacher. Candidates for the award are nominated by their peers and the winners are selected by the ASA Education Committee. The awards are sponsored by East Tennessee State University's Center of Excellence for Appalachian Studies and Services. The winners were announced at the annual ASA conference held this year at West Virginia University in Morgantown.
The award was established in 2013 by the ASA Education Committee and was later named in honor of Fisher, a professor of political science at Emory and Henry College from 1971 to 2006 and a long-time member of ASA.
Greene returned to J. Frank White Academy, his alma mater, to teach Spanish in 2016. Since then, he has worked with his high school Spanish students to organize and produce The Mountain Fiesta, an annual festival held in Cumberland Gap that aims to celebrate points of connection between Appalachian and Latin American culture by exploring and presenting traditional folkways. Students involved in the project learn practical, organizational skills like grant writing, fundraising, logistical planning, contract writing, and community engagement. This year, the Mountain Fiesta is scheduled for September 24, 2022.
The J. Frank White Academy is a private, college preparatory day school serving grades K-12, located on the campus of Lincoln Memorial University. JFWA is fully accredited and STEM certified by Cognia, which is the first internationally recognized mark of quality for STEM (science, technology, engineering, and mathematics) schools and programs, signaling the growing emphasis on STEM education by educators, politicians, and business leaders around the world. For more information contact JFWA Director of Admissions James Melton at [email protected] or apply online at JFWA.LMUnet.edu.
The Appalachian Studies Association, headquartered at Marshall University, is an organization of scholars, activists, and community members whose mission is to promote and engage dialogue, research, scholarship, education, creative expression, and action among a diverse and inclusive group of scholars, educators, practitioners, activists, students, groups, and institutions. The Association holds an annual conference, publishes the peer-reviewed Journal of Appalachian Studies, and maintains a comprehensive website (www.appalachianstudies.org).