LMU Law to Unveil Portrait in Honor of Dean Emeritus Judge Gary R. Wade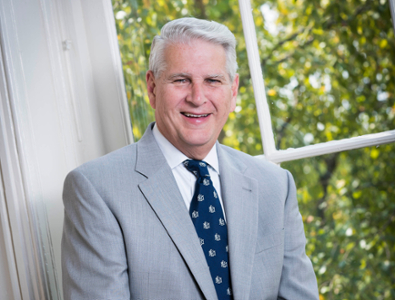 Lincoln Memorial University Duncan School of Law (LMU Law) will honor Dean Emeritus Gary R. Wade on Thursday, March 31, 2022, with the unveiling of his portrait in the Robert H. Watson Courtroom— joining portraits of former LMU Law deans Sydney Beckman and Parham Williams. A reception will precede the program, which will feature remarks from Dean Matt Lyon, LMU President Clayton Hess, LMU Board Chairman Autry O.V. "Pete" DeBusk, and LMU Law alumni.
"After postponing this event due to the pandemic, we are so excited to finally be honoring Judge Wade by hanging his portrait alongside those of our other past deans," Dean Lyon said. "His appointment as Dean in 2015 brought immediate legitimacy to LMU Law among the bench and bar, and the law school and University will always be thankful for the strong leadership he provided during a period of unprecedented growth." 
Wade joined LMU Law in 2015 following his retirement from the Tennessee Supreme Court. That retirement lasted approximately eight hours before he was on campus at LMU Law. Wade successfully shepherded the school from provisional American Bar Association approval to full approval in February 2019. 
Under his leadership, the institution celebrated several milestones, including the highest first-time bar pass rate in school history in July 2016, being named a "Best Value Law School," a "Top Law School for Small Firms" and the "Top Law School for Bar Preparation" by National Jurist; and a 100% overall employment rate for May 2015 graduates, including 94% full-time, long-term employment and 82% in J.D.-required employment.
Wade served as a judge for the Tennessee Court of Criminal Appeals for 19 years, serving as presiding judge for eight of those years. During this time, he co-founded Friends of the Smokies, the highly successful support organization for the Great Smoky Mountains National Park. Former Tennessee Governor Phil Bredesen appointed Wade to the Tennessee Supreme Court in 2006. He served the state's highest court until his retirement in 2015.  During his tenure as Chief Justice, he led the re-election efforts of three members of the court despite a partisan challenge by then Senate Speaker Ron Ramsey.
In 2017, Wade was highlighted as one of the top 100 from a total alumni population of more than 370,000 University of Tennessee graduates as The Tennessee Alumnus magazine celebrated its 100th continuous year of publication. Wade's profile was featured alongside such notable individuals as NFL player Peyton Manning, astronaut Scott Kelly, former Tennessee governor Winfield Dunn, and business leader Jim Clayton. In his tenure on the bench, he served as President of the Tennessee Judicial Conference and was named Appellate Judge of the Year in Tennessee and in the Southeast by the American Board of Trial Advocates.  The Knoxville Bar Association honored Judge Wade for Judicial Excellence for his leadership in the re-location of the Supreme Court Building in Knoxville to the former U.S. Post Office and Courthouse on Main Street. Most recently, Legal Aid of East Tennessee honored Wade with induction into the Donald F. Paine Memorial Pro Bono Hall of Fame.
Wade earned an undergraduate degree in psychology and a law degree from UT. Following law school, he engaged in private practice in Sevierville, where he was elected mayor in 1977 and served five successive terms before his appointment as judge.
The Lincoln Memorial University Duncan School of Law is located in Knoxville's Historic Old City Hall Building. LMU Law is an integral part of LMU's values-based learning community and is dedicated to preparing the next generation of lawyers to provide sound legal service in the often underserved region of Appalachia and beyond.