LMU-CVM Kaitlyn DeVries Memorial 5K set for April 2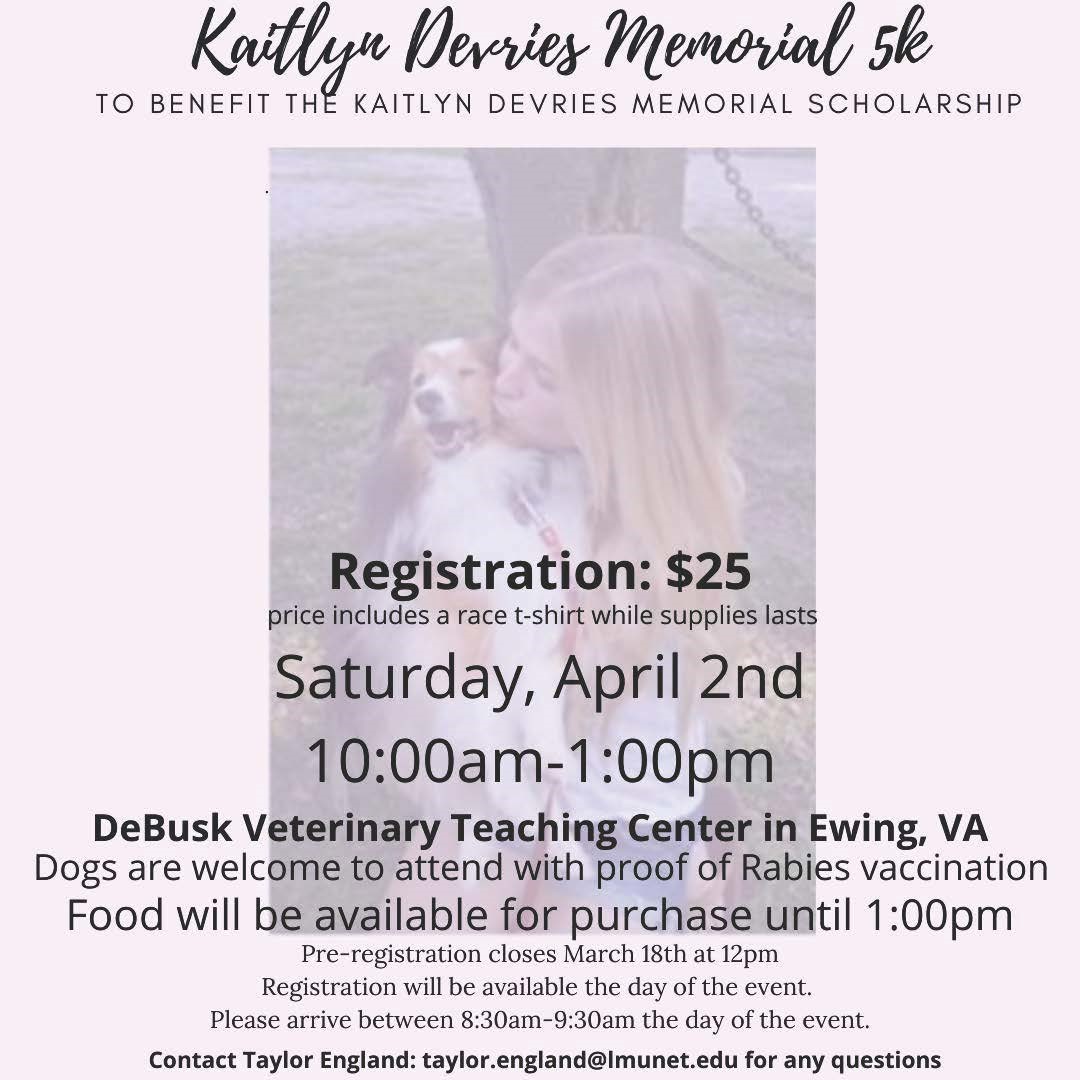 The Lincoln Memorial University-College of Veterinary Medicine (LMU-CVM) will hold the Kaitlyn DeVries Memorial 5K on April 2 at 10 a.m. at the DeBusk Veterinary Teaching Center in Ewing, Virginia.
The course starts and ends at the DeBusk Veterinary Teaching Center. Check-in and same-day registration will be from 8:30 a.m. - 9:30 a.m. The race begins at 10 a.m. for runners and 10:05 a.m. for walkers. The registration fee is $25 per person and those who register online in advance will be guaranteed a race shirt. Prizes will be awarded to overall category winners.
To register for the race complete forms at both of the following links:
Link to pay registration fee: Lincoln Memorial University - Kaitlyn DeVries Memorial Fun Run 2022 (lmunet.edu)
Link for pre-registration: https://forms.office.com/r/TGc43CEyJU
Pre-registration will close Friday, March 18 at noon. Same day registration will be available the morning of the event for $25 with shirts available on a first-come-first-serve basis. Additionally, pet bandanas will be available for purchase at the check-in table. The race is open to members of the community. Participants are encouraged to bring their dogs to join in the fun. Proof of rabies vaccination is required for all pet participants.
DeVries passed tragically in an automobile collision on October 31, 2016, at the age of 25. A second-year LMU-CVM student, DeVries was a graduate of Collierville High School in Collierville, Tennessee, and of the University of Tennessee-Knoxville. She was a student ambassador for LMU-CVM and often gave tours to prospective students. DeVries was passionate about all animals and looked forward to pursuing a small animal practice when she graduated.
LMU-CVM Student Government Association and the Student Chapter of the American Veterinary Medical Association, with the support of LMU-CVM administration, established the Kaitlyn DeVries LMU-CVM Memorial Scholarship to ensure DeVries' legacy lives on at the school. Proceeds from the 5K will benefit the fund.
Lincoln Memorial University (LMU) is a values-based learning community dedicated to providing educational experiences in the liberal arts and professional studies. The LMU-College of Veterinary Medicine is located on LMU's main campus in Harrogate, Tennessee, with additional academic facilities in nearby Lee County, Virginia. LMU-CVM is an integral part of the University's medical programs and provides real-world, community-based education in a collaborative learning environment. For more information about LMU-CVM, call 1.800.325.0900, ext. 7150 or visit us online at vetmed.LMUnet.edu.