LMU-College of Dental Medicine Accepts Applications for Doctor of Medicine in Dentistry and Dental Hygiene Programs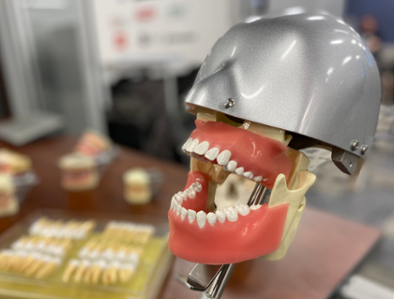 Lincoln Memorial University-College of Dental Medicine (LMU-CDM) is accepting applications for LMU-CDM Doctor of Medicine in Dentistry (DMD) and Dental Hygiene (DH) programs.
The mission of LMU-CDM is to develop competent oral health care providers who are committed to the premise that the cornerstone of meaningful existence is service to humanity.
LMU-CDM intends on providing dental education to students through curriculum innovation and advanced technology by providing seamless, integrated, clinically based, patient-centered and person-centered education, founded in preventive health and evidence-based science.
The DMD program is a full-time, continuous, 46-month cohort program consisting of 270.5/280.5 credit hours. The curriculum includes 11 consecutive semesters of academic and clinical education. The projected life of the program is ongoing but will admit only one cohort per year.
The competency-based curriculum design is based on the American Dental Education Association's (ADEA) Competencies for the New General Dentist. The curriculum is designed to provide students with the knowledge; clinical, research, critical thinking, practice management, behavioral, and interpersonal skills; clinical experience; sound clinical judgment; professional and ethical behavior; and patient care training to provide comprehensive oral health care to diverse patients of all ages and conditions of physical, mental, and emotional health.
Applications for the LMU-CDM Doctor of Medicine in Dentistry (DMD) program can be completed here.
The Dental Hygiene program has 16-week semesters for fall and spring, with the summer semesters consisting of 10 weeks. The application deadline of June 15 each year or until the class is full.
Applications for undergraduate general admissions for programs offered at all LMU locations can be completed here. General admission to Lincoln Memorial University's does not guarantee admission into the LMU-CDM Dental Hygiene program.
Lincoln Memorial University is a values-based learning community dedicated to providing educational experiences in the liberal arts and professional studies.  The main campus is located in Harrogate, Tennessee. For more information about the undergraduate and graduate programs available at LMU, contact the Office of Admissions at 423-869-6280 or email at [email protected]