Lincoln Memorial University Hosting Zoom-A-Palooza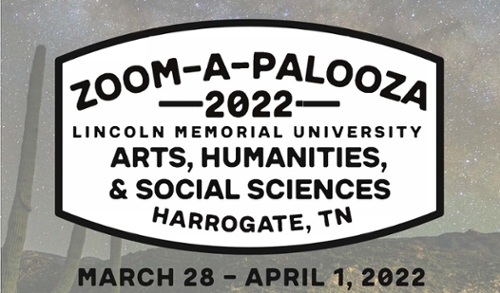 Lincoln Memorial University (LMU) Paul V. Hamilton School of Arts, Humanities and Social Sciences (AHSS) is hosting a week-long event featuring 25 speakers on topics including political science, psychology, criminal justice, law and religious studies. The event, called Zoom-A-Palooza, will be available via Zoom for anyone who wants to participate during the week of March 28 through April 1.
Some topics for Zoom-A-Palooza include "Crisis in Ukraine," Introduction to the FBI," and "Plucked from the Headlines: How Jesus Consumed the News."  The speakers will be presenting via Zoom from a variety of places, ranging from Knoxville, Tennessee, to the United Kingdom. Each day will feature a welcome speaker followed by five one-hour presentations.
"We're excited about the Zoom-A-Palooza event, and so thankful for all of the speakers that have been willing to participate. We have presenters coming from all over the country, even a couple of presenters from outside of the country, each of them speaking to important topics like the situation in the Ukraine, opioid abuse, and cybercrime," said Assistant Professor Stephen Adkins, MPA, JD, PhD, event coordinator and AHSS graduate program coordinator. "We're excited to use this event to bring LMU to the world, and let people know about all of our outstanding programs in the Paul V. Hamilton School of  Arts, Humanities and Social Sciences."
For more information on the event times and session names, please visit the AHSS events website at https://www.lmunet.edu/school-of-arts-humanities-and-social-sciences/events. The event will be held entirely on Zoom. Audience members can choose to view one presentation or all of the presentations. Each of the presentations can be viewed via this link: https://lmu.zoom.us/s/82940520666. This event is free and open to the public. Students, faculty, staff and community members are all encouraged to attend. If you have any questions about this event, please contact Laura Gambrel, event co-coordinator, at [email protected].
Lincoln Memorial University is a values-based learning community dedicated to providing educational experiences in the liberal arts and professional studies. The main campus is in Harrogate, Tennessee. For more information about the undergraduate and graduate programs available at LMU, contact the Office of Admissions at 423.869.6280 or email at [email protected].