Honeycutt Named Lincoln Memorial University Chief of Police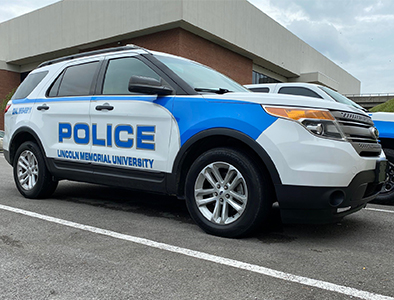 Lincoln Memorial University (LMU) President Clayton Hess has named David Honeycutt as the new chief of LMU Police and Security.
In this role, Honeycutt will oversee all police and security operations at LMU and lead the nationally recognized LMU Police and Security department, which includes a staff of almost 50 personnel including POST-certified police officers, armed security guards, unarmed security guards, dispatchers and administrative staff. In addition to the main campus, the department serves LMU's nine off-campus learning sites.
Honeycutt brings 27 years of law enforcement experience to LMU. Most recently he used his expertise at the Union County Sheriff's Department, where he worked from 2019 until he accepted the post at LMU.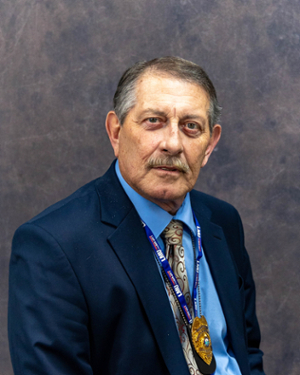 "I am confident that David Honeycutt will serve well as chief of police and security at LMU," said Christina Graham, executive vice president for finance who oversees the LMU Police and Security department. "David has many years of experience in law enforcement, with the entirety of his career spent in different capacities in our local area. He has dedicated himself to the people of this region, and I feel certain he will continue to strive for a safe, secure environment for all of our LMU communities."
He graduated from Walters State Community College's Police Academy and went to work at the Claiborne County Sheriff's Department (CCSD). He served there as a patrol, narcotics and K-9 officer, eventually moving up in the ranks to detective, chief detective and finally captain. In 2002 he went to work as the Cumberland Gap Chief of Police. He was asked to return to the CCSD as chief detective and captain in 2006, where he stayed until 2018.
Recognized statewide for his law enforcement experience, Honeycutt has received awards from the Bureau of Alcohol, Tobacco, Firearms, and Explosives and House of Heroes. He was named investigator of the year in 2001. Honeycutt's training and education has included instruction from Dr. Cyril Wecht, a renowned forensic pathologist, and Dr. Henry Lee, a famed forensic scientist. He had classes under John Douglas, a top criminal profiler also known as the "Mindhunter," and his colleague, psychological profiler Dr. Robert Ressler.
"I'm very fortunate to have studied under these experts," Honeycutt said. "I have learned a lot over the years and look forward to using my education and experience to successfully move LMU Police and Security forward."
The University remains committed to the continual assessment of safety risks through the Critical Incident Response Team, the Threat Assessment Team and the LMU Campus Police and Security Department by continuing efforts to collaborate with local law enforcement agencies. The department has maintained a memorandum of understanding with the Claiborne County Sheriff's Department since LMU transitioned away from simple security services to a police force with POST-certified officers supported by extensively trained dispatch staff in 2012. LMU maintains an emergency alert system through the app LiveSafe, an emergency siren to alert the community of public safety or weather-related emergencies, promotes a University-wide "See Something, Say Something" campaign and conducts training and educational programs for the University community throughout the year.
Lincoln Memorial University is a values-based learning community dedicated to providing educational experiences in the liberal arts and professional studies. The main campus is in Harrogate, Tennessee. For more information about the undergraduate and graduate programs available at LMU, contact the Office of Admissions at 423.869.6280 or email at [email protected].