LMU Law Joins American Bar Association's Legal Education Police Practice Consortium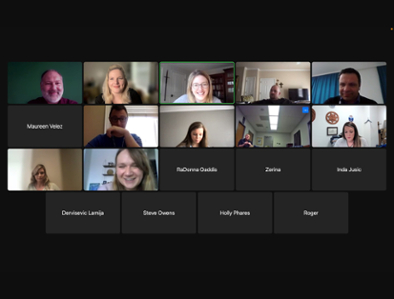 The Lincoln Memorial University Duncan School of Law (LMU Law) proudly announces its membership in the American Bar Association (ABA) Legal Education and Police Practices Consortium (Consortium). LMU Law joined the Consortium, a collaboration of more than 50 law schools across the country, when it was created in fall of 2020.
In the summer of 2020, as the world watched events leading to the injury and death of many at the hands of law enforcement, a group of law school administrators joined with the ABA to brainstorm a way to address the injustices and train a new generation of legal thinkers to approach the issue in a way that learned from the experiences of the past. Born from this group was a new initiative of the ABA, housed within the Criminal Justice Section. The Consortium will contribute to the national effort examining and addressing legal issues in policing and public safety, including conduct, oversight, and the evolving nature of police work. The Consortium combines the ABA's expertise along with that of the participating law schools to create projects that develop and implement better police practices across the United States. Member schools, including LMU Law, pledged five years to the pilot program. LMU Law is currently one of two participating law schools in Tennessee.
LMU Law is uniquely positioned to contribute to this Consortium, as it is committed to producing lawyers who want to change their world for the better, whether in the Appalachian region or beyond.
"Our students are passionate about helping those in need, and our curriculum emphasizes public service and pro bono work," Vice President and Dean Matt Lyon said. "The mission of LMU Law directly aligns with the Consortium's goal of addressing legal concerns in policing and public safety."
This spring, LMU Law Associate Dean of Faculty Melanie Reid is offering a brand-new seminar course on Police Law, Policies, and Practice. The class invites members of law enforcement and other stakeholders from across the country to join in with students for a discussion on a range of topics including police culture, policing strategies, and the impact of big data on policing. Students will either participate in a mock civil rights trial as a final project or produce a unique piece of scholarly research on a topic of interest related to policing and record an accompanying podcast.
"The course slowly developed into what it is today thanks to the input and suggestions made by several alumni who are former law enforcement and are currently practicing criminal law in Tennessee," Reid said. "Deputy Sheriff Joseph P. Maus with the Blount County Sheriff's Department, who is also an LMU law student, has been instrumental in assisting with the course design, bringing local law enforcement into the class, and providing our students with ride-along opportunities." 
As part of the Consortium, each member school named a student fellow to serve in a working group. LMU Law named third-year student Stefanie Bowen from Kingsport, Tennessee, as its first fellow. The fellows convened for the first time in January 2022 and began work to compile the nation's first database of information related to policing guidelines for campus, local, and state agencies.
"I hope the work we do as the inaugural class of fellows helps future classes become agents of advocacy and change in their communities," said Bowen. "The more information we build, the further each class will move toward engagement with all relevant stakeholders."
More information on the Consortium, including a list of participating schools, can be found on the ABA's website at https://www.americanbar.org/groups/criminal_justice/police_practices/.
The Lincoln Memorial University Duncan School of Law is located in Knoxville's Historic Old City Hall Building. LMU Law is an integral part of LMU's values-based learning community and is dedicated to preparing the next generation of lawyers to provide sound legal service in the underserved region of Appalachia and beyond.