New LMU Fight Song to Debut for 125th Anniversary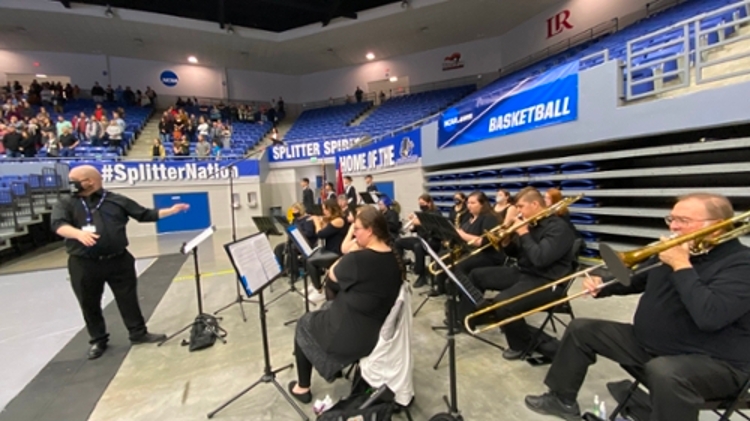 (Caption: The LMU Pep Band will perform the new LMU fight song during halftime of the women's basketball game Saturday, February 19, 2022. The song was commissioned to celebrate LMU's 125th anniversary.)
Lincoln Memorial University (LMU) is debuting a new fight song in celebration of the 125th anniversary of LMU's charter and founding. The LMU Pep Band will perform the song for the first time in public during halftime of the LMU women's basketball game on Saturday, February 19, 2022. The Lady Railsplitters will welcome Queens University to Harrogate, with the game beginning at 2 p.m.
The song was commissioned to celebrate LMU's milestone event, as part of the year-long recognition. The University was founded on February 12, 1897.
Dr. Benjamin Bruflat, assistant professor of music at LMU, has been instrumental in developing the song. "I listened to countless school fight songs around the country and shaped a catchy melody in the spirit of the tunes that stood out to me the most," he said. "In an effort to incorporate participation from the LMU crowd, the tune ends on a chant of 'L-M-U' several times. Imagine a full arena of Railsplitters showing their pride!"
Bruflat worked with LMU administration along the way, receiving input during each step of the process. The lyrics are as follows:
"Stand up and fight for LMU
Show your pride for the gray and blue
Through thick and thin, we can do no wrong
With every passing year, we keep going strong
Don your colors and show no fear
For a Railsplitter victory is near
A Railsplitter victory is here!
LMU! LMU! LMU! LMU!"
"To celebrate LMU's 125th anniversary, there will be a slight change to one lyric," he said. "For the duration of 2022, the line 'With every passing year, we keep going strong' will be replaced with 'One hundred twenty-five and still going strong!'"
Everyone is encouraged to attend the game at B. Frank "Tex" Turner Arena. Admission is free to LMU alumni. For information on this year's events, visit www.LMUnet.edu.
Lincoln Memorial University is a values-based learning community dedicated to providing educational experiences in the liberal arts and professional studies. The main campus is in Harrogate, Tennessee. For more information about the undergraduate and graduate programs available at LMU, contact the Office of Admissions at 423.869.6280 or email at [email protected].