LMU Law Announces Dean's List for Fall 2021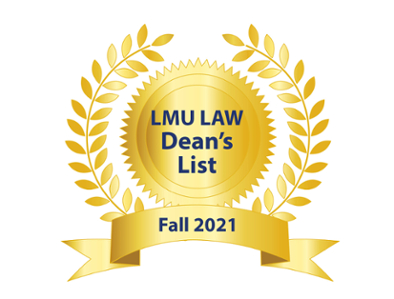 Lincoln Memorial University Duncan School of Law (LMU Law) Vice President and Dean Matt Lyon is pleased to announce the Dean's List for the fall 2021 semester. A total of 77 students were honored for achieving a grade point average of 3.400 or above while carrying at least a nine-credit-hour course load.
FLORIDA
EUSTIS: Briana D'Souza
GEORGIA
KENNESAW: Ross Dockins
COMMERCE: Adrienne Dunagan
ROME: Richard Haygood
KENTUCKY
WINCHESTER: Carson Kovalic
FLORENCE: Rachel Schworer
MISSOURI
NEW MADRID: Jordan Allen
NORTH CAROLINA
FRANKLIN: Shawn Marcie
OHIO
CLEVES: Evan Miller
TENNESSEE
ATHENS: Brianna Riley
BLUFF CITY: Crystal Harris
COOKEVILLE: Jolie Uzelac
COSBY: Meganne Lee
DUCK RIVER: Dalton Parks
FAYETTEVILLE: Ryan Eldridge
FRIENDSVILLE: Victoria Ungos
HARRIMAN: Sara Lawson
JACKSBORO: Joshua Armetta
KNOXVILLE: Michael Bendall, Emily Benoit, Stefanie Bowen, Baylee Brown, Daniel Chung, Bree Conner, Ryan Cox, Gavin Cox, Julia De Camargo, Travis Dorman, Laura Doty, Tiffany Estes, Sophie Fielder, Neva Foust, Dylan Gahagan, Brock Goetz, Amelia Hamilton, Colton Hobbs, Hank Jenkins, Landie Kitts, Nicholas Lima, Thomas Martin, Jordan Meddings, Kaitlin Moran, Gilbert Roberts, Victoria Rome, Amber Shouse, Alexis Raye Staubus, Abbie Stokes, William Taylor, Heidi Timmerman, John Valliant, Andrew Varney, Taylor Way, Brianna Williams, Christopher Willis, Laura Witt, Gunner Woolsey, Dustin Young
MARYVILLE: Willow Van Skyhawk
MOORESBURG: Philip Gibson
NEW TAZEWELL: Christopher Parker
OAK RIDGE: Erin Stackhouse, Caleb Stuber, Mary Warmbrod, Christy White
OOLTEWAH: Alexandra Jones, Holly Phares, Mark Warren
POWELL: Aaron Deaver, Patrick Fagan
ROCKY TOP: Jessica White
ROGERSVILLE: William Jenkins
SIGNAL MOUNTAIN: Zachary Atchley
TALBOTT: Ally Richey
WALLAND: Jenna Henderson
VIRGINIA
BIG ROCK: Megan Lowe
VIRGIN ISLANDS
FREDERIKSTED: Sonsirez Robles           
The Lincoln Memorial University Duncan School of Law is located in Knoxville's Historic Old City Hall Building. LMU Law is an integral part of LMU's values-based learning community and is dedicated to preparing the next generation of lawyers to provide sound legal service in the underserved region of Appalachia and beyond.