LMU Law Review Announces its Annual Law Review Symposium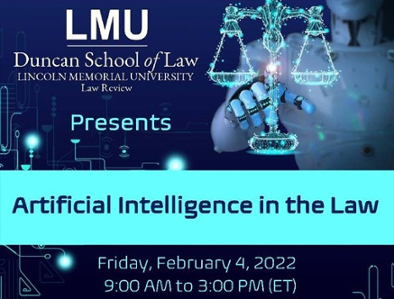 Lincoln Memorial University Duncan School of Law will hold its annual Law Review Symposium on February 4, 2022. The event will focus on artificial intelligence in the law and will explore whether human judicial decision-makers and legal advocates should embrace artificial intelligence technologies such as algorithms to the extent it can supplement and support the human legal and judicial decision-making process.
The goal of this event is to bring together academics, legal practitioners, and government officials who will tackle this broad topic from many angles and with varying perspectives. 
"We intend to explore topics of both criminal and civil law. Presenters will discuss the use of algorithms in sentencing, probation decisions, and the extent to which these artificially intelligent programs impact defendants in the criminal justice system," said Stefanie Bowen, third year LMU Law student and editor-in-chief of the LMU Law Review.
The program will run from 9:00a.m. until 3:00 p.m. and has been approved for five hours of Continuing Legal Education (CLE) credit. The cost is $50, $25 for LMU Law alumni. The symposium will include presentations from LMU Law Professor Ann Walsh Long, Vant4ge CEO Sean Hosman, Chief Solutions Officer of Vant4ge Marjorie Rist, and many more. For more information about the event and a detailed list of the scheduled speakers click here.  
"The practice of law is changing as it is becoming heavily influenced by technology. Algorithms are being created to predict outcomes based on historical data in past cases and applications of rules to previous sets of facts. Artificial intelligence legal tools mine and analyze significant amounts of data, while regression analytics estimate impacts in relationships between variables, establishing causal relationships in different aspects of a case. Should we support these technologies? Would decisions made by courts that utilize algorithms be perceived as 'more legitimate' in the eyes of future generations? This symposium plans to tackle this issue head on and explore the advantages and benefits of artificial intelligence in the law and whether algorithms will prove to be useful in various legal contexts," said Associate Dean of Faculty and faculty advisor to the LMU Law Review, Melanie Reid.
The Lincoln Memorial University Duncan School of Law is located in Knoxville's Historic Old City Hall Building. LMU Law is an integral part of LMU's values-based learning community and is dedicated to preparing the next generation of lawyers to provide sound legal service in the often underserved region of Appalachia and beyond. For more information about LMU Law, call 865.545.5303 or visit us online at Law.LMUnet.edu.