Over 500 Undergraduate Students Named to the Dean's List for Fall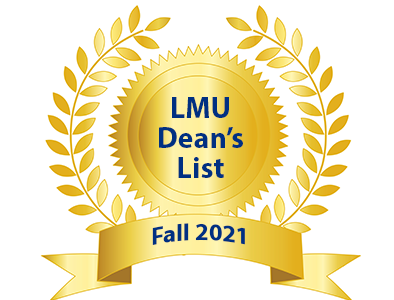 Lincoln Memorial University (LMU) has announced that the following students were placed on the Dean's List for the fall semester of 2021.  To be placed on the Dean's List, the student must be a full-time undergraduate and have a 3.5 or higher, grade-point average for the semester.
ALABAMA
BIRMINGHAM: William Tidwell
ARIZONA
CHANDLER: Annika Lagos
SURPRISE: Stephanie Rains
CALIFORNIA
LAKE FOREST: Jordan Guest
COLORADO
ARVADA: Lydia Thurman
COLORADO SPRINGS: Jaedyn Ryba
PARKER: Makayla Fox
FLORIDA
BRADENTON: Hunter Stroble
BROOKSVILLE: Nicole Enza Marie Remedio
DAVENPORT: LaMaria Wilson
DAYTONA BEACH: Gabriela Borges de Abreu
DELRAY BEACH: Moesha Tadeus
FORT LAUDERDALE: Chandler Bell
LAND O' LAKES: Marynn Every, Emily Peters and Emily Sullivan
LUTZ: Lunide Orleus
NEW PORT RICHEY: Spencer Davis
ORMOND BEACH: Allison Andrews
PALM CITY: Kristen Moehring
PETERSBURG: Ilda Gjonaj
TAMPA: Ranya Abdelmageed, Roey-Rose Diego, Liza Manouselis, Kelvin Nguyen, Erika Oliva and Carly Palus
TRINITY: Shannon Fichardt
WESLEY CHAPEL: Helyn Dunn
GEORGIA
ALPHARETTA: Samantha Hogan
BUFORD: Emily Walter
CANTON: Karen Morris
DAHLONEGA: Victoria Mounce
DALLAS: Aubrey Bachtel
ELLAVILLE: Faith Brown
LAWRENCEVILLE: Micah Sells
MARIETTA: Jaeger Keeline and Cameron Powser
ROCKY FACE: Kaley Long
WINDER: Destiny Gibbs
ILLINOIS
CHICAGO: Shania Carr
JOLIET: Stephanie Castro
OAK FOREST: Victoria Conely
INDIANA
BOONVILLE: Haleigh Barnett
GREENCASTLE: Alicia Haywood
INDIANAPOLIS: Alan Johnson
OLDENBURG: Katherine Bedel
WEST LAFAYETTE: Jordan Walters
KENTUCKY
BARBOURVILLE: Jerilyn Payne and Jenna Wilson
BAXTER: Noah Canady
BIG CREEK: Brittany Barnett
BIMBLE: Paige Brooks
BLEDSOE: Emily Howard
CAWOOD: Casey Ledford and Dalissa Noe
COLDIRON: Madison Hall
CORBIN: Seth Kirby, Andrew McDaniel and Lucy Sadler
CUMBERLAND: Garry Swanner
EAST BERNSTADT: Tabitha Weddle
EVARTS: Megan Curry, Hailey Madden and Marissa Powell
HARLAN: Makenna Doss, Roberto Fajardo Strnad, Madison Howard, Wilson McCarthy, Matthew Simpson and Michael Simpson
ISOM: Lindsay Proffitt
LONDON: Kelley Hill, Haley Smith and Mallory Teeter
LOUISVILLE: Cash Porter
LOYALL: Rhileigh Alred
MANCHESTER: Peyton Stevens
MAYSVILLE: Haley White
MIDDLESBORO: Bailey Baker, Zachariah Baker, Allyson Carey, Jayden Fisher, Dana Howard, Madison Keaton, Grecia Lasley, Taelor Lawson, Danny Lin, Hailee Madon, Timothy Perkins, James Rose and Olivia Stiltner
MINNIE: Abby Hall
MIRACLE: Allison Miller
NICHOLASVILLE: Morgan Simpson
PINEVILLE: Katie Collett, Virginia Collins, Jenah Helton, Dylan Smith and Rylee Smith
PUTNEY: Elyse Turner
SOMERSET: Sarah Mize
LOUISIANA
JACKSON: Jacob Agazzi
METAIRIE: Sarah Rubi
MARYLAND
DAVIDSONVILLE: Francis O'Hara
HYATTSVILLE: Esteban Mejia
MARRIOTTSVILLE: Dillon Ricketts
MICHIGAN
NEW BOSTON: Megan Holloway
MISSISSIPPI
OLIVE BRANCH: Chris Buford
NEVADA
HENDERSON: Jazelle Lampkin and Olivia Lampkin
NEW JERSEY
SICKLERVILLE: Hannah Murphy
TOMS RIVER: Hayley Tamaro
WESTAMPTON: Olivia Falzone
NEW YORK
CAYUGA: Allison Myers
GREENVILLE: Madison Marcello
HORSEHEADS: Ian Cook
WANTAGH: Melanie Cascio
WEBSTER: Cassidy Anschutz
NORTH CAROLINA
CHARLOTTE: Grace Mathis
CHEROKEE: Robin Reed
CLINTON: Alex Canady
FAYETTEVILLE: Ashlyn Johnson
FLETCHER: Taylor Stingel
HARMONY: Lauren Martin
LEWISVILLE: Spencer Baldwin
MOCKSVILLE: Adam Szewczyk
ROBBINSVILLE: Elijah-Kade Millsaps
SALISBURY: Megyn Spicer
WEAVERVILLE: Tyler Mckinney
WHISPERING PINES: Savannah Telemeco
WINSTON SALEM: Lucas Rattigan-Coe
OHIO
ASHVILLE: Seraya Lyons
BLACKLICK: Chase Rankin
DEFIANCE: Brianna Fortman
DUBLIN: Luke Bartemes
GRAND RAPIDS: Amber Underwood
LEBANON: John Luers
LEXINGTON: Abigail Dawson
LIBERTY TOWNSHIP: Ethan Hubbard
LIMA: Belle Blake and Isabella Morris
MAUMEE: Emily Savage
MIDDLETOWN: William Eiken
VERSAILLES: Morgan Heitkamp
PENNSYLVANIA
CARLISLE: Addison Kirkpatrick
HERSHEY: Luke Hedrick
MOUNTAIN TOP: Kurtis Orrson
SOUTH CAROLINA
EASLEY: Kasten Harvey
WEST COLUMBIA: Jerrica Covington
TENNESSEE
ALCOA: Tyler Boyd and Thailand Love
ANDERSONVILLE: James Parker
BEAN STATION: Mackenzie Brown
BLUFF CITY: Kennedy Tester
BULLS GAP: Nathan McBride
BURNS: Reilly Jones
BYRDSTOWN: Jada Lee
CALHOUN: McKinley Burns
CARYVILLE: Madison Brassfield
CHATTANOOGA: William Ingell
CHUCKEY: Zane Potter
CHURCH HILL: Ashtyn Gibson and Alexis Moore
CLARKSVILLE: Madison Amstutz
CLEVELAND: Colin Wilson
CLINTON: Johnathan Cash, Lara Gunter, Jordan Jacobik, Jami Jones, Rachel Newport, Emilie Phillips and Savannah Seivers
COLLIERVILLE: Richlyn Ross
COLUMBIA: Ashlyn Thomas
COOKEVILLE: Carson Bowling, Tori Hinds, Hunter Rinehart, Jack Snider and Allie Strong
CORRYTON: Shelby Blake and Amanda Radford
CUMBERLAND GAP: Caelyn Asher, Rebekah Gambrel, Emily Hoskins, Jennifer Lackey, Constanza Lopez, Seth Marcum, Jessica Meadows, Cameron Schultz, Lena Watson and Stephanie Wright
DUNLAP:  Jayla Cartwright
EAGLEVILLE: Austen Smith
ELIZABETHTON: Camille Davison
EVENSVILLE: Madison Carter
FAYETTEVILLE: Thomas Wright
GALLATIN: Connor Mesler
GREENBRIER: Samantha West
GREENEVILLE: Viviana Jardinez
HARROGATE: Deborah Akins, Valentina Ascarrunz, Ailee Bargo, Hannah Blevins, Micah Blevins, Christina Bradley, Bailey Brewer, Barry Brooks, Brea Browning, Gabrielle Chumley, Sarah Crumley, Grace Crumley, Gabriel Crumley, Amanda Dahlstrom, Lidija Dokic, Brady Dunn, Rodrigo Felix Aguiar, Christopher Fleeman, Hayley Gulley, Raegan Gulley, Kirsten Keith, Casey Lamont, Graciela Palencia, Tabitha Roy, Harper Russell, Dennis Sandefur, Cassidy Smith and Lillian Turley
HEISKELL: Kelsey Giles
HELENWOOD: Kelcee Griffith, Josie West and Marchesa West
HENDERSONVILLE: Justin Sarduy and Dylan Tran
HUNTSVILLE: Pernie Morrell and Austin Morrow
HURRICANE MILLS: Kailey Spann
JACKSBORO: Lindsay Horton, Tristan Luna, Kase Owens and Brenna Rutherford
JOHNSON CITY: MaryAlice Baldwin, Tara Corwell, Amber Hanson and Dalton Mullins
JONESBOROUGH: Sierra Wallace
KINGSPORT: Bethany Duncan, Kassidy Miller, Emily Southerland and Nicole Stidham
KNOXVILLE: Macy Barnes, Miranda Beeler, Caleb Berry, Ryan Branson, Katherine Browning, Jennifer Brumbach, Amber Cardwell, Macy Chambers, Anastasia Cheek, Jordan Cooke, Rachel Crabtree, Madison Criswell, Sarah Crum, Emma Cummings, Elizabeth Doty, Geneal Duer, Kara Dula, Michelle Edwards, James Fowler, Pablo Herrera Garcia, Alexis Griffith, Chelsea Hembree, Antonia Hilmer, Kelsie Holahan, Russell Hubbard, Sierra Hucklebee, Caylee Jones, Alexis Kelley, Jennifer Kelley, Mariah Lane, Isabelle Ledgerwood, Mckenna Long, Amanda Lyles, Erin Mario, Christina Mathews, Kara Mcnally, Madelyn McNew, Taylor Melgaard, Selena Patel, Alexa Reins, Emily Roark, Joshua Robinson, Kaitlyn Rotton, Ashleigh Spencer, Tytiaira Spikes, Natalie Stacy, Reid Tate, Katie Tuggle, Kelsie Tuggle, Emily Washam, Archer Wong-Shasteen and Sarah Young
KYLES FORD: Ashley Smith
LAFOLLETTE: Julia Ayers, Katilydn Browning, Bonnie Brotherton, Jessie Bumgardner, Addison Carson, Amber Kohlmeyer, Martha Overbey and Tyra Owens
LANCING: Keele Mathis
LEBANON: Carson Boles and Sadie Pittman
LENOIR CITY: Amanda Franklin, Emily Lowe, Breanna Houghton, Ella Morton, Haylie Richardson, Brooke Whitehead and Madelyn Woods
LOUISVILLE: Madelyn Anello, McKenzie Henry and Noah Painter
LUTTRELL: Skylar Bates, Edgar Deleon and Kailyn Griffey
MADISONVILLE: Camryn Cecil and Kassidy Kenny
MARYVILLE: Baylee Albright, Alexia Bearden, Hailey Connatser, Evan Porter, Kirby Reynolds, Macy Waters and Matthew Young
MAYNARDVILLE: Chloe Bowman, Ethan Dyer, Brooke Foster, Neilea Hansen, Lauren Jenkins, Ella Johnson, Alyssa Long and Kalei Tharp
MEMPHIS: Gabriel Croom
MOORESBURG: Brent Smith
MORRISTOWN: Hunter Eden, Donald Fowler, Alicia Gonzalez, Misti Lopez, Mia Jones, McKenna Korody and Emma Reed
MOSHEIM: Courtney Jessie
NEW MARKET: William Bolton and Kaley Nicely
NEWPORT: Emma Talley
NEW TAZEWELL: Mackenzie Amoureux, Paul Bailey, Alyssa Boldin, Brooklyn Bowen, Presley Cole, Shannon Ellison, Angela Field, Lakota Helton, Jessica Maples, Anna Palazzolo, Baleigh Rawls, Wynston Seal, Cheyenne Sprouls, Rhett Torbett, Makayla Turner and Jonathan Zebroski
NOLENSVILLE: Hunter Oubre
OAK RIDGE: Miranda Bailey and Amy Brummett
OLIVER SPRINGS: Rose Marie Orange
ONEIDA: Madison Chitwood, Madison Marcum, Sarah Morrow, Hannah Slaven and Morgan Young
PIONEER: Callie Carson and Peyton Mason
POWELL: Emily Carr, Mason King, Madison Lambert, Ashlyn Miller, Brianna Rowe, Amanda Singleton and Keana Way
RICKMAN: William Sells
ROCKWOOD: Kelsee Neely
ROGERSVILLE: Autumn Belcher, Kaitlyn Luster and Landon Margetjak
RUSSELLVILLE: Mason Johns
RUTLEDGE: Kaden Kinser and John Lenz
SHARPS CHAPEL: Cedric Brown, Emma Moyers, Autumn Sharp and Brooklyn Sharp
SEVIERVILLE: Autumn Fraley, Christopher Fraley, Sara Matthews, Megan Oesch and Sydney Wolfenbarger
SEYMOUR: Jolee Davis, Delaney Duck, Megan Fouts and Brandon Parrott
SNEEDVILLE: Sarah Hopkins and Tyler Mullins
SODDY DAISY: Madison Bean, Katilee Croft, Yerald Del Rosario Mieses, and Sierrah Lemons
SPEEDWELL: Brittany Bean, MacKinzey Cutcher, Ashley Hill, Kayli Hinckley, Kenna Lambert, Ethan Lesser, Traci Tallman, Tabetha Treece, Peyton Wilder, Elijah Wilson and Hayley Wilson
SPRING HILL: Abigail Patey and Mitchell Petzelt
STRAWBERRY PLAINS: Stormie Ferguson
SURGOINSVILLE: Sadie Conley and Sinclair Conley
SWEETWATER: Kiley Spradlin
TALBOTT: Ashley Parker
TAZEWELL: Dallas Boger, Sarah Fultz, Justin Haas, Shelby Herrell, Madison Kelly, Ashley Long, Emily Moucha, Kierstin Moyers, Olivia Nichols, Mary Russell, Lynnsey Saylor, Kaia Treadway, Brooke Trent, Jennifer Woodward and Victoria Yeoman
TELFORD: Lewis Wessner
THORN HILL: Jeremiah Brooks, Caitlin Davidson, Trevor Holt and Gillian Strealy
TULLAHOMA: Brenden Adkins
UNIONVILLE: Sidney Dupree
WARTBURG: Lillijan Hunter and Leslie Williamson
WARTRACE: Anna Mooneyham
WASHBURN: Dillon Farmer and Abby Pursiful
WESTMORELAND: Rylea Wischmeier
WHITE BLUFF: Bailey Griffith
TEXAS
FRISCO: Elle Miller
GRAND PRAIRIE: Caitlyn Lindell
KATY: Sebastian Aveledo
MAGNOLIA: Andrew Collins
NEVADA: Emma Winford
SPRING: Ashley Morris
VIRGINIA
BLUEFIELD: McKenzie Riffe
BRISTOL: Shelby Ray Chancellor
CLEVELAND: Eden Mcglothlin
DUNGANNON: Natalie Adams
EWING: Jo Anna Hudson, Sarah Long, Courtney Roberts, Sarah Rose and Jasmyne Thomas
JONESVILLE: Nickolas Arney, Cody Lane and Sydni Smith
MIDLOTHIAN: Lucas Chazo
NEWPORT NEWS: Nicole Landers
NICKELSVILLE: Lakin Castle, Jarvis Pennington and Kaitlyn Wallace
PENNINGTON GAP: Angie Zhang
ROSE HILL: Jacey Grabeel and Gracie Moles
WISCONSIN
FORT ATKINSON: Noah Kontny
WASHINGTON
PUYALLUP: Isabelle Fontana
WISCONSIN
FORT ATKINSON: Noah Kontny
INTERNATIONAL
ARGENTINA: Sebastian Colla
AUSTRALIA: Corrine Denton
AUSTRIA: Tabea Kandlbauer
BRAZIL: Luigi Pacini and Pedro Da Silva
CANADA: Brooke Boucher, Joshua Halcro, Christopher Lamontagne, Cade Preston, Brock Saunders, Aiden Smith and Shaianne Willis-Brown
CZECHIA: Michael Jakubek
GERMANY: Robin Hermann,Lars Popp and Arkin Ulusoy
GREECE: Kriton Kiousis
HUNGARY: Peter Majer
ITALY: Andrea Cantoni and Franco Battaglino
NETHERLANDS: Mimi Neijens and Jinte Steenbeeke
PHILIPPINES: Shanden Vergara
PUERTO RICO: Sofia Colon
RUSSIA: Alexei Butchart
SCOTLAND: Calum Daun and Rachel Mathieson
SOUTH AFRICA: Katherine Brislin
SPAIN: Iker Moure, Aimar Samaniego, Paula Sanleon, Julia Valls and Anna Verdu Cobo
SURINAME: Ketura Margaret
SWEDEN: William Jonsson and Fabienne Lotscher
UNITED KINGDOM: Alex James, Harper Mills, Luca Pavan, Samuel Stedman and Caitlin Thomas
VENEZUELA: Sophia Aray
Lincoln Memorial University is a values-based learning community dedicated to providing educational experiences in the liberal arts and professional studies.  The main campus is located in Harrogate, Tennessee. For more information about the undergraduate and graduate programs available at LMU, contact the Office of Admissions at 423-869-6280 or email at [email protected].