Bloom, Funkhouser Performance Cancelled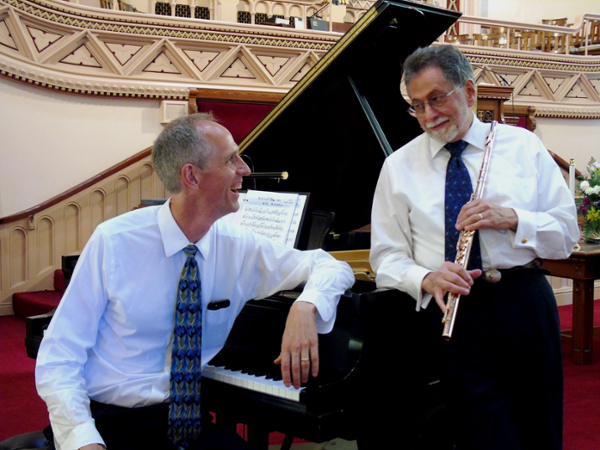 UPDATE: This event has been cancelled due to Covid protocols.
The Lincoln Memorial University (LMU) Music Program in the Paul V. Hamilton School of Arts, Humanities and Social Sciences will host the acclaimed jazz duo of Peter H. Bloom, flute, and John Funkhouser, piano, on Thursday, January 27, 2022, at 7:30 p.m. in the Sam and Sue Mars Performing Arts Center at Duke Hall of Citizenship. The performance is free to anyone who wishes to attend.
The concert will celebrate the duo's new CD, "Exuberant Ellingtonia," with music by Duke Ellington and his circle, including "Don't Get Around Much Anymore," "Caravan," "I'm Beginning to See the Light," "In a Sentimental Mood," and other selections.
Called by The Belmont Library "outstanding musicians who took us on a mesmerizing journey," the jazz duo will perform an exuberant tribute to Ellington. The audience can expect a mix of classics, with other gems like "Jump for Joy," "Prelude to a Kiss," and the lush ballad "Chelsea Bridge" by Ellington's longtime composing partner Billy Strayhorn. The concert is part of the duo's 10-day tour in Alabama, Georgia, Tennessee, and North Carolina, celebrating the new CD.
Bloom and Funkhouser have performed together for almost 30 years. Both are veterans of the legendary Aardvark Jazz Orchestra. Each has impressive credentials performing nationally and internationally.
Bloom has performed in the U.S., Canada, Europe, Asia, New Zealand, and Australia. He appears on 48 CDs. Acclaimed for virtuosity and versatility, he performs widely with both classical and jazz ensembles. He has shared the stage with Charles Neville, Sheila Jordan, Geri Allen, Ricky Ford, Jaki Byard, and other jazz greats. He is contributing editor for Noteworthy Sheet Music and is a winner of the American Musicological Society's Noah Greenberg Award.
"Jazz Improv" praised his "exquisite melody…the improvisations growing organically out of the theme," while "ArtsFuse" wrote, "Bloom's solos on flute and amplified flute are always highlights of a performance."
Funkhouser has appeared with notables like Luciana Souza, Tierney Sutton, Ran Blake, Herb Pomeroy, Laszlo Gardony, Stan Strickland, and piano savant Matt Savage. Hailed by the "North Denver Tribune" for a "unique and engaging sound," he has performed at Birdland, Blue Note, Dizzy's in New York, the Kennedy Center, and in top venues from Kansas City, New Orleans, and Chicago to Paris, Singapore, and Hong Kong. He taught at Berklee College of Music from 2001 to 2021.
"Funkhouser is masterful,…maintaining a delicate balance of power and agility with an instinctive musical sense," according to AllAboutJazz.com.
Click the link for a video sneak peek of the duo performing Ellington's "Caravan": http://www.americasmusicworks.com/uploads/b/60332427-235726678277337341/caravan_998.mp4.
Masks are encouraged but not required to attend this event.
Lincoln Memorial University is a values-based learning community dedicated to providing educational experiences in the liberal arts and professional studies. The main campus is in Harrogate, Tennessee. For more information about the undergraduate and graduate programs available at LMU, contact the Office of Admissions at 423.869.6280 or email at [email protected].