Dr. Joe Frank Smiddy Honored with Algernon Sydney Sullivan Award at LMU Commencement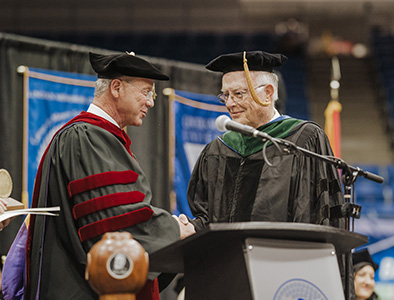 Lincoln Memorial University (LMU) Vice President for Academic Affairs W. Mark Tew, ThD, presented Dr. Joe Frank Smiddy, of Kingsport, Tennessee, with the Algernon Sydney Sullivan Award at the LMU Fall Commencement Ceremony on Saturday, December 11, 2021.
Since 1890, the Algernon Sydney Sullivan Foundation has presented Sullivan Awards to college students who have distinguished themselves through service to others and their communities. LMU is one of approximately 60 colleges and universities in the United States to have the privilege of awarding the Sullivan Awards. LMU selects individuals whose "nobility of character" and dedication to service set them apart as examples of great citizenship.
Smiddy, a retired pulmonologist, has traveled across the country and around the world providing free care to communities in need. He retired from his private practice in 2013 and now devotes his time to serving the people of Southwest Virginia and East Tennessee as the chairman of the board of the Health Wagon, which provides free and reduced cost medical care in Wise, Virginia. Additionally, he is a driving force behind Appalachian Miles for Smiles, a mobile health charity that travels around the region providing free dental and vision care. A licensed truck driver, he often drives the modified tractor trailers himself.
A member of the LMU Board of Trustees since 2005, he spurred the University's partnership with Remote Area Medical (RAM). Together LMU and RAM have delivered nearly $2 million worth of free dental, medical and vision services to 5,501 people and over $229,000 worth of free veterinary care to more than 1,600 pets at various clinics held on the LMU main campus in Tex Turner Arena since 2006.
Smiddy also played an integral role in LMU-DeBusk College of Osteopathic Medicine's (LMU-DCOM) establishment of international rotations. He facilitated and accompanied several groups of medical and physician assistant students on medical missions in Belize.
Smiddy's current priority is assisting LMU with the development of the College of Dental Medicine. He is working closely with Dean Denise Terese-Koch to raise funds and build relationships throughout the dental industry. Smiddy has brought Appalachian Miles for Smiles for student dental clinics at LMU's main campus and at the off-campus site in West Knoxville.
Smiddy earned a bachelor's and medical degrees from the University of Virginia. He also attended LMU, UVA Wise. Smiddy also serves on the UVA-Wise College Board. A talented musician, he plays several instruments and shares his gifts regularly, performing bluegrass music with family and friends.
The Algernon Sydney Sullivan Foundation was established in honor of a celebrated 19th-century humanitarian and attorney who often represented poor clients for free if their cause was just. The Sullivan Foundation has been recognizing college students for service and outstanding character since 1890. Learn more at https://sullivanfdn.org/.
Lincoln Memorial University is a values-based learning community dedicated to providing educational experiences in the liberal arts and professional studies. The main campus is in Harrogate, Tennessee. For more information about the undergraduate and graduate programs available at LMU, contact the Office of Admissions at 423-869-6280 or email at [email protected].