Landon Margetjak Honored with Algernon Sydney Sullivan Award at LMU Commencement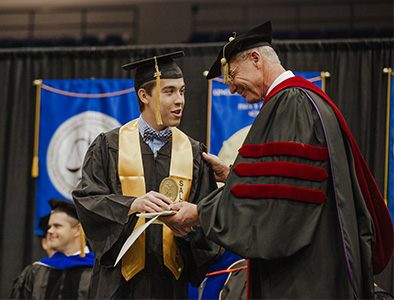 Lincoln Memorial University (LMU) Vice President for Academic Affairs W. Mark Tew, ThD, presented Landon Margetjak, of Rogersville, Tennessee, with the Algernon Sydney Sullivan Award at the LMU Fall Commencement Ceremony on Saturday, December 11, 2021.
Since 1890, the Algernon Sydney Sullivan Foundation has presented Sullivan Awards to college students who have distinguished themselves through service to others and their communities. LMU is one of approximately 60 colleges and universities in the United States to have the privilege of awarding the Sullivan Awards. LMU selects individuals whose "nobility of character" and dedication to service set them apart as examples of great citizenship.
Margetjak completed his Bachelor of Science degree in criminology and criminal justice with a perfect 4.0 grade point average, earning him salutatorian and Summa Cum Laude honors. He overcame additional challenges brought by the COVID-19 pandemic in pursuit of his degree and noted that the change in the delivery method for classes from in-person to online was a particular challenge. Additionally, Margetjak experienced financial hardship with a reduction of hours at his job due to closures and lockdowns.
Throughout his time at LMU, Margetjak was a model student, contributing to class lectures and assisting his classmates. He served as president of the student Criminal Justice Association. Marjejiak presented an impressive project at LMU Research Day, which explored why people commit crimes.
"Landon Margetjak is an excellent student," said Dr. Mary Ann Thrush, associate professor of criminology and criminal justice and Landon's nominating faculty member. "One of his best qualities is the thorough job he does on his classwork. A model example for new students, I have already asked him to come back and talk to my freshman classes once he is settled in his next chapter."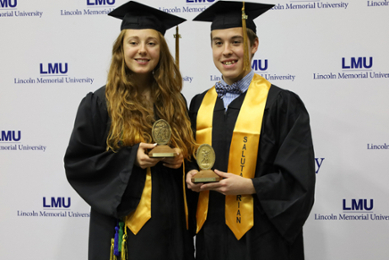 Margetjak said he plans to pursue work in probation or parole after graduation. In addition to Margetjak, fellow graduate Tabea Kandlbauer was recognized with the Mary Mildred Sullivan Award.
The Algernon Sydney Sullivan Foundation was established in honor of a celebrated 19th-century humanitarian and attorney who often represented poor clients for free if their cause was just. The Sullivan Foundation has been recognizing college students for service and outstanding character since 1890. Learn more at https://sullivanfdn.org/.
Lincoln Memorial University is a values-based learning community dedicated to providing educational experiences in the liberal arts and professional studies. The main campus is in Harrogate, Tennessee. For more information about the undergraduate and graduate programs available at LMU, contact the Office of Admissions at 423-869-6280 or email at [email protected].