Hamati, Lyons Chosen LMU-DCOM Student Doctors of the Year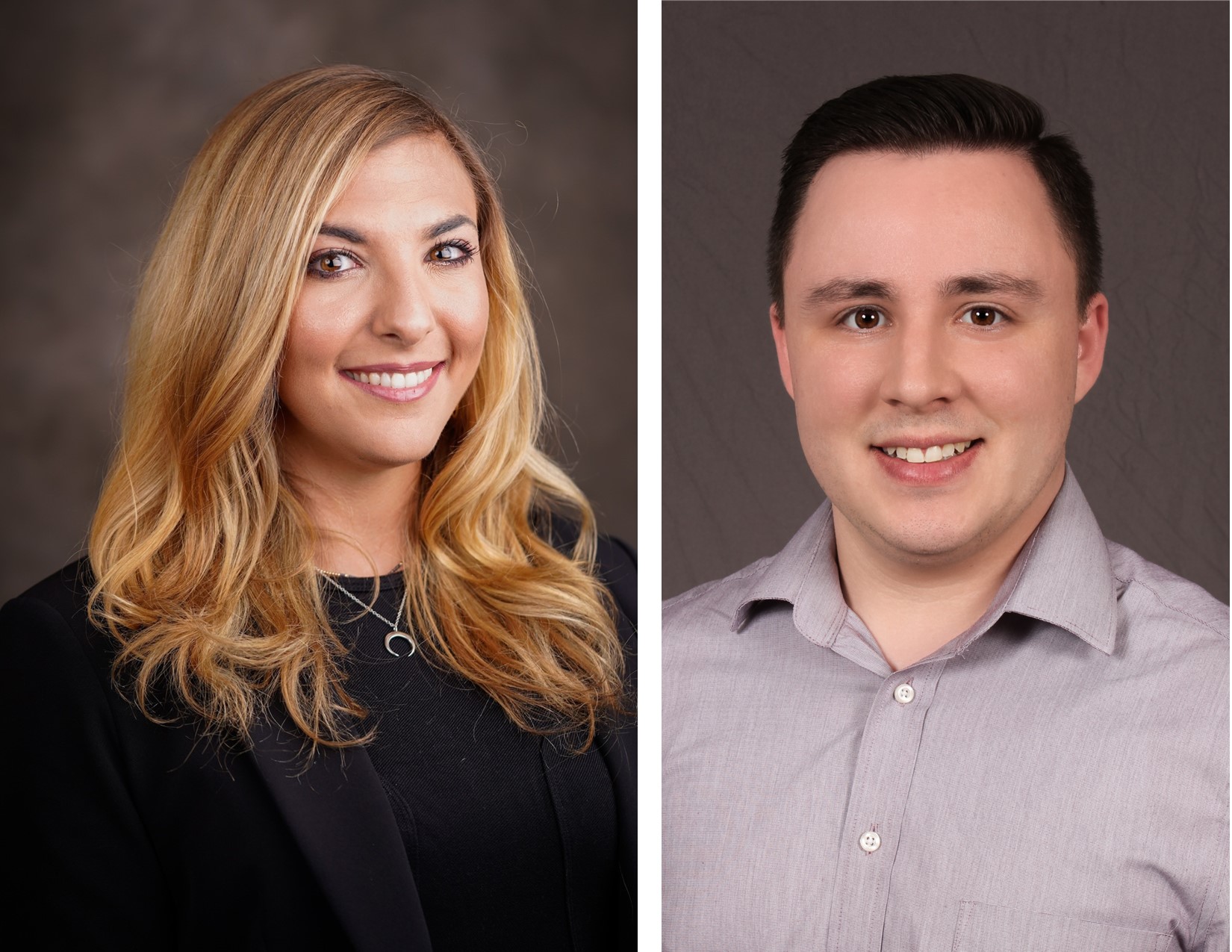 Lincoln Memorial University-DeBusk College of Osteopathic Medicine (LMU-DCOM) students Ashley Hamati and Matt Lyons have each been selected as LMU-DCOM Student Doctor of the Year (SDOY). Hamati will represent Harrogate and Lyons will represent Knoxville as LMU-DCOM candidates for the National SDOY award presented annually by the Council of Osteopathic Student Government Presidents (COSGP) at the American Association of Colleges of Osteopathic Medicine (AACOM) annual meeting in April 2022.
The SDOY award is presented to students who go above and beyond the average osteopathic medical student and are recognized for their leadership, commitment to community service, dedication to the profession, professionalism, and the embodiment of the osteopathic philosophy. Nominations are sent in by the student body and reviewed by the school selection committee that includes members of the Student Government Association and faculty as well as the dean.
Hamati, of Johnson City, Tennessee, attended Wake Forest University as an Honors Health and Exercise Science major with a double minor in Sociology and Journalism. She speaks English and Spanish.
She is hoping to match with a residency in obstetrics and gynecology in March. She is a member of Gold Humanism, Omicron Delta Kappa, and Sigma Sigma Phi honor societies. She tutored Anatomy Bootcamp, Molecular Fundamentals of Medicine I (Cellular & Molecular Biology/Biochemistry/Genetics), Pharmacology, Hematology/Lymphatic system, and Respiratory system. She is a former secretary for Women's Health and treasurer for American Medical Society clubs as well as a former student ambassador.
Hamati created the first of its kind in the U.S., SAFE Project is an initiative to train physicians, physician assistants, and students of both fields to become Sexual Assault Forensic Examiners. In examining the disparities many survivors face, particularly in the rural Appalachian community that hosts DCOM, Hamati immediately sensed its potential utility in women's health care and collaborated with the Women's Health club to see what could be done to launch the idea.
She reached out to the American College of Osteopathic Obstetricians & Gynecologists and was privileged to present the idea at their 2020 Advances in Women's Health conference.
"In combining my personal and career goals, I feel fueled to develop a practice with strong allyship and advocacy for survivors of rape and sexual assault so that they may gain some sense of victory in their personal battles," Hamati said.
Hamati's goal would be to use SDOY funding to establish The SAFE Project at various hospitals and medical residency training sites. 
Lyons is from Louisville, Kentucky, and received a Bachelor of Arts in Biology and Psychology from the University of Louisville. After college he worked for a year as an EMT at Louisville Metro EMS. He is currently completing third year rotations at Saint Joseph in London,Kentucky. His interests include emergency medicine, prehospital medicine, hiking, and trying local foods.
Lyons worked with two other DCOM '23 students to co-found DCOM Community Health Alliance, a partnership between DCOM and Knoxville Area Rescue Ministries committed to providing medical education and resources to the local Knoxville homeless community. Through this organization, they have provided monthly "Health Talks" on medical conditions pertinent to the homeless community as well as provided free first aid and CPR training to certain residents of Knoxville Area Rescue Ministries to allow them to help during medical emergencies and have a qualification to put on their resume as they search for jobs.
Lyons received the LMU Golden Scalpel Endowed Scholarship (2021) and was a member of EMRA Leadership Academy and Sigma Sigma Phi. He was invited to give a platform presentation on the results of a scoping review that he co-authored at the International Trauma Conference 2021.
His goal is to become an emergency medicine physician and be involved in an EMS system that allows work with underserved populations in and out of the hospital.
"I always thought that I wanted to be a physician, Lyons said. "During my freshman year at the University of Louisville, I started working as a scribe. While working in the ED, I discovered my true passion for medicine and realized that I could not see myself doing anything else."
Lyons said being chosen as Knoxville's Student Doctor of the Year is a tremendous honor.
"The class is full of future leaders in medicine and I am proud to have the opportunity to learn alongside them," he said. "The support of the DCOM faculty and fellow students, especially those at the Knoxville campus, has played a huge role in helping me get where I am today." 
The DeBusk College of Osteopathic Medicine is located on the campus of Lincoln Memorial University in Harrogate, Tennessee. LMU-DCOM is an integral part of LMU's values-based learning community and is dedicated to preparing the next generation of osteopathic physicians to provide health care in the often-underserved region of Appalachia and beyond. For more information about LMU-DCOM, call 1.800.325.0900, ext. 7082, email [email protected], or visit us online at http://med.LMUnet.edu.