LMU-CVM Hosts Virtual Phi Zeta Research Day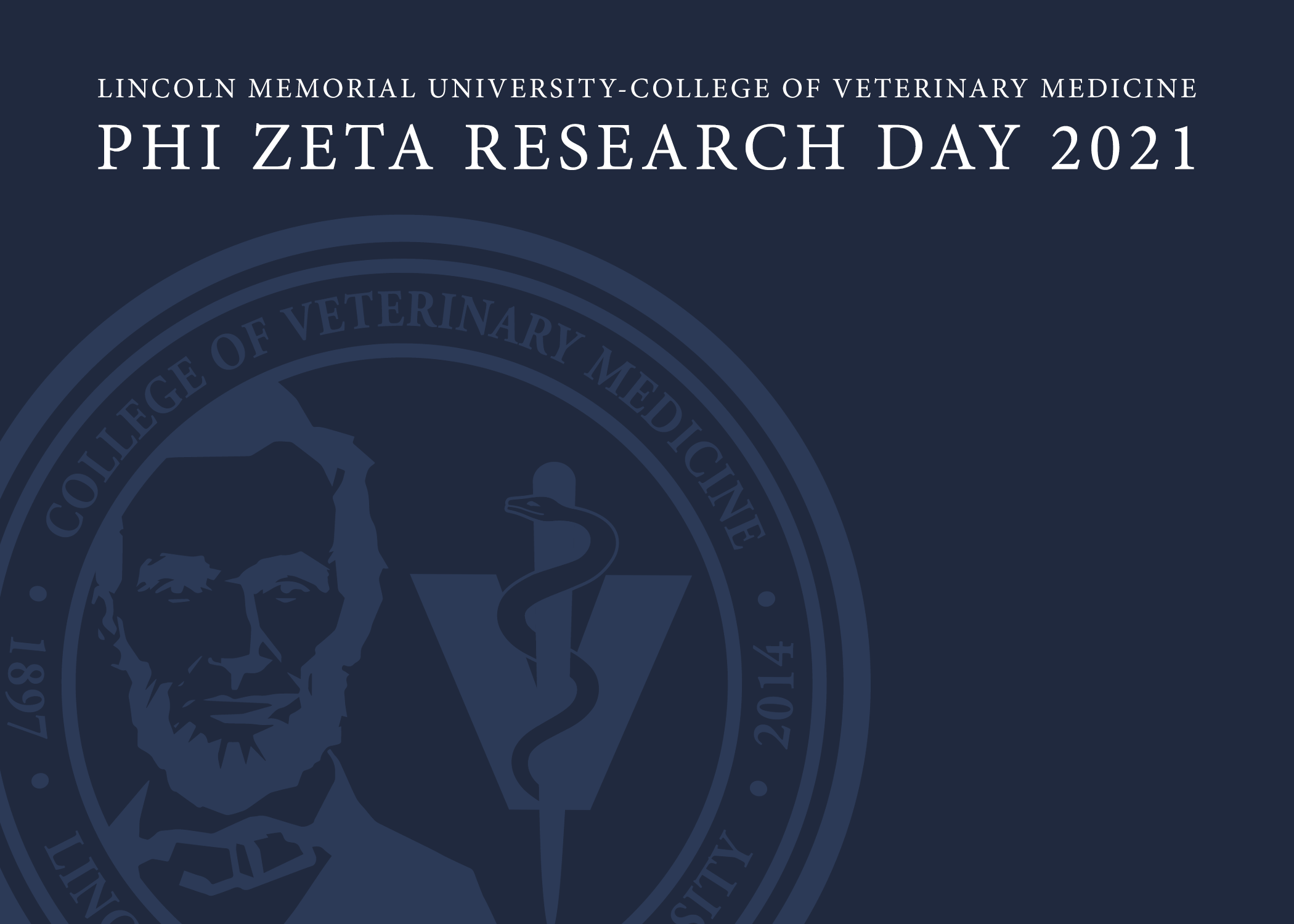 Lincoln Memorial University-College of Veterinary Medicine (LMU-CVM) held its annual Phi Zeta Research Day virtually via Zoom on December 1. The event showcased 23 research projects by students.
"Despite the ongoing pandemic that curtailed our research efforts last year, our students and faculty completed many high-quality research projects. As usual, the students did an amazing job presenting their work," said LMU-CVM Dean Stacy Anderson. "Special thanks to the students, faculty and staff who make research day possible, including LMU-CVM Phi Zeta, the LMU-CVM Research Committee and the University of Kentucky, who work hard to move veterinary medicine forward."
LMU-CVM recognizes, encourages, and rewards students who excel in research. Each year, the LMU-CVM Phi Zeta Research Day allows for students to present their research and compete for poster awards. Research Day is also a forum for communication of student research opportunities and is attended by the faculty members from both LMU-CVM, the University of Kentucky Gluck Equine Research Center (UK GERC) and the Veterinary Diagnostic Laboratory (UKVDL), and students from all three of the pre-clinical year classes of the Doctor of Veterinary Medicine program and others from the LMU community.
Dr. Michael Stonerook, attending veterinarian and associate professor of veterinary medicine at LMU-CVM, moderated the event.
AWARD WINNERS WERE AS FOLLOWS:
Rachel Miller: "Effect of Metformin on the Insulin Responses to Oral Sugar in Insulin Dysregulated Horses"
Emily Halsmer: "A Clinical Study of Ophthalmic Parameters of the Quaker Parrot"
Emily Willems: "Detection of Pathogenic Leptospira spp. in Fish"
Ashley Caldwell: "Identifying Possible Thresholds for Non-Structural Carbohydrates in the Insulin Dysregulated Horse"
Daniel Handler: "Livestock Production, Veterinary Care and Food Insecurity in the Cumberland Gap Region"
Matthew Hayes and Alan Feldpusch: "Equine Median Nerve Variations"
The recording of the event can be found at https://lmu.zoom.us/rec/share/u-gcfIerR8Pgx_spFe9_UziDW3ApNJfhgMIA1UqhPfcZESmENFmOjvGZD8ntVoMT.3DV2xOZilNdHEWQj?startTime=1638378711000
Lincoln Memorial University (LMU) is a values-based learning community dedicated to providing educational experiences in the liberal arts and professional studies. The LMU-College of Veterinary Medicine is located on LMU's main campus in Harrogate, Tennessee, with additional academic facilities in nearby Lee County, Virginia. LMU-CVM is an integral part of the University's medical programs and provides real-world, community-based education in a collaborative learning environment. For more information about LMU-CVM, call 1.800.325.0900, ext. 7150 or visit us online at vetmed.LMUnet.edu.