Tabea Kandlbauer Honored with Mary Mildred Sullivan Award at LMU Commencement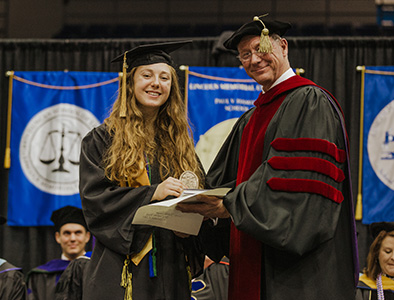 Lincoln Memorial University (LMU) Vice President for Academic Affairs W. Mark Tew, ThD, presented Tabea Kandlbauer, of Kumberg, Austria, with the Mary Mildred Sullivan Award at the LMU Fall Commencement Ceremony on Saturday, December 11, 2021.
Since 1890, the Algernon Sydney Sullivan Foundation has presented Sullivan Awards to college students who have distinguished themselves through service to others and their communities. LMU is one of approximately 60 colleges and universities in the United States to have the privilege of awarding the Sullivan Awards. LMU selects individuals whose "nobility of character" and dedication to service set them apart as examples of great citizenship.
Kandlbauer graduated Summa Cum Laude, earning both a Bachelor of Science in exercise science and a Bachelor of Arts in political science. She also was honored as the class valedictorian. Kandlbauer was a member of the LMU track and field and cross country teams and has been described as humble, nice, talented and a natural leader.
Kandlbauer is the recipient of the South Atlantic Conference Elite 20 Award, given to the student athlete with the highest GPA within the sport. LMU Director of Track and Field Rochelle Black said, "Knowing Tabea as a student-athlete has afforded me the opportunity to see her ability to overcome physical challenges and injuries with her mental strength. She has had to reinvent her role on the team and has used knowledge of the sport to further advance the success of her teammates."
"Tabea Kandlbauer goes out of her way to help others in class that may not understand a concept," nominating faculty member Dr. Katherine Pebworth said. "She always asks great questions in class and challenges me as a faculty member to prepare even more for my lectures."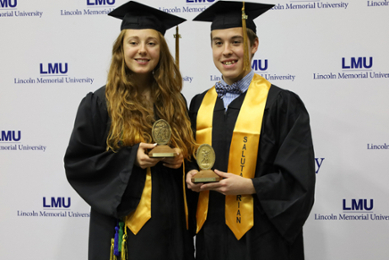 Kandlebauer plans to return to her native Austria after graduation to pursue a doctor in physical therapy degree. In addition to Kandlebauer, fellow graduate Landon Margetjak was also honored with the Algernon Sydney Sullivan Award.
The Algernon Sydney Sullivan Foundation was established in honor of a celebrated 19th-century humanitarian and attorney who often represented poor clients for free if their cause was just. The Sullivan Foundation has been recognizing college students for service and outstanding character since 1890. Learn more at https://sullivanfdn.org/.
Lincoln Memorial University is a values-based learning community dedicated to providing educational experiences in the liberal arts and professional studies. The main campus is in Harrogate, Tennessee. For more information about the undergraduate and graduate programs available at LMU, contact the Office of Admissions at 423-869-6280 or email at [email protected].