Cynthia L. Whitt Honored with Mary Mildred Sullivan Award at LMU Commencement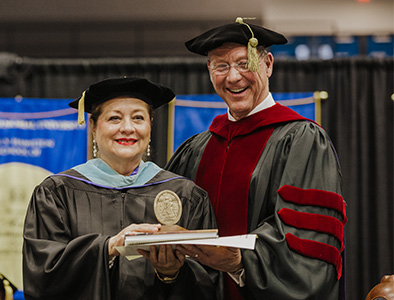 Lincoln Memorial University (LMU) Vice President for Academic Affairs W. Mark Tew, ThD, presented Vice President for University Advancement Cynthia L. Whitt, of London, Kentucky, with the Mary Mildred Sullivan Award at the LMU Fall Commencement Ceremony on Saturday, December 11, 2021.
Since 1890, the Algernon Sydney Sullivan Foundation has presented Sullivan Awards to college students who have distinguished themselves through service to others and their communities. LMU is one of approximately 60 colleges and universities in the United States to have the privilege of awarding the Sullivan Awards. LMU selects individuals whose "nobility of character" and dedication to service set them apart as examples of great citizenship.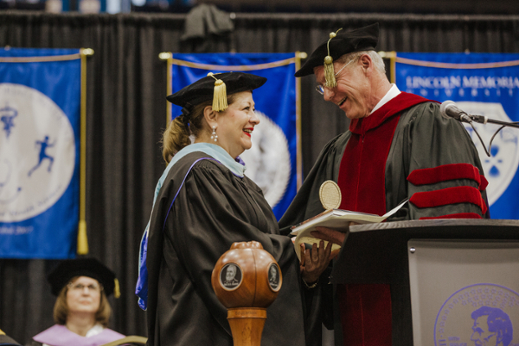 Whitt has left an indelible mark on Lincoln Memorial University where she first made an impact as a student, performing in the University's music and theatre programming. Whitt earned a Bachelor of Arts in psychology in 1977 and a Master of Education in educational administration and supervision in 1993. In addition, she has studied at the University of Kentucky, Clear Creek Baptist Bible College, Liberty University and Southern Seminary.
Whitt joined the staff of LMU in 1987, serving as the director of public relations and the director of alumni services. She has served as a member of the President's Cabinet since 1991, as the vice president for University Advancement. Whitt overseas the LMU's fundraising, alumni engagement, public relations and marketing endeavors. Under her leadership, the University has conducted several successful capital campaigns and received the Council for Advancement and Support of Education (CASE) Award in 2015 for the most improved fundraising.
Since 1991, LMU has received well over $100 million in fundraising revenue. Whitt has worked closely with the Abraham Lincoln Library and Museum on the Hansel and Dorothy Kincaid One Million Dollar Matching Challenge Campaign, which exceeded its goal with over $3 million raised. Whitt continues to forge strong bonds with LMU alumni and friends, her alumni outreach has resulted in a vibrant donor-funded scholarship program which regularly awards over $500,000 in student scholarships annually.
In 2011, Whitt, along with the late Lynn Duncan, established LMU Women of Service (WOS). The organization is open to all women who want to help students at LMU. By living as an example of service, WOS members teach LMU students about the incredibly important mission of service to humanity. The group holds annual fundraising activities including a fashion show and Christmas festival to fund student scholarships and provide family aid and cultural enrichment opportunities to LMU students. They were instrumental in establishing a food pantry on campus for students and employees and earlier this fall opened Lincoln's Closet, which provides career clothes for students.
In addition to WOS, Whitt is active in several civic and religious organizations and activities, including the Harrogate Garden Club and The Creek Church in London, Kentucky. She is a past coordinator for the Remote Area Medical Clinics held at LMU in Tex Turner Arena. A gifted vocalist, she often sings the LMU Alma Mater at ceremonies and has served as a vocalist for the Lincoln Commemorative Birthday Celebration in Washington, D.C. She was inducted into the LMU Professional Hall of Fame in 2009.
The Algernon Sydney Sullivan Foundation was established in honor of a celebrated 19th-century humanitarian and attorney who often represented poor clients for free if their cause was just. The Sullivan Foundation has been recognizing college students for service and outstanding character since 1890. Learn more at https://sullivanfdn.org/.
Lincoln Memorial University is a values-based learning community dedicated to providing educational experiences in the liberal arts and professional studies. The main campus is in Harrogate, Tennessee. For more information about the undergraduate and graduate programs available at LMU, contact the Office of Admissions at 423-869-6280 or email at [email protected].