LMU Student Works with Horses in Bluegrass State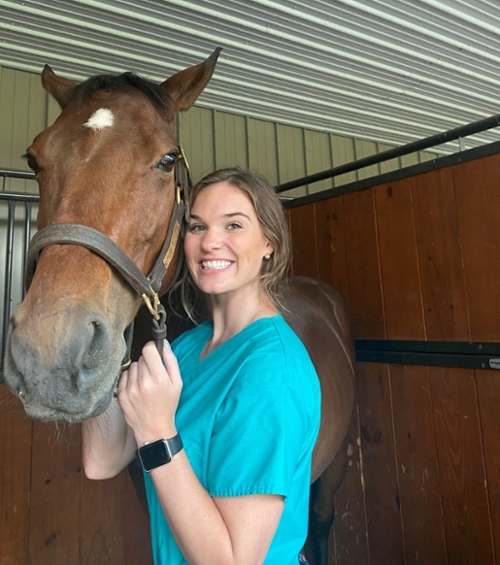 (Caption: LMU student Morgan Simpson with a patient at the Park Equine Hospital in Versailles, Kentucky. A thoroughbred gelding, Proud Royal is a retired racehorse owned by Bobbie Jones, one of Simpson's co-workers.)
One Lincoln Memorial University (LMU) student is working toward her goal of being accepted to the LMU College of Veterinary Medicine (LMU-CVM) through various activities, one of which was working with horses near Keeneland during the summer. Keeneland is a world-renowned racecourse in Lexington, Kentucky.
Morgan Simpson, a sophomore from Nicholasville, Kentucky, is a current student in the Veterinary Health Science program in the School of Allied Health Sciences. She said her life's dream is to be accepted at the LMU-CVM.
Simpson got the opportunity to work at Park Equine Hospital (PEH) in Versailles, Kentucky, over the summer. The opportunity gave her experience in the veterinary field, working at the epicenter of Kentucky horse country. Her list of tasks is long.
"My job as a veterinary technician is monitoring patients, checking vitals, administering medications, assisting with medical procedures, emergency surgeries, general horse care, feeding, grooming, and yes – mucking stalls," Simpson said.  
At PEH, Simpson said there were 10 veterinarians, including surgeons and interns. Primarily, the hospital cares for thoroughbreds and standardbreds, but it also cares for quarter horses, gaited breeds, sport horses, draft horses, miniature horses, donkeys, and mules.
"Our services include surgeries like bone chip removals, corrective screws, tieback surgeries, colic surgeries, and C-sections, to name a few," she said. "We complete lameness exams, X-rays, ultrasounds, neonatal care, foal watch, scoping, stallion collection, artificial insemination, and pregnancy checks."
Simpson's experience at PEH has been very valuable in her quest to eventually enter the LMU-CVM. "My favorite part of working at PEH was taking care of the horses and seeing them go home happy and healthy," she said. "It was such a rewarding feeling to gain such valuable veterinary skills and grow amazing relationships with my co-workers along with the patients."
Part of her extracurricular activities at LMU include membership in the Pre-Vet Club.
"Morgan is an involved and dedicated member of the Pre-Vet Club," said Dr. Amanda Rainey, club advisor and assistant professor of veterinary health sciences and technology. "Her spirit of positivity has greatly impacted the events held by the club this year and we look forward to her continued contributions to the club in the future!"
Simpson's major illustrates the collaborative efforts of different schools within the University. LMU prepares students for many academic pursuits in varied fields. As a student of veterinary health, Simpson has also taken courses in the math and science fields. Her academic accomplishments include a research partnership with Dr. Kathryn Purple, assistant professor of biology and microbiology, on a protozoan parasite called Trichomonas gallinae.
"Ms. Simpson is an outstanding student who is very committed to her academic success," said Dr. Matthew Marcum, assistant professor of veterinary health sciences and technology and Simpson's academic advisor. "All of my interactions with her suggest nothing but future success in her pursuit of a veterinary career."
In addition to the Pre-Vet Club, Simpson has achieved Dean's List honors and is a member of the LMU Cheer Team, a Lincoln Ambassador, and a lifeguard at the LMU Pool.
"I want to thank my LMU professors for being so inspirational and helpful in offering educational opportunities," she said. "Thank you to my math teacher Mr. Mike Neff, and his cousin Kathy Picklesheimer, for providing a pathway for the fun and educational summer job at Park Equine Hospital."
Lincoln Memorial University is a values-based learning community dedicated to providing educational experiences in the liberal arts and professional studies. The main campus is in Harrogate, Tennessee. For more information about the undergraduate and graduate programs available at LMU, contact the Office of Admissions at 423.869.6280 or email at [email protected].