Pennington Brings Back Win from National Conference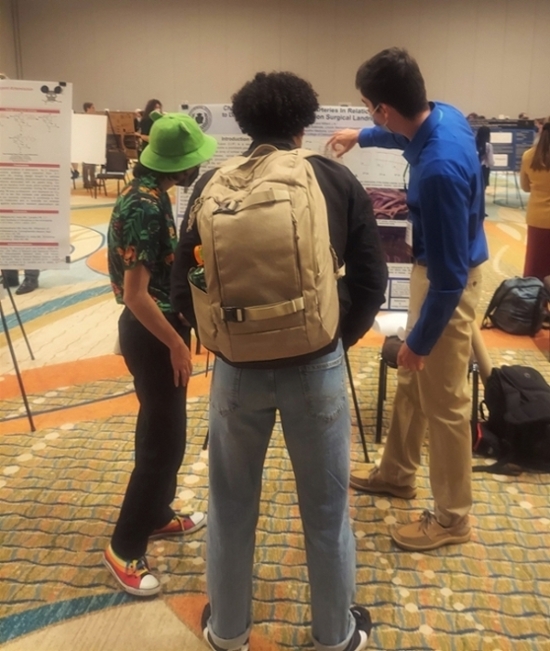 (Caption: Jarvis Pennington, right, explains his research poster that received third prize at the NCHC annual conference.)
Several Lincoln Memorial University (LMU) Honors Program students and their advisor attended the National Collegiate Honors Council (NCHC) annual conference in Orlando, Florida, and returned with recognition and wins.
Students Christina Bradley, Emma Cummings, Thomas Nelson, Jarvis Pennington, and Austen Smith attended the conference. Dr. Sandra Weems, assistant professor of English and director of the Honors Scholars Program, accompanied the group.
Pennington, a senior biology and pre-med major, won third place in the national research poster competition.
His project that resulted in the winning poster is titled, "Characterization of the Lumbar Arteries in Relationship to Lateral Lumbar Interbody Fusion Surgical Landmarks." The project is his honors thesis, which he presented and defended in front of a panel at LMU on Nov. 19.
Pennington's project deals with a way to digitally map arteries that surgeons can't see, said Weems.
"My project was a human body donor study in which I used a 3D digitizer to determine the 3D location of the lumbar arteries in relation to lateral lumbar interbody fusion surgical landmarks," said Pennington. "The data collected were used to construct an anatomically accurate 3D representation of the lumbar arteries." Dr. Jonathan Millard served as his research mentor.
"He very clearly presented his research so laypersons could understand the medical terminology," Weems added. "This research he and Dr. Millard have done could change the way lumbar surgeries are done in the future." 
Surgeons cannot always see arteries lying under organs, and the digital mapping would give them a general idea of where arteries lie within the average person. This knowledge, said Weems, could reduce the chances of a nicked artery or similar surgical injury. 
"Being a member of the LMU Honors Scholars program allowed me the opportunity to work on this project, so I was extremely excited to represent both LMU and the Honors Scholars by presenting my research at the NCHC Conference this year," said Pennington.  
"My heart was bursting," said Weems of the LMU Honors Scholars' presentations. The annual NCHC conference brings together students from schools across the nation, and many prestigious colleges and universities participate. "LMU was very well-represented," she added.  
The LMU Honors Scholars Program exists to promote undergraduate scholarship and encourage intellectual dialogue among students. It deepens values through an approach of critical reading and writing in courses reinforced with service learning and increased social and cultural collaboration. For current eligibility, incoming students must have a score of 26 on the ACT and a high school GPA of 3.2 or higher.
There are several benefits of being in the LMU Honors Scholars Program: Recognition upon graduation, University Honors Scholarship, deeper and broader learning opportunities within any major and the general education curricula, enhancement for professional and graduate school applications, learning through service, undergraduate research project with a faculty mentor, leadership development, and opportunities to participate in regional and national Honors meetings.
"I would like to express my gratitude to the body donors and their families for their unique gift to LMU, without which this research would not have been possible," Pennington added. The Lincoln Memorial University- DeBusk College of Osteopathic Medicine Anatomical Donation Program is a "whole body" gift program instituted for the study of human anatomy. The program provides body bequeathal information to anyone who is of sound mind, 18 years of age or older, and desires to give his or her body to the program.
The NCHC was founded in 1966. It "is a unique educational organization designed to support and promote undergraduate honors education," according to its website. It has nearly 900 member institutions and several hundred individual members, impacting over 330,000 honors students.
Lincoln Memorial University is a values-based learning community dedicated to providing educational experiences in the liberal arts and professional studies. The main campus is in Harrogate, Tennessee. For more information about the undergraduate and graduate programs available at LMU, contact the Office of Admissions at 423.869.6280 or email at [email protected].