LMU Communication Students Get Real-World Experience

(Caption, left: Anthony Palazzolo, a senior LMU Communication and Media major, does some video work for a local network affiliate. Caption, right: LMU Communication and Media students Megan Russell and Thomas Nelson tape footage for sports highlight reels as Dr. Rick Vogel, associate professor, looks on.)
Sports highlights gathered by students in the Lincoln Memorial University (LMU) Communication and Media (CAM) program were broadcast by television stations across the region. Their work became news as the students worked with local high schools and regional network affiliates to provide high school football footage.
The students, along with faculty mentors, filmed and edited high school football highlights during October and November. The highlight packages were shot and edited by Thomas Nelson, Anthony Palazzolo, Megan Russell, and recent graduate Katelin Chadwell.  
The project was coordinated by Dr. Charlie Gee, associate professor and CAM program director, in conjunction with Dr. Rick Vogel's Sports Communication class. Vogel is also an associate professor for LMU. The students covered seven games for six different TV stations.
"This has afforded the students with the opportunity to not only work in a high energy environment with quick deadline turnarounds, but to also have their work broadcast on local television newscasts throughout the region," said Gee, adding that the highlights aired were either graphically or orally credited.
"I was given the opportunity to record a Middlesboro High School football game for WYMT," said Chadwell. "With this, I was able to do more of what I love, which is editing and videography. I loved having the camera in my hands, tripod free, and recording the action shots. I was always on my feet and prepared to follow the ball."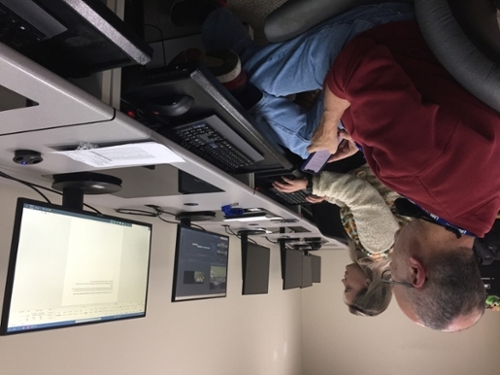 (Caption: Katelin Chadwell, a 2021 graduate of the LMU Communication and Media program, edits footage together as Dr. Rick Vogel, associate professor, oversees her work.)
 Tennessee high schools involved included Claiborne, Cumberland Gap, Chuckey-Doak, and Hampton. Kentucky high schools were Bell County, Middlesboro, Pineville, Garrard County, Estill County, and Leslie County.
"I had a lot of fun shooting the football games," said Palazzolo, a senior in the CAM program. "It was a great learning experience for the sports side of media. I feel that we did a great job covering the games and building the reels for local stations."
Highlight packages were shared and broadcast by WYMT-TV (CBS-Hazard, Ky.), WKYT-TV (CBS-Lexington, Ky.), WATE-TV (ABC-Knoxville, Tenn.), WJHL-TV (CBS-Johnson City, Tenn.), WCYB-TV/WKPT-TV (NBC/ABC-Johnson City, Tenn.)
The experience gave LMU students an idea of what working at a network affiliate involves.
"Editing footage is also a fun process for me because it is like putting puzzle pieces together that creates a story," Chadwell added. "I can see myself going into sports journalism because it lets me explore my creative side."
A lot of work goes into a highlight package, and when edited for a news show is condensed into a few seconds. Combined, the students' work resulted in approximately five minutes of total airtime, according to Gee.
LMU graduates majoring in Communication and Media are prepared for a number of career options within the field. Students have opportunities to learn on-air reporting, multi-media journalism, and producing or exploring off-camera skills as editors, copyeditors, and videographers.
Lincoln Memorial University is a values-based learning community dedicated to providing educational experiences in the liberal arts and professional studies. The main campus is in Harrogate, Tennessee. For more information about the undergraduate and graduate programs available at LMU, contact the Office of Admissions at 423.869.6280 or email at [email protected].