Poetry Students Create Books for Final Project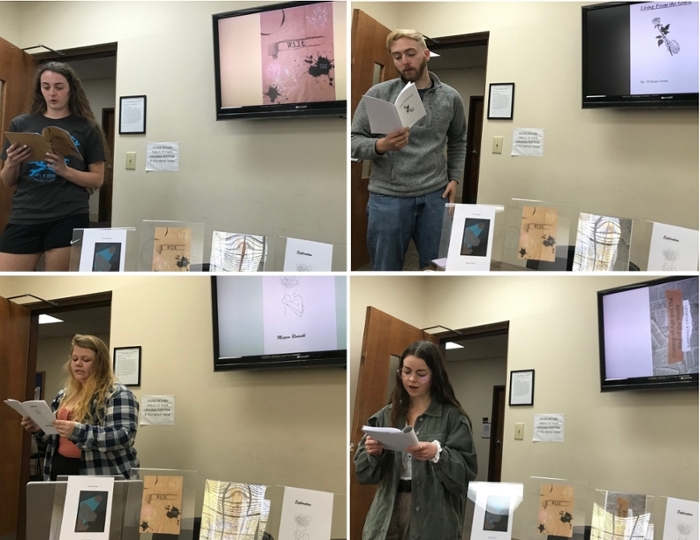 (Students in a poetry writing course read original works from chapbooks they created. Clockwise from top left: Kaley Long, William Gross, Gabby Chumley, and Megan Russell.)
Several Lincoln Memorial University (LMU) students ended the semester by creating books of poetry as the final project for their upper-level poetry writing course.
"They created poetry chapbooks, which are short, 20-page, handmade books of their best work throughout the semester," said Patrick Wensink, assistant professor of English and course instructor. "Students edited, formatted, cut, folded, stapled (or bound with twine in one case), and read from their work at an end-of-the-year book release party, complete with sparkling grape juice."
Wensink, who also serves as the director of the Mountain Heritage Literary Festival, emphasized the importance of creative outlets such as chapbooks.
"Some of the greatest, most important poems of the last 100 years started out this way, and our students learned about the important legacy of these books throughout the history of poetry, and are now part of that world, themselves," he added.
During the release party students shared their work with classmates, and some had already shared their work with loved ones.
"Several folks commented on how they felt empowered to share these works with their families, and one student said her mom cried upon seeing and hearing the work," Wensink said.
The poetry writing course, ENGL 373, is offered through the Paul V. Hamilton School of Arts, Humanities and Social Sciences. It encourages development of student projects from conception through final revision in the literary genre of poetry. It includes the close study of the elements and techniques of poetry, analysis of a variety of published poems, and the discussion of students' original poems.
Lincoln Memorial University is a values-based learning community dedicated to providing educational experiences in the liberal arts and professional studies. The main campus is in Harrogate, Tennessee. For more information about the undergraduate and graduate programs available at LMU, contact the Office of Admissions at 423.869.6280 or email at [email protected].