LMU Women of Service Launch Lincoln's Closet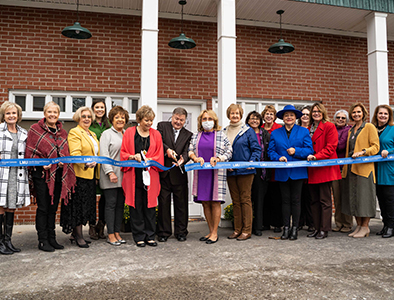 Lincoln Memorial University (LMU) President Clayton Hess cut the ribbon to officially open the LMU Women of Service (WOS) Lincoln's Closet Tuesday morning.
The latest student-centered venture from the community organization is aimed at providing LMU students access to appropriate attire as they prepare to embark on professional careers.
"Our goal is to help students look their best throughout their job search and make a positive impression as they enter the professional world," said Dr. Wandaleen Adams, LMU WOS past president and Lincoln's Closet chair.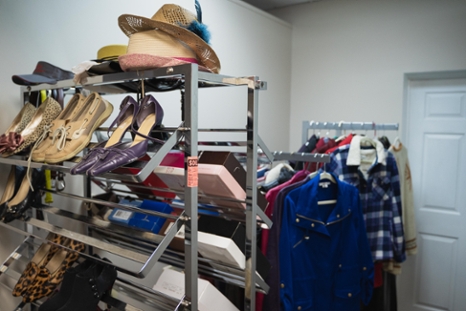 In addition to free clothes, the WOS volunteers at Lincoln's Closet will provide tips on how to dress to impress and build a personal brand. Students may select items for an interview or everyday career needs. Shoes and accessories are also available. The clothing has been donated in a wide variety of sizes, styles, and colors. The organization plans to routinely call for more donations.
Lincoln's Closet is located at 609 Colwyn Avenue in Cumberland Gap, Tennessee. It is currently open from 1:30 – 4:30 p.m. on Thursdays and from 9 a.m. to noon on Fridays. Hours may change by semester.
The WOS was instrumental in launching LMU's Lincoln's Cupboard as well. The on-campus food pantry is located behind the LMU-College of Veterinary Medicine building in the former location of the organic garden center. Stocked weekly with fresh and canned food as well as hygiene items, Lincoln's Cupboard is open to members of the LMU community, regardless of their financial situation or income.
Established in 2011, the LMU Women of Service is open to all women who want to help students at LMU. By living as an example of service, WOS members teach LMU students about the incredibly important mission of service to humanity. The group holds annual fundraising activities including a fashion show and Christmas festival to fund student scholarships and provide family aid and cultural enrichment opportunities to LMU students.
More photos from the ribbon cutting.
Lincoln Memorial University is a values-based learning community dedicated to providing educational experiences in the liberal arts and professional studies. The main campus is in Harrogate, Tennessee. For more information about the undergraduate and graduate programs available at LMU, contact the Office of Admissions at 423-869-6280 or email at [email protected].