Sumler Receives William G. Anderson, DO, Minority Scholarship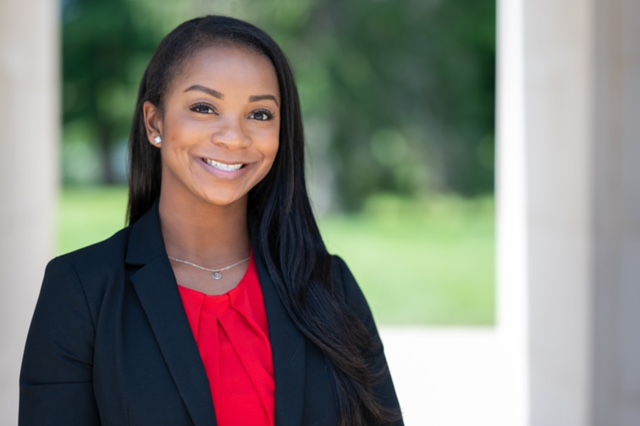 Lincoln Memorial University-DeBusk College of Osteopathic Medicine (LMU-DCOM) second-year student Chassidy Sumler was one of five osteopathic medical students nationally to be chosen for the William G. Anderson, DO, Minority Scholarship presented at the American Osteopathic Foundation (AOF) Honors Gala Oct. 22.
AOF's William G. Anderson, DO, Minority Scholarship was created to recognize minority osteopathic medical students who are committed to osteopathic principles and practice, have excelled academically, and have proven to be leaders in addressing the educational, societal,1 and health needs of minorities. The goal of this award is to recognize exceptional students who are anticipated to be champions in the elimination of health care disparities. This honor includes a monetary award of $10,000.
"Growing up in rural Mississippi, I saw the need for physicians, especially those that look like me," Sumler said. "Many of the residents live below the poverty level like most Mississippians. My small community is plagued with obesity, diabetes, hypertension, and many other preventable diseases."
After graduating high school, Sumler attended the University of Alabama at Birmingham. As an undergraduate, she created an initiative titled "Finding Fun in Fitness." This program focused on educating the youth of rural and underserved areas. She created lesson plans to engage children in physical activities that would help get children active. In college, she implemented this program in various local Boys and Girls Clubs and afterschool programs across Alabama. She was able to continue this program through graduate school, spending seven years making a difference in these communities.
Sumler is a student ambassador, president of the American Medical Association, president of the Internal Medicine Club, and the class program chair for SGA. She is also involved in the MEND (Medical Education Navigating Diversity) Initiative, which focuses on providing resources to medical students at LMU-DCOM to help educate students on racial inequalities in medicine and the effects of socioeconomic status on quality medical care. The goal is to create materials that will educate future physicians on diversity and equip them with the tools to serve all populations.
"This scholarship will help me care for the expenses I have as a medical student and allow me to work less and focus more on my studies," Sumler said.
Sumler wants to practice internal medicine and help serve communities like hers. She plans to open a clinic in rural and underserved areas, specifically those that work with minority communities.
"Growing up in rural Mississippi, you are exposed to many different environments. While rural physicians are needed, there are many rural areas with predominantly minority populations," Sumler said. "For example, places like the Black Belt of Alabama and the Mississippi Delta have many towns in these areas that are majority African American, and many have been neglected. I would love to provide care for these communities."
In summer 2021, she volunteered weekly at the Free Medical Clinic of America in Knoxville, Tennessee. This clinic is in the heart of Knoxville and provides health care to many African American and Hispanic communities.
The DeBusk College of Osteopathic Medicine is located on the campus of Lincoln Memorial University in Harrogate, Tennessee. LMU-DCOM is an integral part of LMU's values-based learning community and is dedicated to preparing the next generation of osteopathic physicians to provide health care in the often-underserved region of Appalachia and beyond. For more information about LMU-DCOM, call 1.800.325.0900, ext. 7082, email [email protected], or visit us online at http://med.LMUnet.edu.