Shock, Kistler Promoted to Associate Professor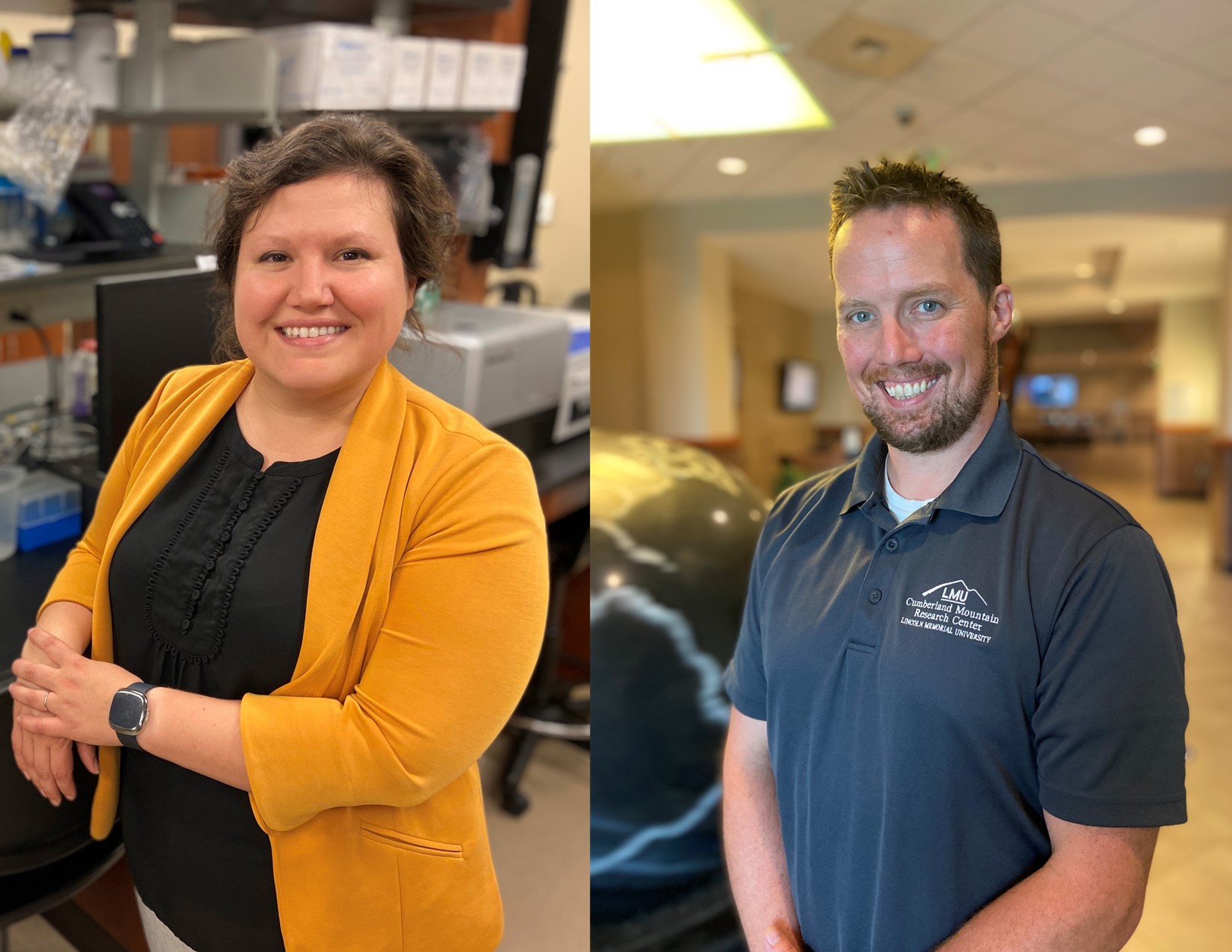 The Lincoln Memorial University (LMU) School of Mathematics and Sciences Dean Adam Rollins has announced the promotion of Dr. Barbara Shock and Dr. Whitney Kistler to associate professor.
Shock grew up in rural West Virginia and spent most of her time outdoors and reading books. She attended West Virginia University in Morgantown, West Virginia, and obtained a Bachelor of Science in biology with a minor in Creative Writing in 2008. She attended graduate school at the University of Georgia in Athens, Georgia, and completed a Master of Science in Veterinary and Biomedical Sciences – Infectious Diseases in 2010. She conducted research at the Southeastern Cooperative Wildlife Disease Study. She joined the UGA Warnell School of Forestry and Natural Resources and completed a PhD in Forest Resources – Wildlife Ecology and management in 2014. Most of her graduate research focused on the ecology and diversity of tick-transmitted diseases of wild felids such as bobcats and pumas. She began a Postdoctoral Research Fellowship after her doctorate and continued research into wildlife disease ecology and epidemiology. In August 2016, she joined the faculty at LMU as an Assistant Professor of Biology and Conservation.
Shock teaches a diversity of classes in Biology and Conservation Biology, including Ecology and General Biology II. In addition to her teaching responsibilities at LMU, she also conducts research. She has built a research program in wildlife disease ecoepidemiology. She focuses efforts on molecular identification of tick-transmitted diseases of animals and humans in the Cumberland Gap area.
"Since 2017, we have been collecting and identifying Ixodid ticks and screening them for pathogens such as Borrelia (Lyme Disease), and Babesia (Babesiosis)," Shock said. "I presented some of this research at the American Association of Veterinary Parasitologists Annual Meeting in 2020 and 2021. This research has allowed me to mentor CVM students, and many undergrad students. I take a holistic approach to mentoring and engage with students in the laboratory, assist them in learning how to analyze their data, and then how to present it in scientific formats. I also take time to talk to students about their career trajectories and I continually connect my students to as many appropriate projects, scholarships, fellowships, and career opportunities as possible."
When not teaching or conducting research, she likes to birdwatch and hike, as well as read and travel. She currently resides in Speedwell, Tennessee, with her husband and dog Wally.
Kistler grew up in southwestern Pennsylvania and spent most of his time outdoors. He received his BS in Biology from Mercyhurst University in Erie, Pennsylvania, in 2008 with a minor in Mathematics. He attended the University of Georgia from 2008-2014 and earned his MS and PhD through the Southeastern Cooperative Wildlife Disease Study. His research focus was on influenza A viruses in wild birds. He then worked as a Postdoctoral Researcher at Texas Tech University from 2014-2016 and studied several parasites of wild birds. He joined the faculty at LMU as an Assistant Professor of Biology and Conservation Biology in August 2016.
He teaches a wide range of classes in Biology and Conservation Biology, including Research Design and Analysis, General Biology I, and Ornithology. He also serves on the Institutional Animal Care and Use Committee and the Master of Science Life Science Admissions Committee. In addition to his teaching and service responsibilities, he conducts research on wildlife and zoonotic diseases in wild birds and on biodiversity in the local watersheds. In his free time, he likes to hike, hunt, and ride motorcycles.
Lincoln Memorial University is a values-based learning community dedicated to providing educational experiences in the liberal arts and professional studies. The main campus is located in Harrogate, Tennessee. For more information about the undergraduate and graduate programs available at LMU, contact the Office of Admissions at 423.869.6280 or email at [email protected].