Blake Lawson and Martha Gale Join College of Dental Medicine Staff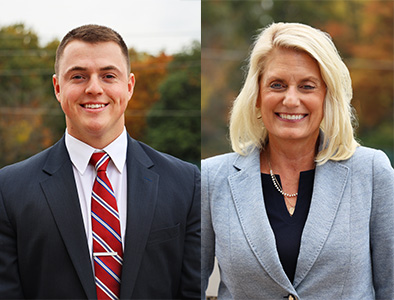 Lincoln Memorial University (LMU) and the LMU-College of Dental Medicine (LMU-CDM) have hired Blake Lawson as assistant director of development health sciences division in the Office of University Advancement. Martha Gale has been hired as the director of continuing education with the developing LMU-CDM.
Lawson will raise awareness for LMU health science programs in his role—primarily for the College of Dental Medicine. He will create opportunities to build revenue through partnerships, donations, student scholarship opportunities, and other fundraising efforts.
Lawson brings experience working in higher education and has participated in various philanthropic efforts before joining LMU. Lawson received his MBA and Bachelor of Science in Marketing and Entrepreneurship from the University of Tennessee where he served as both a graduate teaching assistant and as the vice president of philanthropy for the Tennessee Organization of MBAs (TOMBA). Before joining LMU, Lawson served as the assistant director of annual fund marketing with Vanderbilt University. In his free time, Lawson enjoys exercising and has operated commercially and independently as a personal fitness trainer.
In her role, Gale will provide continuing education (CE) opportunities for dental professionals and coordinate certification courses for dentists who are interested in forensic dentistry and for dental hygienist and dental assistants in need of CE credits. She will also assist in developing the Master of Science in Forensic Dentistry and the Forensic Fellowship programs.
Prior to joining LMU-CDM, Gale served as the medical administrative specialist with the University of Tennessee's Department of General Dentistry, Division of Forensics. Gale received an associate degree in business administration from State Area Vocational School and earned paralegal certifications from the National Association of Legal Assistants and Court Reporting from the National Court Reporter Association. In her free time, Gale enjoys being outdoors, either running, hiking, or biking with her husband, Kevin and three daughters, Alli, Bailey, and Cameron. Each week her family has a pickleball night.
Lincoln Memorial University is a values-based learning community dedicated to providing educational experiences in the liberal arts and professional studies.  The main campus is located in Harrogate, Tennessee. For more information about the undergraduate and graduate programs available at LMU, contact the Office of Admissions at 423-869-6280 or email at [email protected]