LMU-CVM Presents CAHA Conference to Nearly 600 Attendees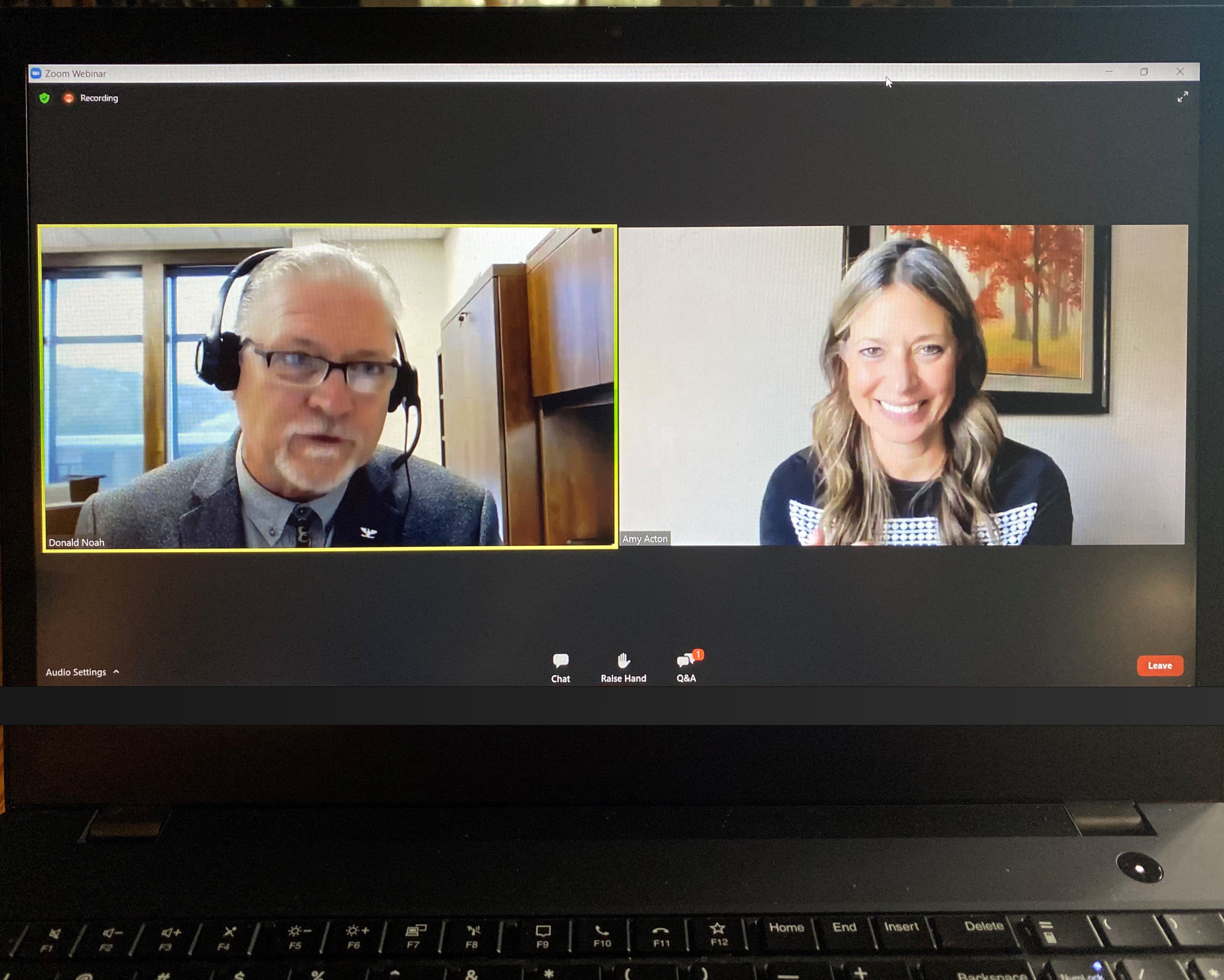 Lincoln Memorial University-College of Veterinary Medicine (LMU-CVM) hosted the 2021 Center for Animal and Human Health in Appalachia (CAHA) Conference virtually on Oct. 22, 2021, via Zoom Webinar with 591 attendees. This was the seventh conference held by LMU-CVM and its theme was professional resiliency.
"We are hopefully emerging from the pandemic that has consumed our lives for the past couple of years, and although we're not finished with it, we can at least see the light at the end of the tunnel," said Dr. Donald L. Noah, executive director for CAHA. "People are burned out. They're tired, they're angry and frustrated, and so the theme of professional resiliency we feel is the right topic at the right time."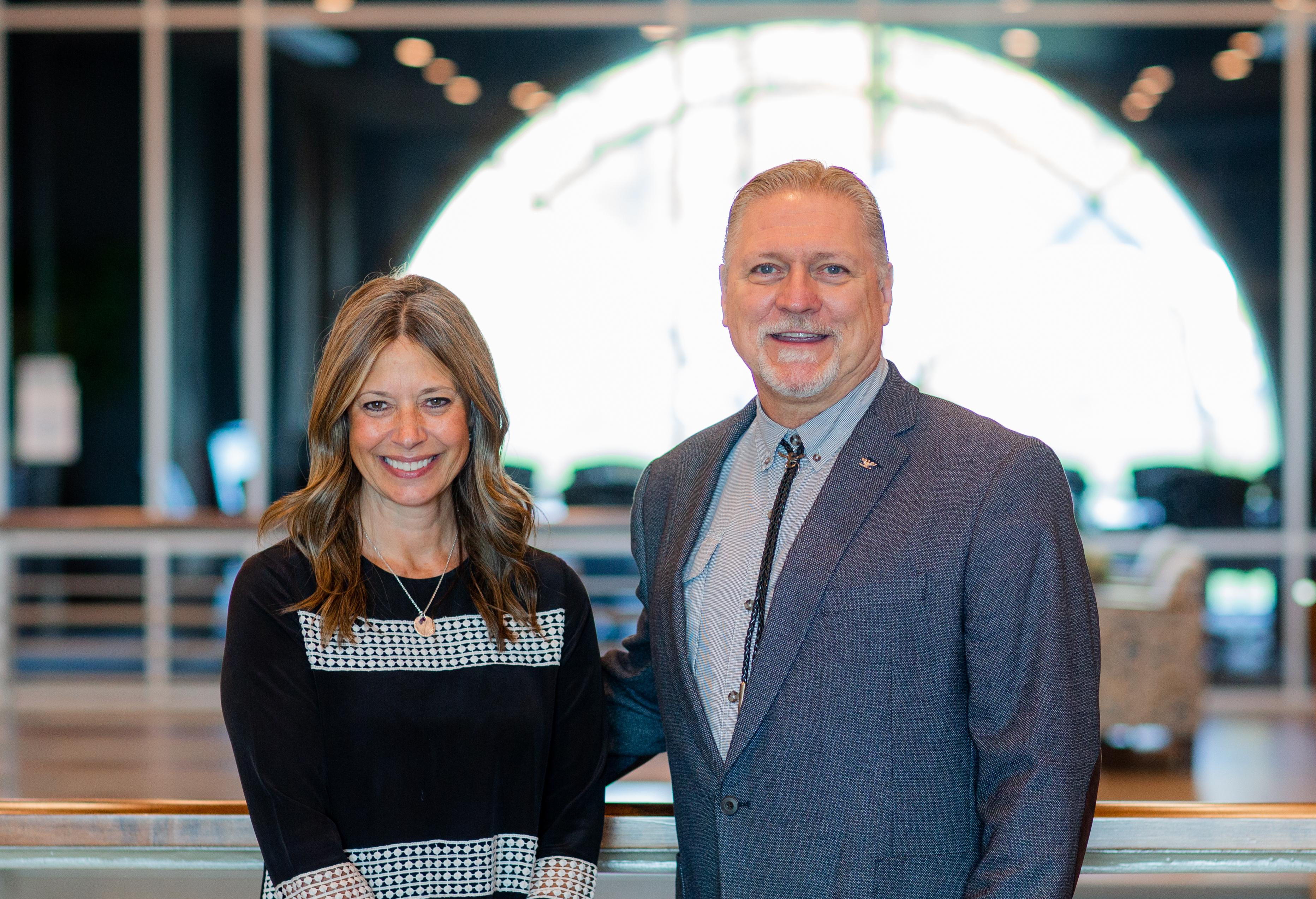 Dr. Amy Acton, former Director of the Ohio Department of Health, who earned her master's in public health from Ohio State University, served as the keynote speaker. Under her leadership, Ohio declared a state of emergency with just three confirmed Covid cases and was the first state to shut down schools, and later that same, Acton issued a stay-at-home order affecting more than 11 million people when the death toll was still just three. Through her regular press briefings, she became an icon and inspired Ohioans to stay home and spread the word to each other. She talked about her career path to public health and the strategy she used to communicate to the public during the crisis.
"I didn't really think in terms of spin all I could think of was how on earth are we all going to get our heads around something that we just never saw coming," Acton said. "This was something so unprecedented we were all longing for someone to just tell us what was going on, the truth. And so I taught, the same way I talk to patients or the same way I talk as a mom. I think my kids would say to you that was just mom being mom."
She said leaders needed to recognize the fear and uncertainty at life being disrupted and empower people to get involved and help fight a common enemy, the virus. She also talked about the noticing the gifts of difficult times.
"When that crisis hit my gut feeling was where's the pearl in it … and over time you learn a lot more from the adventures you have when things go wrong," Acton said. "You're learning and so there's no wasted thing, and I can tell you I woke up one morning where I just realized everything in my life, the worst things that ever happened to me, the best things, all suddenly added up to exactly what I needed in that moment. It's a very strange feeling to just all of a sudden be like, 'I've got this!' and it's not to say I was never afraid. I use the Winston Churchill quote 'When you're going through hell, keep going.'"
Dr. Tammy Kowalczykt, a professor of accounting and sustainable business at Appalachian State University, also spoke. She served as the interim director for the research institute for environment, energy, and economics. For 2019 Kowalczykt's primary areas of research included sustainability accounting and performance assessment, carbon accounting, and natural resource economics. She spoke about a recently published study by her and her team on the effects of climate change on resiliency specifically in the Appalachian region.
"Many of you are probably aware of some of these impacts, whether they've been called climate change impacts, or whether they just have been called crazy weather events that we deal with more and more," Kowalczykt said. "Whatever this is, we know that there are some things going on that we need to be able to be resilient about. And so it starts with awareness, then it starts with figuring out how bad is the problem where we are and how do we define the data that will that will help us to resolve problems."
Makenzie Peterson, MSc, director for wellbeing at the American Association of Veterinary Medical Colleges, also spoke. She works to advance AAVMC's a strategic goal of fostering a culture of wellbeing throughout academic veterinary medicine, by promoting preventative systems-based initiatives. She spoke about the resiliency and burnout or work-related stress and trauma in health professions.
"People cannot downward dog their way out of a bad boss," Peterson said. "You can't meditate away systemic problems, and there is no amount of stress management workshops that will help people address unmanageable workloads where you're trying to get one person to do the work of two to three people…
the heart and soul of our wellbeing is about and improving the quality of life for everyone. And that's going to mean that we adjust and overhaul the environments that we have amazing resilient health professionals working in. And that we really look at Community wellbeing as the goal for all of our health professions."
Karra Pierce, DVM, director of veterinary services at the Wildlife Center of Virginia, spoke about resiliency and recovery and wildlife medicine.
"Something I think is important to point out and learn from our wildlife is resiliency doesn't mean struggling alone" Pierce said. "All of these animals had a little help or a lot of help along the way to get back to the wild. Oftentimes the most resilient people or animals need to embrace help to come up stronger on the other side."
CAHA concluded with an inner professional learning opportunity for students from multiple disciplines in a team competition featuring students from LMU, South College, and the University of Kentucky.
One Health is a global initiative that encourages collaboration among all health disciplines with the goal of attaining optimal health for people, animals and the environment. This event brings together One Health experts from the region and across the nation as well as students from a variety of LMU's health care programs to discuss how veterinarians, doctors, nurses, physician assistants and other medical professionals, environmentalists, epidemiologists and many others can work together to solve global health problems. The event is organized annually by CAHA, whose mission is to improve animal health and public health in the Appalachian region. Whether students plan to be veterinarians, public health nurses, environmental specialists or physicians, they will play an integral role in developing the future of global health care.
Lincoln Memorial University (LMU) is a values-based learning community dedicated to providing educational experiences in the liberal arts and professional studies. The LMU-College of Veterinary Medicine is located on LMU's main campus in Harrogate, Tennessee, with additional academic facilities in nearby Lee County, Virginia. LMU-CVM is an integral part of the University's medical programs and provides real-world, community-based education in a collaborative learning environment. For more information about LMU-CVM, call 1.800.325.0900, ext. 7150 or visit us online at vetmed.LMUnet.edu.