LMU Student Job Shadows at WATE-TV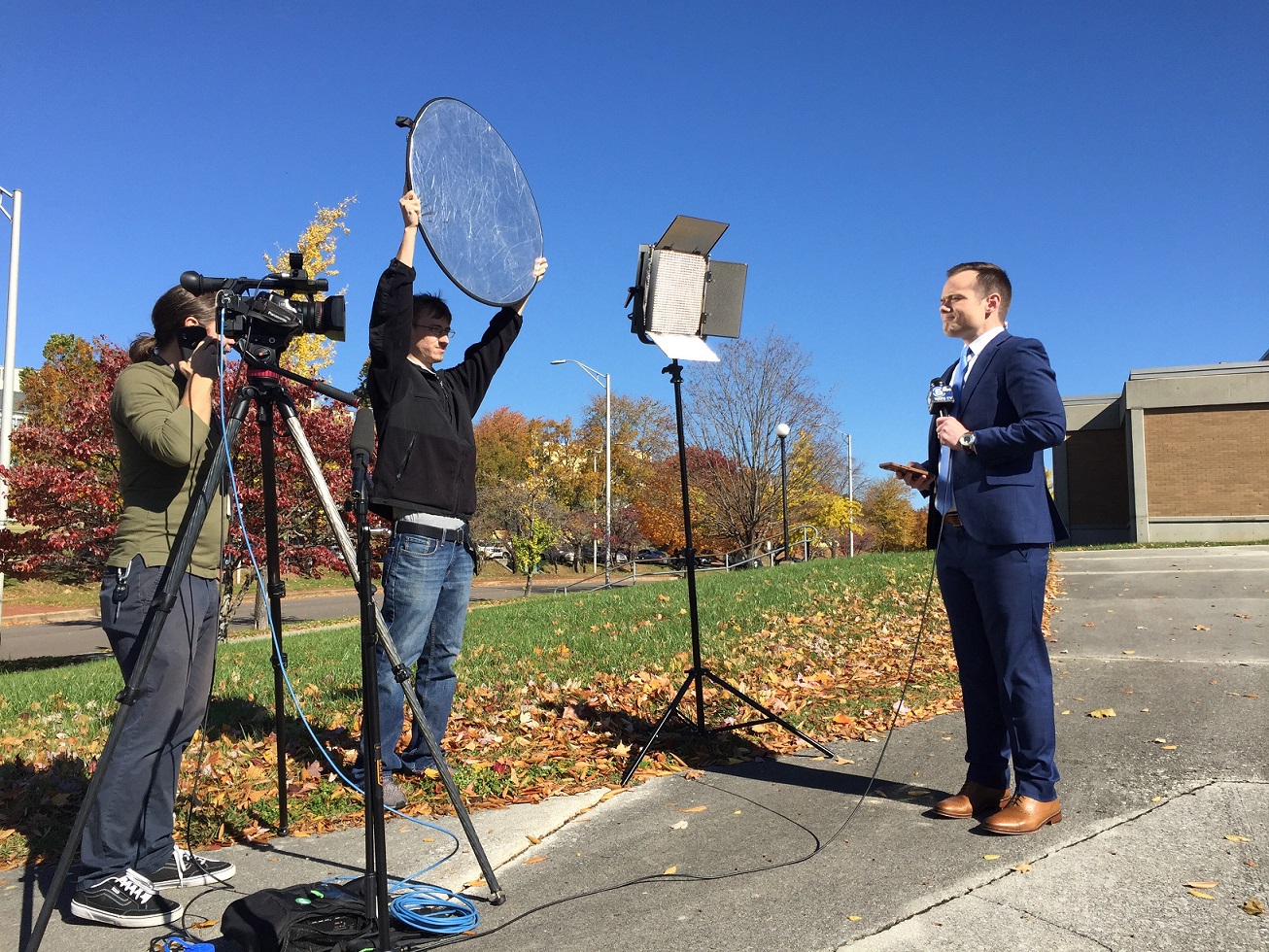 (Caption: Thomas Nelson, center, a senior LMU Communication and Media major, holds the reflector for the noon live shot at the Knoxville Police Department. Nelson recently job shadowed for a day at WATE-TV in Knoxville.)
Harrogate, Tennessee, November 19, 2021—A Lincoln Memorial University (LMU) student recently got the opportunity to job shadow several news and sports staff members of the ABC affiliate in Knoxville, Tennessee.
Thomas Nelson, a senior Communication and Media major, shadowed a number of personnel at WATE-TV. Faculty members Dr. Charlie Gee and Dr. Rick Vogel, both associate professors, accompanied Nelson on the day trip. Gee worked with Alison Coe, the news director for WATE, to facilitate the day and make the opportunity a reality.
"We actually had this set up in mid-February 2020," said Gee. "Then, the station implemented safety COVID-19 protocols, canceling the week we were to visit."
During the job shadowing day, Nelson met with members from creative services to discuss commercial production, crewed a live news event, received tips on the news editing workflow, and was invited to shadow high school football sports.
"My experience with WATE was amazing," Nelson said. "I learned how to edit better and faster too, along with how to better my skills in filming sports highlights."
His day concluded in the field at several high school football games with the sports director coverage for the news that night.
"Overall, my experience was great," Nelson said. While there, he was encouraged to apply for a competitive paid internship.
LMU graduates majoring in Communication and Media are prepared for a number of career options within the field. Students have opportunities to learn on-air reporting, multi-media journalism, and producing or exploring off-camera skills as editors, copyeditors, and videographers.
"Everybody we met at WATE was professional and engaged, showing why they love their job," said Vogel. "They offered many pointers to share with students."
Gee and Vogel said they want to build a relationship with WATE and provide opportunities for students to "get their foot in the door" of a network affiliate. That relationship-building is paying off, they added, as Tim Owens, the WATE-TV sports director, will be a guest lecturer at LMU soon. He will participate in Vogel's sports communication class on Nov. 29 at 4 p.m. in Avery Hall room 102.
Lincoln Memorial University is a values-based learning community dedicated to providing educational experiences in the liberal arts and professional studies. The main campus is in Harrogate, Tennessee. For more information about the undergraduate and graduate programs available at LMU, contact the Office of Admissions at 423.869.6280 or email at [email protected].