LMU Honors Scholars Win National Award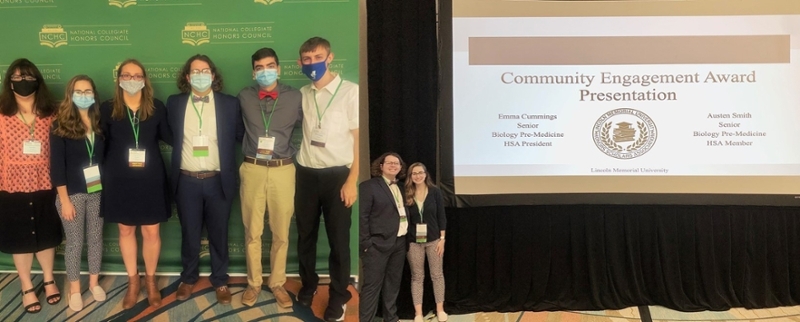 (Caption, left photo: Dr. Sandra Weems, Emma Cummings, Christina Bradley, Austen Smith, Jarvis Pennington, and Thomas Nelson represented LMU at the National Collegiate Honors Council (NCHC) annual conference. Caption, right photo: Austen Smith and Emma Cummings won the prestigious national Community Engagement Award at the NCHC conference.)
Several Lincoln Memorial University (LMU) Honors Program students and their advisor attended the National Collegiate Honors Council (NCHC) annual conference in Orlando, Florida, and returned with recognition and wins.
Students Christina Bradley, Emma Cummings, Thomas Nelson, Jarvis Pennington, and Austen Smith attended the conference. Dr. Sandra Weems, assistant professor of English and director of the Honors Scholars Program, accompanied the group and volunteered as a resume and "elevator pitch coach" for student attendees.
Cummings and Smith won the national Community Engagement Award for their project to provide free libraries at two local schools. The NCHC created the Community Engagement Award in part to encourage honors students and programs across the nation to engage in community service.
"We are already steeped in community service at LMU, and our program requires community service for Honors Scholars students," said Weems.
During the coronavirus pandemic, when many classes and meetings were being held online, Cummings and Smith came up with a project they could still do. Weems explained that they contacted local schools close to LMU – Ellen Myers and Livesay Middle School – and asked to set up Little Free Libraries on-site. After receiving the necessary permissions, they set out to make it a reality.
Smith designed and constructed the little boxes that would hold the books during the holiday break in 2020. "I accepted the job of heading the purchasing and creating the libraries themselves," he said. "Due to the pandemic, I was unable to enlist the help of other people in our organization. I took the project home and finished it there."
The entire group held book drives for the project. Cummings painted the boxes during spring break, and they set them up in April.
"Not everyone in our area has access to free books," said Weems, "and that's what a hungry mind wants."
The group registered with the Little Free Library (LFL) Association, and any book in the free library can be accessed digitally.
"We decided to pursue a partnership with the LFL organization for several reasons. First, we wanted to do something that we could continue long term. By partnering with the LFL organization, we can continue to install more libraries throughout the years and grow the LFL network in our community. Second, we wanted to safely promote community during a time of separation caused by the pandemic. Our project began at the height of the shutdown caused by COVID. The nature of the LFL process allows community members to safely donate books and take books as needed," said Cummings. "Finally, we wanted to promote education, scholarship, and leadership. Part of the [Honors Scholars] mission is to foster leadership and encourage academic excellence. Making reading materials more accessible to younger students and more members of the community allows us to continually fulfill this mission."
"Our main goal was to encourage literacy in our community, especially during the pandemic," Smith added.
The group was assisted by Nelson, a Communication and Media program senior who also attended to help with the presentation as it was an entire session. His attendance resulted in some freelance work for the NCHC.
The LMU Honors Scholars Program exists to promote undergraduate scholarship and encourage intellectual dialogue among students. It deepens values through an approach of critical reading and writing in courses reinforced with service learning and increased social and cultural collaboration. For current eligibility, incoming students must have a score of 26 on the ACT and a high school GPA of 3.2 or higher.
There are several benefits of being in the LMU Honors Scholars Program: Recognition upon graduation, University Honors Scholarship, deeper and broader learning opportunities within any major and the general education curricula, enhancement for professional and graduate school applications, learning through service, undergraduate research project with a faculty mentor, leadership development, and opportunities to participate in regional and national Honors meetings. 
"I am so grateful for the amazing opportunity to represent Lincoln Memorial University at the National Collegiate Honors Council Conference," Smith said. "The Honors Scholars program at LMU has blessed me with lessons that are once in a lifetime!"
The NCHC was founded in 1966. It "is a unique educational organization designed to support and promote undergraduate honors education," according to its website. It has nearly 900 member institutions and several hundred individual members, impacting over 330,000 honors students.
NCHC provides its members with resources, training opportunities and collaborative events to build and sustain honors programs and their curriculum. Students also have access to honors scholarships and exclusive events.
Lincoln Memorial University is a values-based learning community dedicated to providing educational experiences in the liberal arts and professional studies. The main campus is in Harrogate, Tennessee. For more information about the undergraduate and graduate programs available at LMU, contact the Office of Admissions at 423.869.6280 or email at [email protected].