Dr. Liz Devine Selected for AAEP Leadership Program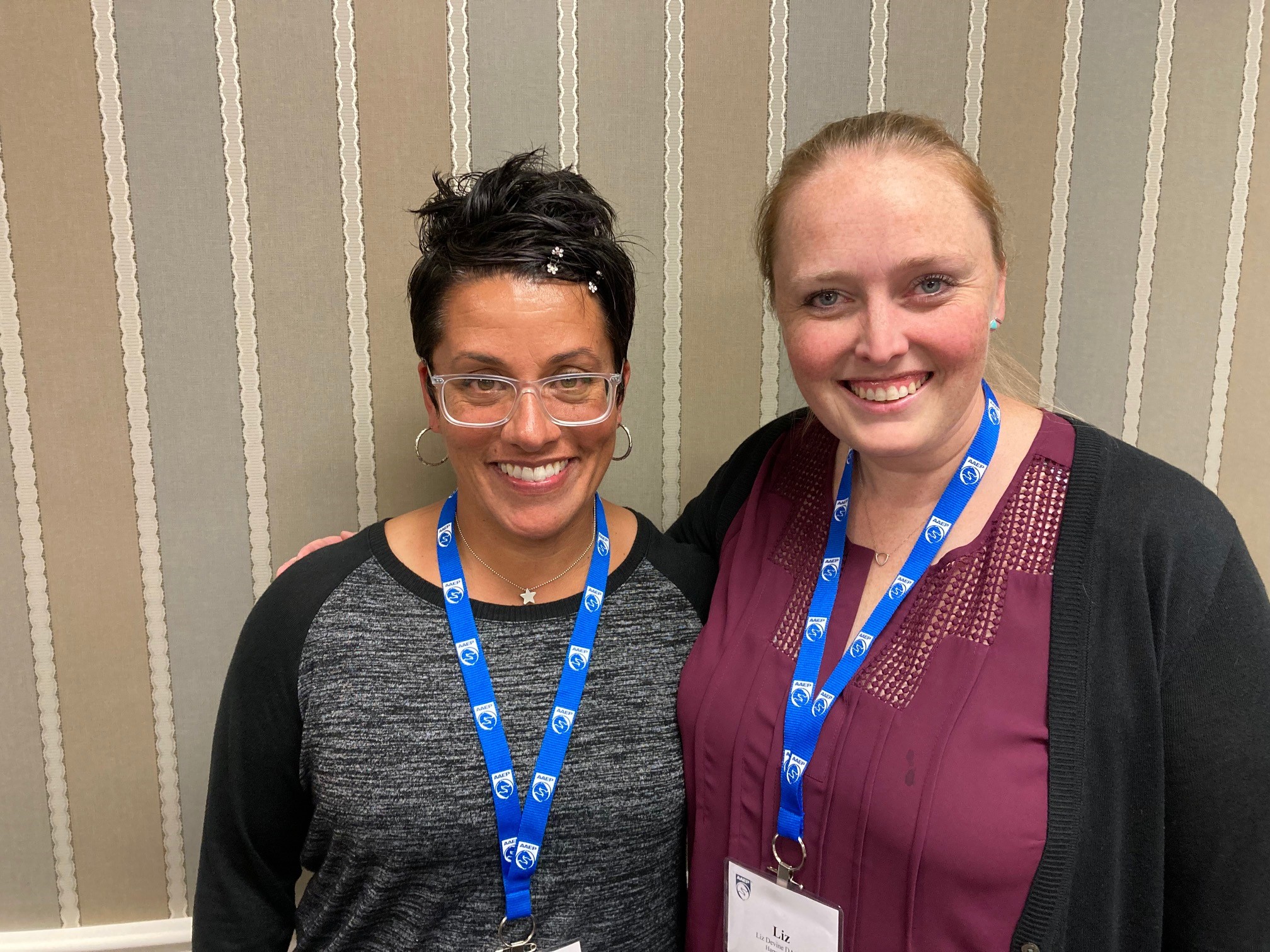 (Pictured: Left Dr. Betsy Charles, executive director for the Veterinary Leadership Initiative, and right, Dr. Liz Devine.)
Lincoln Memorial University-College of Veterinary Medicine (LMU-CVM) Assistant Professor of Large Animal Surgery Dr. Liz Devine was chosen to participate in an American Association of Equine Practitioners (AAEP) inaugural leadership program.
AAEP Lead held its inaugural event Oct. 15-17 in Lexington, Kentucky, at the AAEP Headquarters located at the Kentucky Horse Park. Participation was limited to 25 members who graduated veterinary school within the last 15 years. This newly developed leadership training program is to provide younger members of the equine veterinary profession with leadership skills and training to further their professional development and growth.
"The workshop was fantastic," Devine said. "The participants were from all over the country and they were a great group of people who are very excited about changing the trajectory of equine practice."
Dr. Betsy Charles, executive director for the Veterinary Leadership Initiative, conducted an extensive daylong program where participants defined leadership using personal reflection, conversation, and movie clip prompts to identify specific leadership behaviors and strategies that apply to veterinary medicine; acquired an understanding of the barriers of perfectionism that stand in the way of developing the ability to have influence; explored the topic of wellness and reconnected with their purpose as a veterinarian using reflective activities; explored the concept of leadership as influence and identify and practice specific behaviors that demonstrate effective influence; gained insight and understanding on conflict resolution using the nonviolent model of communication; and practiced applying the concepts to real-life scenarios.
"I am thrilled that Dr. Devine was chosen for this opportunity. Her passion for the equine profession along with the desire to develop her leadership skills made her the perfect candidate" said Dean Stacy Anderson.
Devine went to veterinary school at Iowa State University and did an equine surgery and sports-medicine-focused internship at a private practice in Oklahoma. After her internship, she was accepted into an equine surgery residency at Kansas State University where she concurrently completed a master's degree in biomedical sciences. Upon completion of her residency, she was hired on faculty at Kansas State University as a clinical assistant professor while she passed the American College of Veterinary Surgeons board certification exam. She then accepted a position outside of Seattle in a private practice where she focused on sports medicine and surgery. However, she missed interacting with veterinary students and moved to Harrogate about a year and a half ago to become an assistant professor of Large Animal Surgery at LMU.
Lincoln Memorial University (LMU) is a values-based learning community dedicated to providing educational experiences in the liberal arts and professional studies. The LMU-College of Veterinary Medicine is located on LMU's main campus in Harrogate, Tennessee, with additional academic facilities in nearby Lee County, Virginia. LMU-CVM is an integral part of the University's medical programs and provides real-world, community-based education in a collaborative learning environment. For more information about LMU-CVM, call 1.800.325.0900, ext. 7150 or visit us online at vetmed.LMUnet.edu.