Lockhart, McGee Promoted within LMU PR/Marketing Department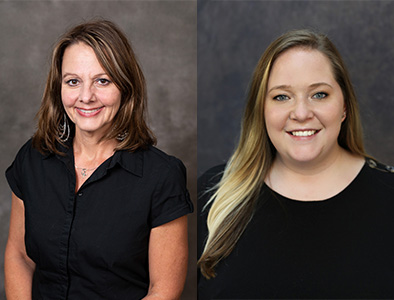 Lincoln Memorial University (LMU) Vice President for University Advancement Cynthia Whitt has announced the promotion of two members of the Public Relations and Marketing department. Nikki Lockhart has been promoted from director of public relations to director of public relations and marketing for health programs. Emily McGee has been promoted from director of publications to director of public relations and marketing for professional programs in Knoxville.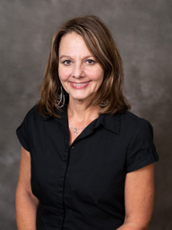 In her new role, Lockhart will be responsible for public relations and marketing efforts on behalf of the LMU-DeBusk College of Osteopathic Medicine (LMU-DCOM), LMU-College of Veterinary Medicine (LMU-CVM) and LMU-School of Medical Sciences (LMU-SMS).
A veteran communications professional with over 20 years of experience, Lockhart started her career as a reporter and editor for the Middlesboro Daily News. She first joined the LMU staff as the director of admissions and recruitment for the J. Frank White Academy. In 2005, she left LMU to become the director of marketing at Commercial Bank, serving until 2016. Lockhart returned to LMU as the director of social media where she helped the University's social media channels grow exponentially. She was promoted to director of public relations in 2018, coordinating promotional efforts for the Abraham Lincoln Library and Museum, J. Frank White Academy, Paul V. Hamilton School of Arts, Humanities, School of Allied Health Sciences and School of Mathematics and Sciences.
A native of Surgoinsville, Tennessee, Lockhart earned both a bachelor's degree and Master of Business Administration degree from LMU. She is married to J. Frank White Academy Principal Bobby Lockhart. The Lockharts are parents to two sons, Christian and Nicholas, and reside in Tazewell, Tennessee.
"Nikki has been a wonderful asset to the PR staff for five years. In every position she has held, she advanced the mission of the University and the department," Whitt said. "I am excited to see her grow in this new role. Her experience and institutional knowledge make her an ideal candidate to serve our professional schools."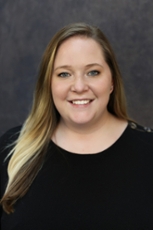 In her new position, McGee will coordinate marketing and public relations efforts for LMU's professional degree programs based in Knoxville, including the LMU Duncan School of Law and the developing LMU-College of Dental Medicine. Additionally, she will support the Knoxville locations of LMU-DCOM and LMU-SMS.
McGee joined LMU in 2019 as the director of publications and served as the primary graphic designer for the department. During her tenure, she has designed the University's recruitment collateral including the undergraduate viewbook, school brochures, fliers and special publications. McGee's work has been recognized with six Tennessee College Public Relations Association (TCPRA) Awards. Prior to joining LMU, she worked as a marketing specialist for Remote Area Medical.
A native of Knoxville, Tennessee, McGee graduated from Halls High School. She was recruited to play softball at Milligan University where she graduated with a bachelor's degree in communications/public relations and advertising. She is completing a Master of Public Administration degree at LMU and is slated to graduate in December. McGee resides in Halls and is engaged to Nick Loden.
"Emily is a very talented designer and communicator. I look forward to seeing her grow even more in this new position," Whitt said. "In a very short time, she has proven to be the consummate team member, always willing do whatever is asked her so the department can meet and exceed the goals set before them."
Lincoln Memorial University is a values-based learning community dedicated to providing educational experiences in the liberal arts and professional studies.  The main campus is located in Harrogate, Tennessee. For more information about the undergraduate and graduate programs available at LMU, contact the Office of Admissions at 423-869-6280 or e-mail at [email protected].