Lincoln Scholar Ron Soodalter to Speak at LMU's R. Gerald McMurtry Lecture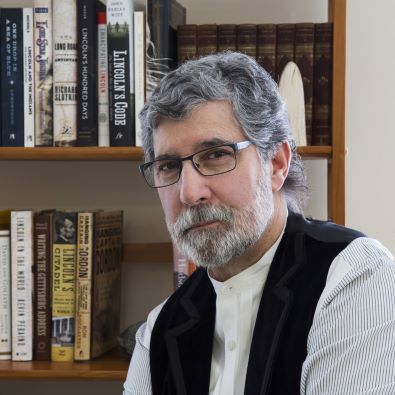 Three Hours of Dual Credit CLE available on Friday, October 22, from 10:00 a.m. to 1:00 p.m.
Knoxville, Tennessee, October 18, 2021—The Lincoln Memorial University (LMU) Abraham Lincoln Institute for the Study of Leadership and Public Policy and the LMU Duncan School of Law (LMU Law) will present the annual R. Gerald McMurtry Lecture on Friday, October 22, 2021. The virtual program will deliver three hours of dual CLE credit from 10 a.m. until 1:00 p.m. via Zoom.
Lincoln expert Ron Soodalter will deliver the keynote presentation entitled "The Quality of Mercy: Abraham Lincoln and the Ethical Dilemmas of the Pardon Power." Soodalter is the Chairperson of the Board of Directors of the Abraham Lincoln Institute. In addition to his two current books - Hanging Captain Gordon and The Slave Next Door – Soodalter's writings have been featured in six other volumes. He has had over 400 articles published in such periodicals as the New York Times, Smithsonian, Civil War Times, Military History, New York Archives, American History, and True West, and is a regular columnist for America's Civil War. He is the recipient of the International and Regional Magazine Association's 2010 Gold Award, 2014 Award of Merit, and 2016 Silver Award. Soodalter travels extensively, lecturing on both American History and the modern-day slave trade.
The program will also feature a presentation by Gordon Russell on "Mediation Ethics in a Zoom Environment." Russell is the Associate Dean and Director of the Law Library at LMU Law and has taught at LMU Law since the law school opened in 2009. He is on the Board of Community Mediation Center of East Tennessee and has been a volunteer mediator with CMC. He teaches courses on Mediation and Interviewing, Negotiation and Counseling, as well as Legal Research.
William Gill will present "Lincoln's Legacy in Tennessee Constitutional Law: Governmental Authority, Individual Rights, & Legal Ethics." Gill is the Associate Dean for Academic Affairs at LMU Law. Dean Gill teaches Tennessee Constitutional Law, Immigration Law, and Legal Writing, among other courses.
Three hours of dual CLE credit is available for Tennessee attorneys at the cost of $35 and $30 for LMU Law alumni. Of note, the Tennessee Supreme Court recently entered an order allowing Tennessee attorneys to earn all CLE hours virtually through the end of 2022. To register, please go online at http://alumni.LMUnet.edu/McMurtry2021. If you have any questions, please contact Catherine Kelly at [email protected] or 865.545.5339.
LMU's Abraham Lincoln Institute for the Study of Leadership and Public Policy encourages original research in the emerging field of leadership theory and practice. The Institute seeks to identify opportunities for scholars, teachers, and public service to develop and practice responsible and ethical leadership. The staff and personnel associated with the Institute strive to create a positive research environment that will stimulate and enrich a variety of research undertakings.
The Lincoln Memorial University Duncan School of Law is located in Knoxville's Historic Old City Hall Building. LMU Law is an integral part of LMU's values-based learning community and is dedicated to preparing the next generation of lawyers to provide sound legal service in the often-underserved region of Appalachia and beyond. For more information about LMU Law, call 865.545.5303 or visit us online at Law.LMUnet.edu.
Lincoln Memorial University is a values-based learning community dedicated to providing educational experiences in the liberal arts and professional studies.  The main campus is located in Harrogate, Tennessee. For more information about the undergraduate and graduate programs available at LMU, contact the Office of Admissions at 423-869-6280 or e-mail at [email protected].